News
Colony Canceled After Three Seasons
USA Network has elected not to move forward with sci-fi family thriller Colony, canceling it after three seasons.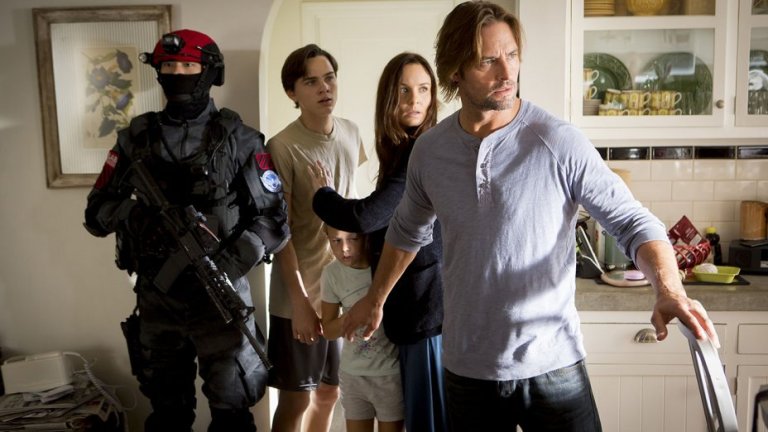 Does this mean the Hosts have won? USA Network today canceled sci-fi thriller Colony after three seasons at the network.
While walking around San Diego Comic-Con, Deadline couldn't help but notice that despite being a major presence at Comic-Cons' past, there was so sign of Colony this year. So they looked into it and…yep, canceled. Awkward! This Wednesday season 3 finale will now serve as a series finale.
Colony got off to a strong start for USA. It was the most-watched scripted cable series on Thursday nights for its first two seasons. Then the show lost a crucial California tax credit and was forced to relocate to Vancouver, and ended up changing its storyline to accommodate the move. Since then, ratings slipped to among USA Network's lowest.
Read the Den of Geek SDCC 2018 Special Edition Magazine Here!
Colony was a very high concept show to begin with, which means little margin for error in terms of budget. In the world of the show, an alien species known as Hosts have taken over Earth and changed it to their liking. The colonizers built 20 to 30 foot walls around cities, creating "colonies" that are more easily controlled and regulated. 
The show followed the Bowman family, husband Will (Josh Holloway), wife Katie (Sarah Wayne Callies), children Bram (Alex Neustaedter), Gracie (Isabella Crovetti-Cramp), and Charlie (Jacob Buster), as they try to navigate this rough new world.
Colony was a big project for two major TV players coming off of Lost. Star Josh Holloway got to continue his sci-fi TV acting career and former Lost co-showrunner Carlton Cuse got to try his hand at another property. Cuse had already left the series prior to season 3 to shepherd Amazon's Jack Ryan. With the TV landscape presently very sci-fi friendly, hopefully Holloway can find another project.