News
Cobra Kai: YouTube Releases Season 1 for Free, Will Do Same for Season 2
YouTube Premium's Cobra Kai will, for a limited window, be viewable for free, starting with Season 1.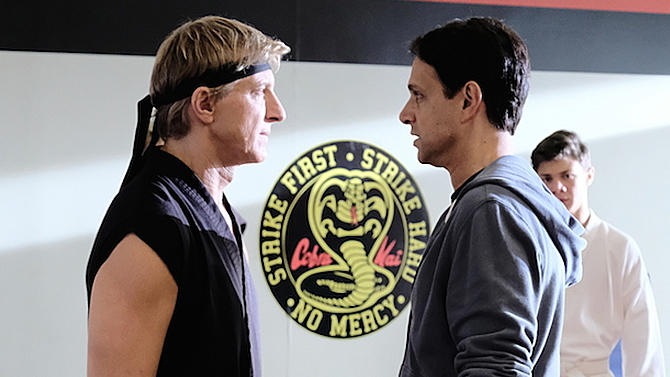 Cobra Kai is kicking through its YouTube Premium paywall, making an experimental transition to free viewing!
The entirety of Cobra Kai's first season, which arrived back in 2018, is being released for the first time outside the subscription auspices of YouTube Premium, with the caveat of the episodes being presented in ad-supported form. Moreover, along with some other YouTube Premium content, the show's second season – still relatively fresh from its April 24 premiere – will also be made available in free-but-ad-filled form on September 11. However, as mentioned, this is an experimental transition, and, consequently, the free availability will be limited – at least, for now, anyway.
As YouTube chief business officer Robert Kyncl says of the ad-supported experiment in a statement.
"Today, we are welcoming a global audience to enjoy our award-winning series and specials. We see a tremendous opportunity to develop more region-specific content, particularly in Europe, Asia and Latin America, and will continue to partner with the biggest stars and creators in the world to share their stories and voices."
The move represents a dipping of YouTube toes into the waters of dual-distribution, which – should the strategy prove successful – normalize the notion of YouTube Premium making its original content watchable for free with commercials, all while still pushing the premium subscription perks, which notably yields ad-free viewing of said content, as well as exclusive director's cut versions.
Further Reading: Cobra Kai: What's Next For Season 3?
Up until now, YouTube has dangled the clear-cut carrot that is Cobra Kai in front of potential subscribers for its premium streaming service, which runs at $11.99 a month. While the series, a decades-in-the-making follow-up to the original film franchise of The Karate Kid, achieved unprecedented acclaim for its still-burgeoning content platform, the idea of dropping another $12 a month is still a tough pill to swallow for many viewers who are already paying monthly fees for Netflix, Hulu, Amazon Prime Video, et al.
Further Reading: Cobra Kai: Choreographing Emmy-Nominated Stunts
YouTube Premium's non-Cobra Kai lineup of originals includes shows like Impulse (a follow-up to the sci-fi mythology of author Steven Gould, known from the 2008 film, Jumper), Origin, which stars Harry Potter's Tom Felton and Game of Thrones' Natalia Tena, as well as time-travel series Lifeline. However, most of its scripted fare has already been canceled, with only Impulse set for a Season 2 return. Indeed, YouTube has already shifted the focus of its premium platform to more (cost-effective) reality show and documentary content; a move possibly designed for the uncertainty of its upcoming business model shift.
It will certainly be interesting to see what the YouTube Premium landscape will be like by the time Cobra Kai Season 3 rolls around, which will presumably (based on the release of previous seasons,) occur sometime within the window of spring 2020.
Read and download the Den of Geek SDCC 2019 Special Edition Magazine right here!
Joseph Baxter is a contributor for Den of Geek and Syfy Wire. You can find his work here. Follow him on Twitter @josbaxter.