News
Cobra Kai Season 3: What Does Kreese's Return Mean?
Martin Kove's classic Karate Kid villain is back for more Cobra Kai.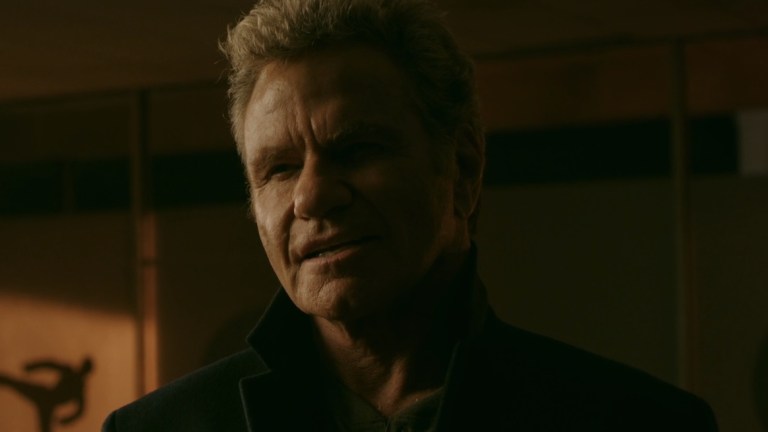 In the tumultuous second season finale of Cobra Kai, John Kreese's (Martin Kove) manipulative calculations and incessant bullying finally pay off for the hated Karate Kid villain. He takes the reopened Cobra Kai dojo back from his former student Johnny Lawrence (William Zabka) and sends the latter on a rather dark and depressing path.
Or, as co-creator Josh Heald explained to Den of Geek while discussing the themes of the first two seasons, "we burned everything down."
Throughout seasons 1 and 2, Johnny rekindled the Cobra Kai dojo in the hopes of reclaiming the youthful vigor that he and his fellow students once shared. But he quickly learned the dark nature of Kreese's teachings and, both thanks to his own reflections and his interactions with Miguel Diaz (Xolo Maridueña), a young high school student who asked him about learning karate. Thanks to Daniel LaRusso's (Ralph Macchio) involvement, though, Johnny's efforts were frequently stalled.
This was especially the case when Daniel decided to form his own studio, the Miyagi-Do, in order to combat the renewed influence of the Cobra Kai. That particular conflict bled into the end of season 1 and exploded all the way through season 2, thanks in large part to the return of Kreese.
Despite the fact that Cobra Kai season 3 is chiefly going to deal with the rubble that's now scattered throughout Johnny and Daniel's lives, this is the one constant that fans of the YouTube Premium show can all agree on: Kreese is back and he's here to stay.
"You will see," says Jon Hurwitz. "Marty Kove will return in season 3. He's in charge of the Cobra Kai dojo right now."
Fellow show co-creator Hayden Schlossberg adds that season 3 will introduce viewers to a far more "unleashed" version of the antagonist. "In season 2, he had to abide by Johnny's interpretation of Cobra Kai," he explains. "But with season 3, this is the old school Kreese doing things in the old school ways."
read more: Everything You Need To Know About Cobra Kai Season 3
Kreese inspired some of the Cobra Kai's more wayward (and easily influenced) students to rebel against Johnny's kinder, gentler teachings and lash out. This informs many of the conflicts in season 2 and ultimately comes to a head in the season-ending school brawl that results in Miguel's back being broken. That moment — which results from a surprise kick from Robby Keene (Tanner Buchanan), Johnny's estranged son — utterly razes everything that's come before it and sends the show's heroes (or anti-heroes) packing.
But Kreese? Kreese is doing just fine.
"When you think about all the pain at the end of season 2, and everybody who is feeling anguished and guilty and sad, crying and blaming themselves for everything bad that's happened, there's really only one character who's been left alone at the mountain top, eating a steak dinner," says Heald. "Of course, it's Kreese. He has a very unique position as a character when season 3 begins. Because he's removed from the immediate impact of what came before."
The first two seasons of Cobra Kai are available to stream on YouTube Premium.
Read and download the Den of Geek SDCC 2019 Special Edition Magazine right here!