News
Cobra Kai Season 2: William Zabka On Whether Johnny Is Redeemable
Is Johnny Lawrence redeemable in Cobra Kai season 2? Here's what actor William Zabka thinks.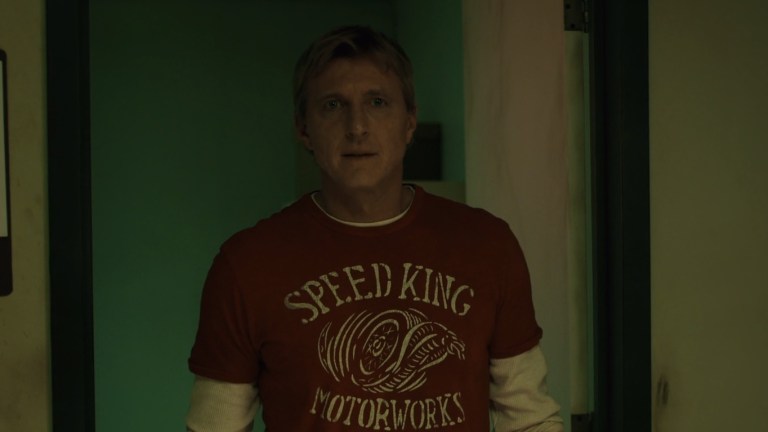 When the first season of Cobra Kai premiered last summer, critics and audiences alike were taken aback by just how good it was. On paper, the idea of a where-are-they-know The Karate Kid revival with the original characters as adults doesn't seem all that intriguing at first. But intriguing it is, and with season two debuting Wednesday, April 24th on YouTube Premium, the question first asked by season one remains.
Is Johnny Lawrence, the primary antagonist of the first film, actually redeemable?
"He's just trying to get his own, you know. He's just trying to have his say in life," actor William Zabka, who plays Johnny, tells Den of Geek at this year's SXSW. "He's never had a chance, because the world's been against him since the beginning. The decks have always been stacked against him. So who needs redemption, really?"
Despite his protestations, Zabka, who first brought Johnny to life in 1984, answered this same question with far more positivity in Cobra Kai's first season. Through numerous life changes and daily trials, including repeated run-ins with old foe (and the films' hero) Daniel LaRusso (Ralph Macchio), Zabka's older, down-on-his-luck Johnny redeemed himself in many valid ways.
Or, at least that was the case until his former teacher, the villainous John Kreese (Martin Kove), made his shocking return at the end of the season. Now, in season two, Kreese's attempts to ingratiate himself with Johnny's students at the new Cobra Kai Dojo will push the character to his limits. Kreese will also call into question whether or not his former student is, in fact, redeemable.
read more: Everything We Know About Cobra Kai Season 2
"He's just been in this pressure cooker, and he's definitely still in it this season," Zabka adds. "He's a work in progress and evolving slowly, in spite of himself. He bumps into some walls on occasion. But it's all good. It's fun. I mean, he's just a human being. He's not this basic good or bad guy. He's got levels, both deep and wide."
That he does. Both in season one and, as audiences will soon find out, in season two, Johnny is a far more complex character than The Karate Kid was ever able to let him be. (Then again, show creators Josh Heald, Jon Hurwitz and Hayden Schlossberg have multiple episodes with which to flesh this older version of Johnny out.) But Kreese's arrival still begs the same question: Is Johnny still capable of growth, even with the return of a bad influence?
In other words, is Johnny simply a pawn in Kreese's game, whatever that may be?
"No, I don't think so," says Zabka. "I think they're all doing life the best they know how, the best they can. There's a new chapter. It's a new day in a new culture. A new world. These two haven't seen each other in a long time. And now these two worlds, which first collided 30 years ago, are coming back together after being drawn apart from each other in their own orbits. As a result, they've created a whole new big bang of sorts."
Cobra Kai season 2 premieres Wednesday, April 24th on YouTube Premium.