News
Cobra Kai Season 2: Will Daniel Ever Live Up To Mr. Miyagi's Example?
Ralph Macchio ponders whether or not Daniel LaRusso will ever truly match Mr. Miyagi's greatness.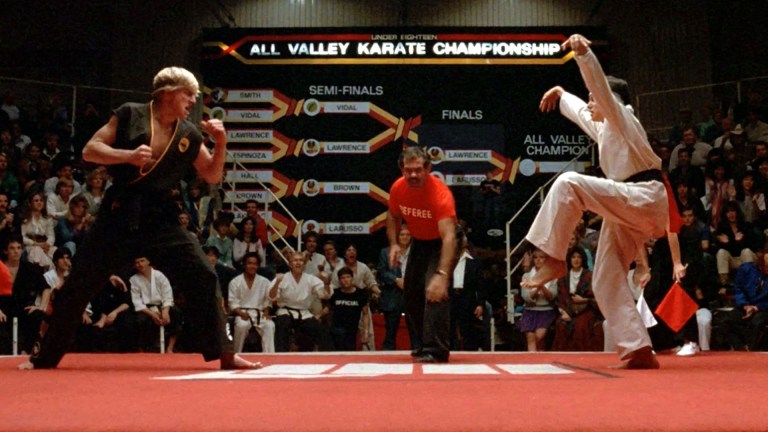 At the end of Cobra Kai's first season, Daniel LaRusso (Ralph Macchio) reveals something to his student Robby Keene (Tanner Buchanan), who just so happens to be the estranged son of rival Johnny Lawrence (William Zabka).
"I know I said you have to let go of your anger and show forgiveness," says Daniel. "But when the fight comes to you, you have to be ready to fight back. And to do that, we'll need more students. Welcome to Miyagi-Do Karate."
By this point, anyone familiar with The Karate Kid movie franchise knows where Daniel and Robby are. It's the home of Daniel's late teacher, Mr. Miyagi. It's where the old master trained the younger Daniel-san, and it's where the latter will continue training Robby any anyone else who comes to them in Cobra Kai season 2.
"It's a big shift for Daniel, what he's going through in his life right now," Macchio tells Den of Geek before a season two premiere event at SXSW. "He's going back. He's bringing martial arts back into his life. He's motivated to do this because he does not want to allow the contamination of the San Fernando Valley, caused by Cobra Kai, to continue. He will teach a better way. He's going to dust everything off, clean everything up and get this out there. Because plenty more hurdles are coming. The stakes are higher now. It's not as easy. As Miyagi would say… what's the line?"
Martin Kove, who plays the villainous former Cobra Kai Dojo teacher John Kreese, jokingly interjects, "Wax on, wax off?"
All jokes aside, however, Macchio stresses that "it's not that easy" for Daniel, Robby and the rest of the students.
"It creates a significant conflict for him in his life," Macchio explains. "But he's going forward. He's trying to do what he believes is right. This only amps up everything else that's going on with these stories."
read more: Why Cobra Kai Is A Peak TV Surprise
The question for Cobra Kai season 2 is, will Daniel be able to live up to Miyagi's example? Judging by how reverent the former students is of his late master, he seems to have set the bar fairly high for himself. In fact, it almost seems like an impossible task. Yet Macchio believes that Daniel is capable of reaching it. Living up to Miyagi's example is that important to him.
"It's of paramount importance," the actor explains. "It's always been a big part of this show. It's something that we talked about often in the early stages of my discussions with [executive producers] Jon Hurwitz, Josh Heald and Hayden Schlossberg. It was important to me to have that running throughout the story. And what they've done with it has been beyond my expectations. It's just such an important, integral part of who Daniel is, or wants to be."
Even so, that doesn't mean that Daniel will be able to be as good to Robby and the rest of the students as Miyagi was to him.
"Did he bite off more than he can chew? Maybe," says Macchio. "Miyagi was a special person, teacher and mentor. Just because you have the knowledge doesn't necessarily mean that you can teach it to others."
Cobra Kai season 2 premieres Wednesday, April 24th on YouTube Premium. Click here for our full coverage from the SXSW Film Festival.