News
Class TV Season 1 Trailer, Release Date, and Episode Guide
We've got all the latest information on the new Doctor Who spinoff, Class.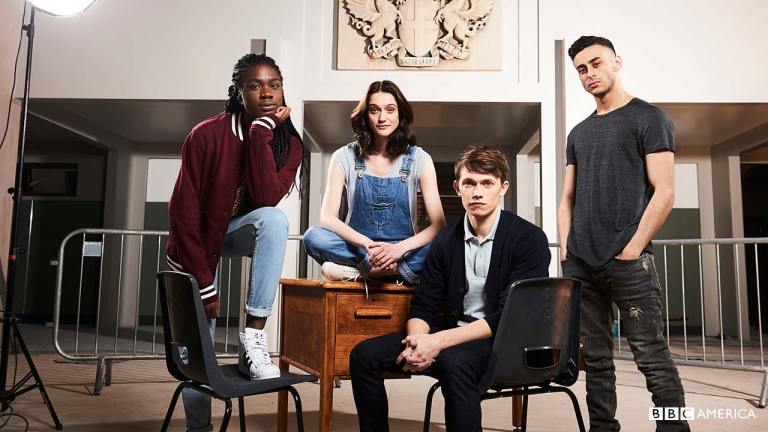 We have high hopes for the upcoming Doctor Whospinoff, Class,which will tell the story of the "not Chosen Ones" who are often affected by The Doctor's time travel shenanigans as they go to Coal Hill School — the London institution featured in the very first episode of Doctor Whoback in 1963. More recently, it has served as Clara Oswald's place of employment and a recurring setting for NuWho. 
Class has already airied in the UK, but it's about to premiere on BBC America. Here's the promo for the big Doctor Who/Class premiere extravaganza…
Doctor Who Spinoff: Class Release Date
Class will premiere on April 15th at 10:10 p.m. ET on BBC America, following the Doctor Who Season 10 premiere.
Doctor Who Spinoff: Class Trailer
Here's the official first trailer for Class,which debuted at NYCC…
And here's the NYCC teaser trailer featuring The Doctor. "For Time has looked at your faces, and Time never forgets…"
Here's a behind-the-scenes featurette of showrunner Patrick Ness discussing the show…
Here's a short, ominous teaser called "Shadow"…
BBC America has posted the entire Classpanel from New York Comic Con. Showrunner Patrick Ness and young cast members Greg Austin, Fady Elsayed, Sophie Hopkins and Vivian Oparah were on hand to discuss the new show. They're all obviously very excited to be there, and even have a group hug after viewing the trailer together for the first time…
Doctor Who Spinoff: Class Episode Guide
Class Season 1, Episode 1 "For Tonight We Might Die"
Here's the synopsis for the premiere:
It's a new term at Coal Hill Academy, and students are preparing for their Autumn Prom. But when the school comes under attack, four alienated students must form an unlikely alliance to defeat them. And this incursion is only the beginning…

Charlie (Greg Austin), April (Sophie Hopkins), Ram (Fady Elsayed) and Tanya (Vivian Oparah), assisted by their physics teacher Miss Quill (Katherine Kelly), are charged with a great responsibility by the mysterious alien known as the Doctor (Peter Capaldi): guard against the creatures of nightmare that want nothing more than to find a way through to Earth and take it for their own.
Original airdate: April 15th
Class Season 1, Episode 2 "The Coach With the Dragon Tattoo"
Following the tragic events at the Prom, a devastated Ram isolates himself from the other three as he struggles with his new reality. Desperate to hold himself together on the football pitch, when he thinks he witnesses someone getting skinned alive he's convinced he's cracking up.

"But when Tanya, Charlie and April are all confronted with the same thing: a horrific, monstrous, skin-peeling dragon, they know that they're under attack. The gang must pull together to fight against the monster, and try to keep Coal Hill safe.
Class Season 1, Episode 3 "Nightvisiting"
London is infiltrated by an eerie alien with the ability to morph into the shape of lost loved ones.

Tanya has an unexpected visitor come to her window in the dead of night – and she's not the only one, as Ram and Miss Quill face their own startling visitors.

Confronted with these emotional encounters, the team must overcome the persuasion of this strange new threat, and battle through the streets to stop Tanya from being lost forever.
Class Season 1, Episode 4 "Co-Owner of a Lonely Heart"
April starts to feel effects of sharing her heart with Corakinus, and his attempts to sever the attachment only make it stronger. When April's estranged father makes a startling appearance she confronts him with Shadow Kin force, manifesting traits of the Shadow Kin leader.

Frightened by this extraordinary new-found power, April seeks comfort in Ram, and vows to reclaim her heart as her own. Meanwhile, something strange is happening to the others – London is slowly being infested with unusual, sinister flower petals.
Class Season 1, Episode 5 "Brave-ish Heart"
Battling through the Shadow Kin realm, April knows that there is no going back: she has to defeat Corakinus.

On Earth, the invasion of the petals is rapidly snowballing. Confronted with the threat of the planet's extinction, new headmistress Dorothea attempts to force Charlie into making a transformational decision. But Miss Quill has other ideas for him.

As Charlie, Matteusz and Tanya try to stop the petals from annihilating the human race, April must fight the terrifying force of Corakinus, light years away from home.
Class Season 1, Episode 6 "Detained"
The whole gang is thrown into detention by Miss Quill. Locked in her classroom, they are terrified when an explosion propels them out of space and time: trapped, claustrophobic and floating in blackness with no way of escape.

Although a mysterious asteroid fragment may be their key to freedom, it forces the gang to confess their deepest, darkest secrets to one another. As ugly truths come out, fractures start to appear in the friendship group.

And then they make a chilling discovery. They're not alone. There's somebody in there with them.
Season 1, Episode 7 "The Metaphysical Engine, Or What Quill Did"
With the gang trapped in detention and out of the way, Miss Quill accepts Dorothea's astonishing offer: to help remove the Arn from her head, and to reclaim her freedom.

Alongside Ballon, an imprisoned shape-shifter, Miss Quill travels in a metaphysical engine and is taken to impossible, extraordinary and dangerous worlds, collecting materials in preparation for her life-changing procedure.

After an emotional encounter with her surgeon and a nearly-fatal operation, Miss Quill must find a way to return to Earth: transformed and ready for war.
Season 1, Episode 8 "The Lost"
Facing an impossible choice, our heroes must use all they've learnt to save Earth. But how far are they prepared to go? And will they have to pay a price?

Unable to recover from the truths they have faced, the gang has splintered. Liberated from enslavement, Quill prepares to take her revenge. But they must reunite when the Shadow Kin return, raging a ruthless, unrelenting war.

Resolute to claim April's heart and Charlie's weapon, Corakinus threatens to kill their families until he has what he desires – and the friends must fight to prevent him.

This time, not everyone will make it out alive.
Doctor Who Spinoff: Class Story
Coming to BBC Three in 2016, Classwill feature eight 45-minute episodes centered around four students and their teacher at London's Coal Hill School, most recently featured in Doctor Whoas Clara's place of employment. Here's the official synopsis:
Incredible dangers are breaking through the walls of time and space, and with darkness coming, London is unprotected. With all the action, heart and adrenalin of the best YA fiction (Buffy, Hunger Games), this is Coal Hill School and Doctor Who like you've never seen it before.
From what we've heard from showrunner Patrick Ness, Class will focus on the people who are often affected by The Doctor's adventures, but who don't have the added benefit of The Doctor's protection to keep them safe. I believe we call that collateral damage? As Ness put it to Empire:
What if your timing is just weird and things happen to you? How do you deal with it? I'm interested in real consequences. The Doctor is always exciting, but he never stays. He goes off on the next adventure. What happens to real people?
This show has the potential to be a cool, in-universe critique of The Doctor's ways in a totally new and unique way from how we've seen it done before — and not featuring The Doctor at all. Though, let's be honest, we wouldn't be so surprised if Peter Capaldi made an appearance at some point. Radio Times asked Ness about it back in November, and he teased: "I can neither yet confirm nor deny… But I'm a big Peter Capaldi fan, let's put it that way."
Class has been described as a YA story — and is often compared to Buffy— but Ness aims to make it appeal to adult audiences, as well. Discussing the topic with Entertainment Weekly, Ness said:
That's who it should be for first, but the best YA [fiction] reaches beyond that. The best of anything reaches beyond its boundaries … The idea is to take everything that I love about YA, which is the great breadth of it and the great depth of it and its fearlessness… and the way that it takes teenage characters seriously as complex human beings, and just put that on television in the Doctor Who universe.
We also know the show will be fairly dark. According to Cultbox, the BBC has advised that Class"will feature more mature themes than Doctor Who" and "is not suitable viewing for younger audiences."
Doctor Who Spinoff: Class Cast & Characters
Peter Capaldi will be appearing in the first episode of Class! The show announced the good news via its social media accounts.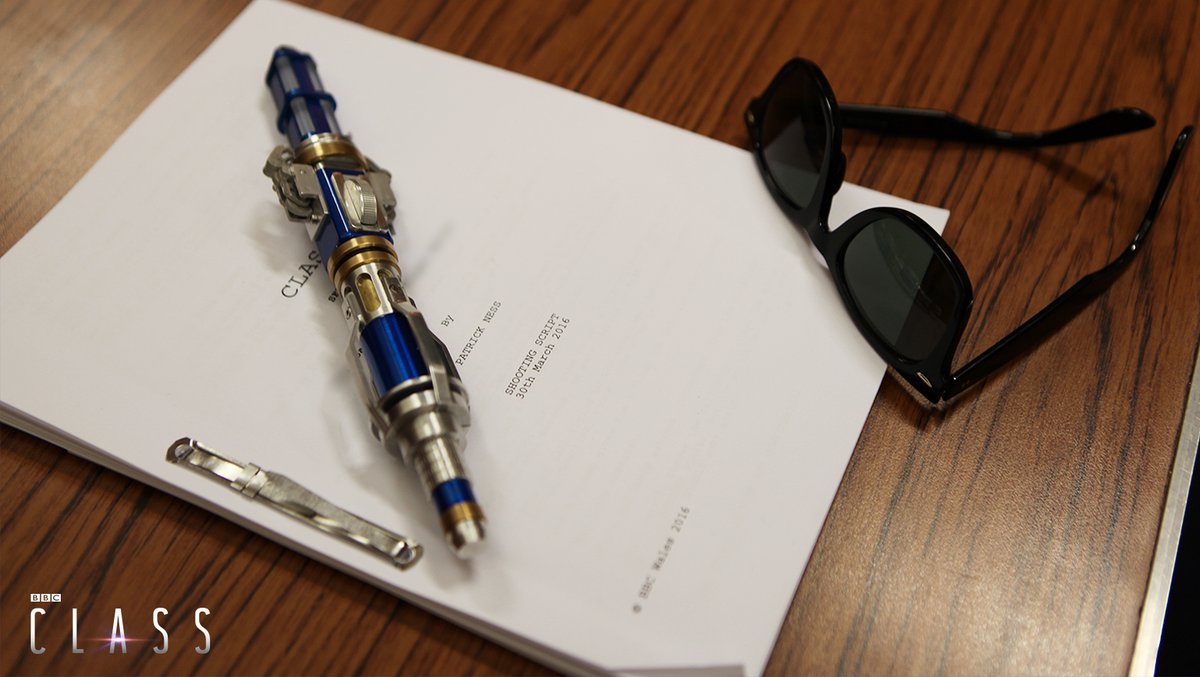 Twitter user Caroline Lie previously took to Twitter to post this picture of the TARDIS parked on the Classset, so it shouldn't be too much of a surprise. Still, there is a difference between Peter Capaldi and a blue box…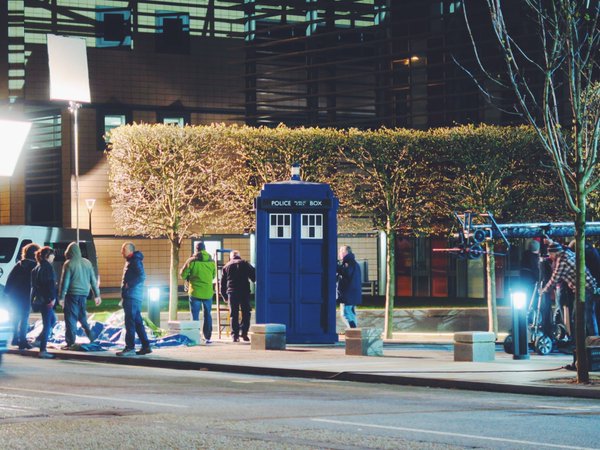 Greg Austin, Fady Elsayed, Sophie Hopkins and Vivian Oparah have been cast in the four teen roles, with Katherine Kelly joining the TV series as their new teacher.
The student character cast of the new show — Greg Austin, Fady Elsayed, Sophie Hopkins and Vivian Oparah — along with producer Derek Ritchie sat down for a Facebook livestream with the BBC to spill some details about the new show. Here's what we learned.
Vivian Oparah plays Tanya, the youngest of the central student characters. She is only 14, but has been moved forward in school because of her smarts. She desperately wants to make friends, but this results in a bit of a defensive attitude. When asked to describe Tanya in three words, Oparah said: "You can't pin her down."
Sophie Hopkins will play April, a character she described as "wise, strong, kickass," adding: "She's got a big heart and she's got her feet firmly on the ground. She has the potential to kick butt." Hopkins also teased of the show that it will get pretty dark at points, saying that "on the first day of special effects and prosthetics, there was so much blood, we felt sick." Do with this information what you will. 
Fady Elsayed plays Ram, who he described as "caring, passionate, driven" — a little bit cocky, but with a good heart.
Greg Austin plays Charlie, who Austin describes as "quirky, inept, leader." Austin also teased that, if the students hadn't been thrown together by extenuating circumstances, his character probably wouldn't be friends with any of the others.
As for the mysterious teacher Ms. Quill, showrunner Patrick Ness teased in a behind-the-scenes featurette that she is "a teacher you would never, ever want to have… She is smarter than you and will let you know it." Also that, she "may have an evil streak."
Speaking more generally about the show, producer Derek Ritchie teased: "We have awesome monsters. We have big concepts. We go to wonderful places." When asked to describe the show in three words, he chose: "epic, heartfelt, awesome."
When asked to tell two lies and one truth about Class (frankly, a really difficult task), Oparah said: Ms. Quill plays one of our moms; we all go to prison; actor Jordan Renzo plays my boyfriend. I am eliminating the first one because I am somewhat convinced that Ms. Quill might be an alien.
Check out this sweet 360-degree video from the set…
We've got this image of Miss Quill (played by Katherine Kelly). Though we don't know much about the show's characters in general, Miss Quill seems particularly mysterious. Might she be a secretive newcomer to the school, a mystery to the students as well as the viewers. Was she assigned to Coal Hill School not for her skills as a teacher, but for her skills as a monster-hunter, Giles-style? Probably.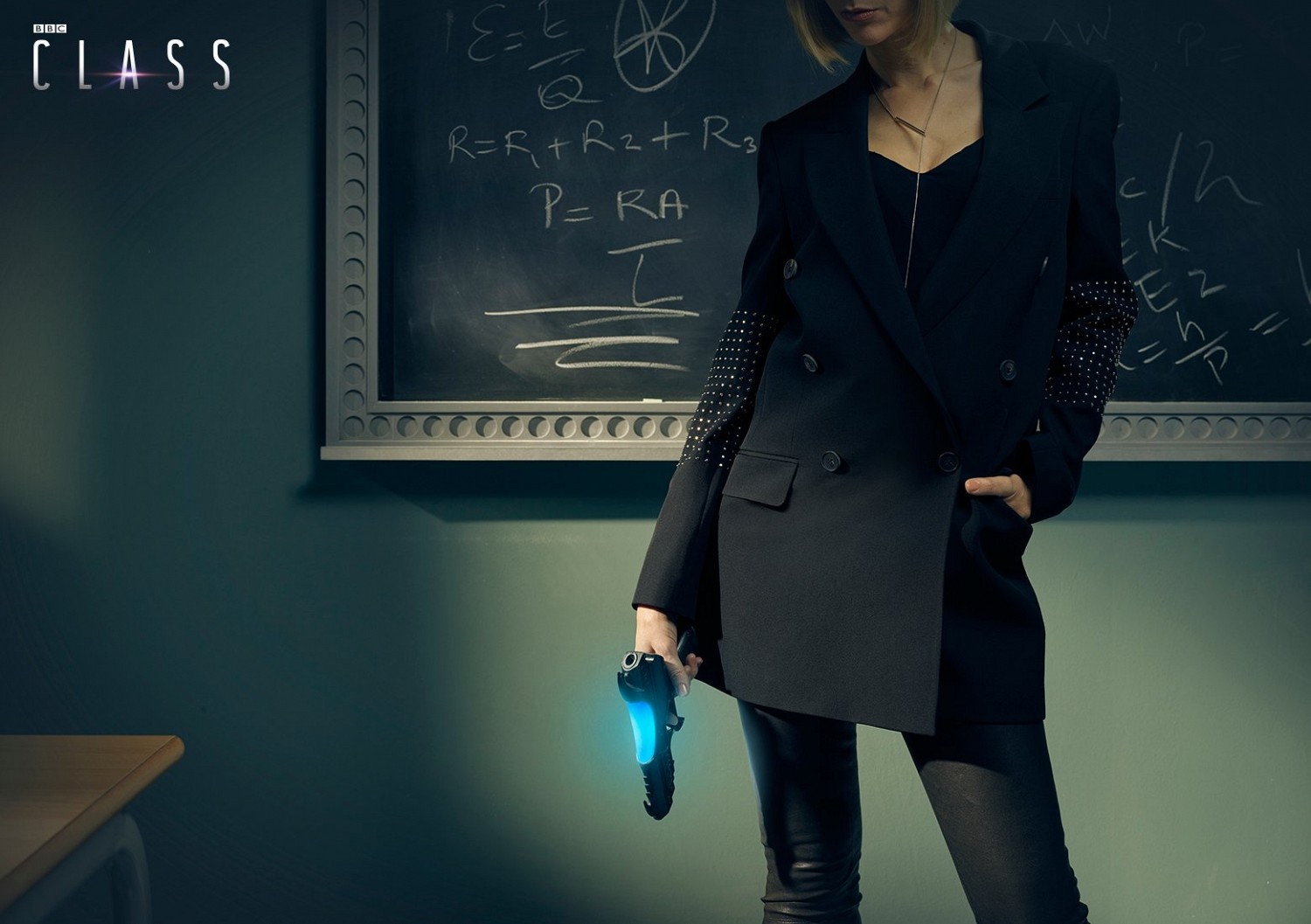 We've also got this image, featuring teacher Miss Quill standing behind a weaponed-up April (Sophie Hopkins) in a darkened school hallway. Is this how the students of Coal Hill School get extra credit? Agreeing to alien night patrol? This show looks scarier than we expected…
We also know that Classwill feature an LGBTQ character. In the wake of the Orlando mass shooting tragedy, Classshowrunner Patrick Ness has taken to Twitter to reveal the news…
— Patrick Ness (@Patrick_Ness)
June 13, 2016
— Patrick Ness (@Patrick_Ness)
June 13, 2016
NuWho has a rich tradition of LGBT characters. Captain Jack Harness, a character introduced in season 1 of Doctor Whowho would go on to lead the Torchwoodspinoff was queer. More recently, Madame Vastra and Jenny Flint have been recurring lesbian characters based in Victorian London (as part of a loose parallel to Sherlock Holmes and John Watson). Vastra and Jenny's kiss in season 8's "Deep Breath" even garnered complaints that the BBC show was "promoting homosexuality," according to The Independent.
We also have a list (via the BBC website) of the actors appearing as series regulars and recurring characters: Jordan Renzo (Chosen), Pooky Quesnel (The A Word), Nigel Betts (Doctor Who) have been announced as series regulars, and the first two episodes will also feature Ben Peel (The Fall, Vampire Academy), Anna Shaffer (Harry Potter), Paul Marc Davies (Doctor Who, Torchwood), and Shannon Murray.
Doctor Who Spinoff: Class Filming
Production on the first season took four months and was based in Wales — in the very same studio where Doctor Whofilms. Hmm…. wouldn't that make a crossover much easier?
Twitter user Adam Orford spied a pretty cool detail on the Classset: a mention of Barbara Wright, the Doctor's granddaughter and one of the show's first companions (not to mention teacher at the Coal Hill School). Apparently, one part of the school has been named The Barbara Wright Building. Pretty cool detail…
Can we also take this moment to gush about showrunner Patrick Ness? The British author is probably best known for his YA novel A Monster Calls,which will soon be released as a beautiful-looking feature film. Ness also wrote the screenplay for the film, and critics who saw it screened at TIFF are currently freaking out about it. When Classwas first announced, Ness released this statement:
I'm astounded and thrilled to be entering the Doctor Who universe, which is as vast as time and space itself. There's so much room there for all kinds of amazing stories, and to work with Steven Moffat and Brian Minchin to find a place to tell one of my own has been an absolute joy. I can't wait for people to meet the heroes of Class, to meet the all-new villains and aliens, to remember that the horrors of the darkest corners of existence are just about on par with having to pass your A-Levels.
More than anything else, Ness' involvement in this project makes me hopeful.