News
City on a Hill Release Date, Cast, News, and More
Showtime will bring a Boston miracle to the screens when City on a Hill takes on crime and corruption starting in 2019.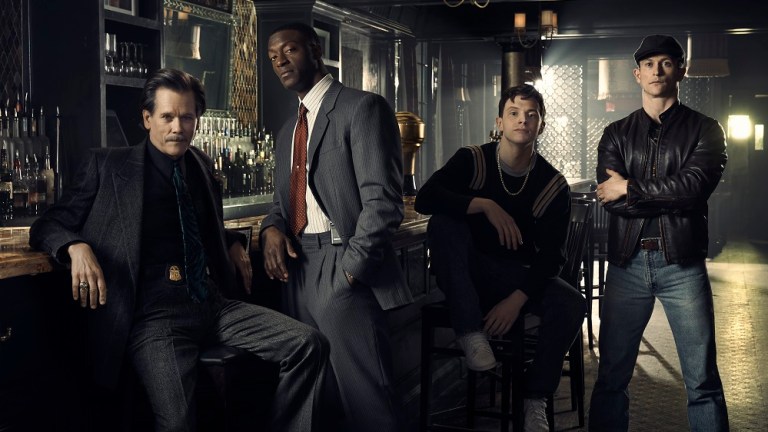 Boston is one of the oldest cities in the U.S. and, like most cities, it is something less than a puritanical ideal. It birthed the idea of a revolution when locals had a tea party and passed the bill on to Great Britain to pay and practically got a patent on dockwork kickbacks after the embargo of 1807. In the past few years, the city has become almost synonymous with crime drama.
Dennis Lehane made a near cottage industry out of tough tales about tough guys in Dorchester or Southie, such as Gone Baby Gone and Mystic River. Martin Scorsese's The Departed showed how engrained someone like Whitey Bulger could get, and Ben Affleck's The Town, pulled a heist in the middle of Fenway Park. Well Affleck and Mystic River's Kevin Bacon want again to mine that lore while also reimaging a true crime saga for Showtime: City on a Hill.
"City On A Hill has the veneer of a classic Boston cops-and-robbers drama, but actually dives head first into challenging the very institutions it depicts," David Nevins, President and CEO of Showtime Networks Inc., said in a statement. "In reality, the series is a penetrating look at the larger criminal justice system and those who operate within it, with mesmerizing performances by Kevin Bacon and Aldis Hodge anchoring the suspense."
Based on an idea originated by Affleck, who will executive produce, as well as fellow executive producer Chuck MacLean (Boston Strangler), City on a Hill will return to Beantown's not so glorious days in the 1990s, when the city was being rocked by organized crime, corruption, and racial tensions. In this context, Boston experienced what locals called "the Boston Miracle," which was a civic cleanup of the community. In the series, this miracle will be reimagined in a fictional telling with the arrival of of District Attorney Decourcy Ward (Aldis Hodge). As a non-native from Brooklyn, Ward will go target corruption and crime in all its varieties, while attempting to recruit the help of a reluctant and corrupt FBI agent named Jackie Rhodes (Bacon), a man described as being "deeply invested in the status quo."
The pilot will trace Ward and Rhodes investigating a family of armored car robbers out of Charlestown (the setting of Affleck's The Town). And the criminal conspiracy this will lead to is going to rock the City on the Hill.
Bacon, who will also co-executive produce, is an obvious fit for this material, and Hodge also should make a splash as Ward if the series gets picked up. He has after all already appeared in Hidden Figures and Straight Outta Compton in supporting roles.
 Tom Fontana (Homicide: Life on the Street) will serve as showrunner.
City on a Hill Release Date
City on a Hill will premiere on Sunday, June 16 on Showtime at 9 p.m. ET. The season will consist of 10 episodes.
City on a Hill Cast
Bacon stars as the corrupt yet venerated FBI veteran Jackie Rhodes. Aldis Hodge (Straight Outta Compton) will co-lead as idealistic District Attorney Decourcy Ward who helps clean up the city. And since this is a Ben Affleck Boston crime-joint, we do also need some young neighborhood toughs. A family of armed robbers from Charleston will be played by Jonathan Tucker (Westworld), Mark O'Brien (Halt and Catch Fire), and Amanda Clayton (NCIS: New Orleans).
City on a Hill Trailer
Here is the first trailer for City on a Hill. Yep, that's Boston!