News
Chilling Adventures of Sabrina Trailer Breakdown and Analysis
Here are all the Archie, Riverdale, and other crazy Easter eggs hiding in Netflix's new Chilling Adventures of Sabrina trailer!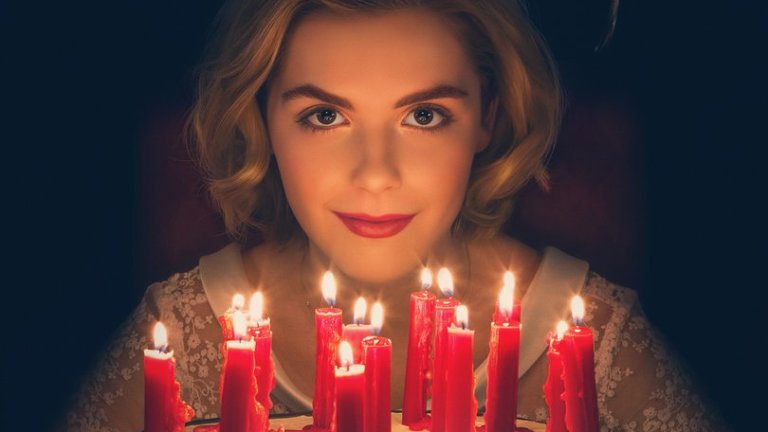 After a seemingly interminable wait, Netflix's promotion train for Chilling Adventures of Sabrina has finally left the station. Based on the comic by Riverdale showrunner Roberto Aguirre-Sacasa and illustrator Robert Hack, the series is a pitch black retelling of the character's story starring Mad Men's Kiernan Shipka as the titular heroine, torn between the world of witches and mortals. Yesterday we were given a look at a downright chilling poster for the show, and the delightfully creepy marketing continues with this just-released first trailer for the series, which makes it's arrival on October 26th (just in time to make it the centerpiece of your Halloween binge-watching).
Take a look at the Chilling Adventures of Sabrina trailer, then we will break down what's going on here.
In their promotional materials, Netflix describes the series as folows:
"A witch's 16th birthday is very special. The Chilling Adventures of Sabrina tells the story of Sabrina Spellman (Kiernan Shipka), a half-witch half-mortal teenage girl. She's been waiting her whole life for her 16th birthday, but something wicked this way comes, forcing her to choose between the path of light and the path of night."
Intriguing for sure, but let's dive a bit deeper and see if we can't attempt to unravel the mysteries that this teaser reveals.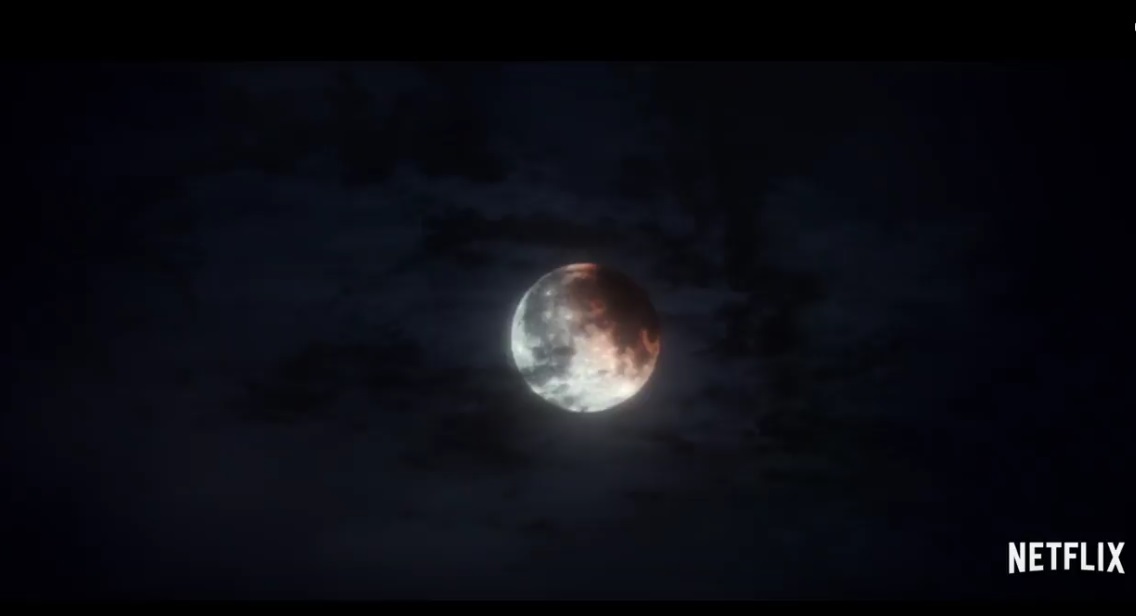 Fittingly enough, the trailer begins with an ominous shot of a blood moon, foreshadowing the unsettling things to come.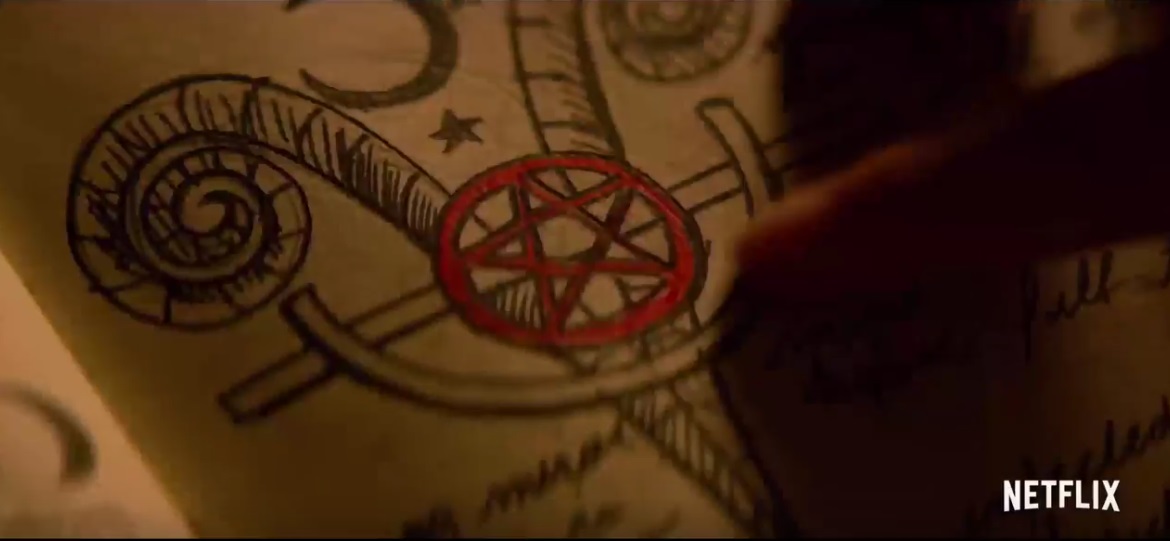 A number of quick cuts follow, the first being a glimpse at a book with the devilish imagery of a red pentagram on ram's horns. But what exactly is this book, who is reading it, and why?
The major thing that differentiates the Chilling Adventures of Sabrina book from the original Sabrina the Teenage Witch comic, cartoon and television series is how brutal it is. Characters not only die, but do so in vicious, extraordinary ways, and every one it seems is not as they appear. The comic began in 2014 and has, to date, published eight issues.
further reading: Chilling Adventures of Sabrina Spoiler Free Review
Due to Roberto Aguirre-Sacasa's commitment to the TV Archieverse, both this title and his Afterlife with Archie comic have been on an indefinite hiatus. It will be interesting to view how the television version of Chilling Adventures differs from the printed work as storyline in the brief number of issues published will quickly be eclipsed by the 20 episodes (to date) that Netflix has committed to. As the trailer indicates, none of the book's darkness has been lost in its adaptation for the screen.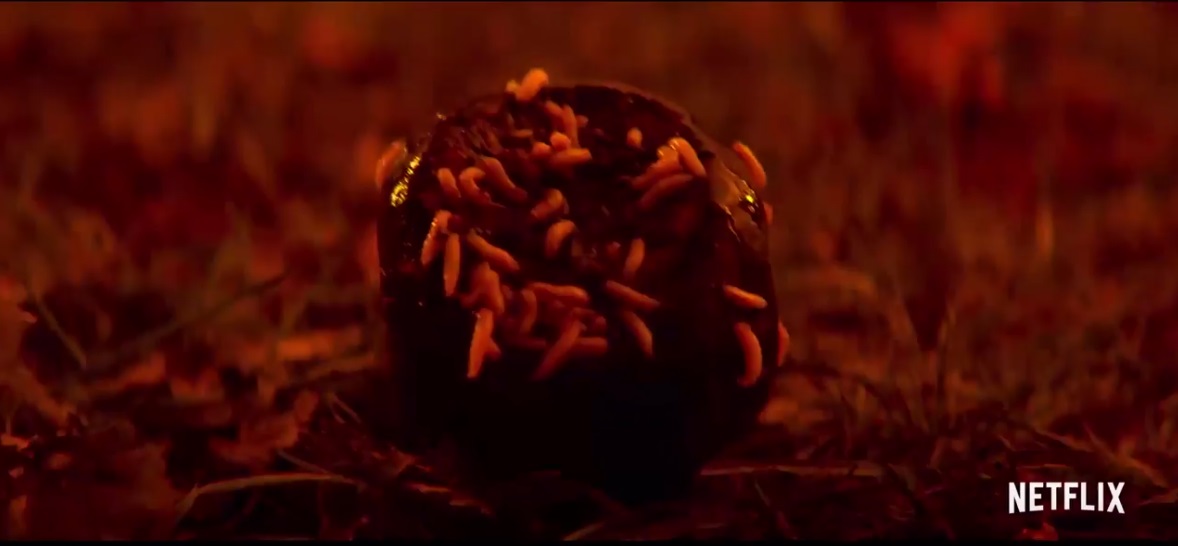 Another lightning-fast cut follows, this one of maggots devouring what appears to be a piece of fruit. Is this part of a Satanic ritual, or are the produce sections of supermarkets in Greendale (where the series is set) just really bad?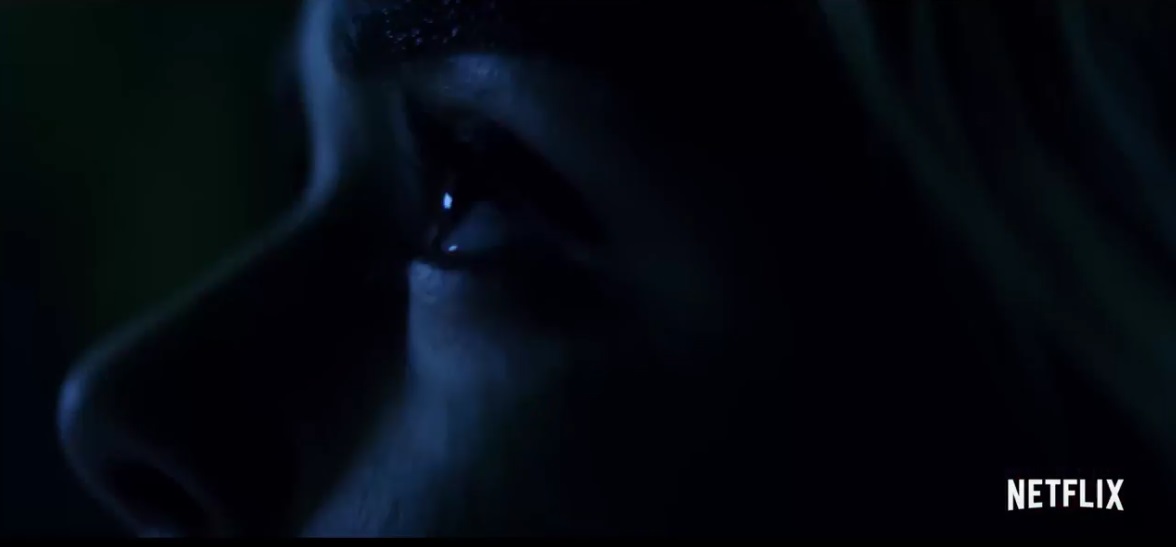 And, after months of waiting, we finally get our first look at Kiernan Shipka as Sabrina Spellman, shown in a truncated profile here, her features awash with moonlight.
Given the character's struggles to find balance between the light and dark aspects of her life, it is wonderful that our initial glimpse of Sabrina is imagery that subtly reflects this struggle.
Since her 1962 debut when she was created by legendary Archie writer George Gladir and illustrator Dan DeCarlo, Sabrina is primarily known as a character who uses her abilities to attempt to make the lives of her friends and loved ones better. Predictably this leads to comedic disaster, especially when she was teamed up with Archie and his gang. Little Archie creator Bob Bolling attempted to make the character more complex in the 1980s by having her involved in adventure type stories. But it wasn't until 2013 when Sabrina's dark nature — she is a witch after all — began to be explored.
In Afterlife with Archie, Jughead's beloved pet Hot Dog is killed by Reggie Mantle, and he turns to Sabrina to use the book of the dead to resurrect him. Things don't go to plan, and she accidentally triggers the zombie apocalypse. (And is later forced to marry Cthulhu, it's a wacky comic).
The book's success led to the creation of the Archie Horror imprint — which continues to this day with Jughead: The Hunger and Vampironica — and, most notably, the Chilling Adventures of Sabrina comic and its subsequent Netflix show.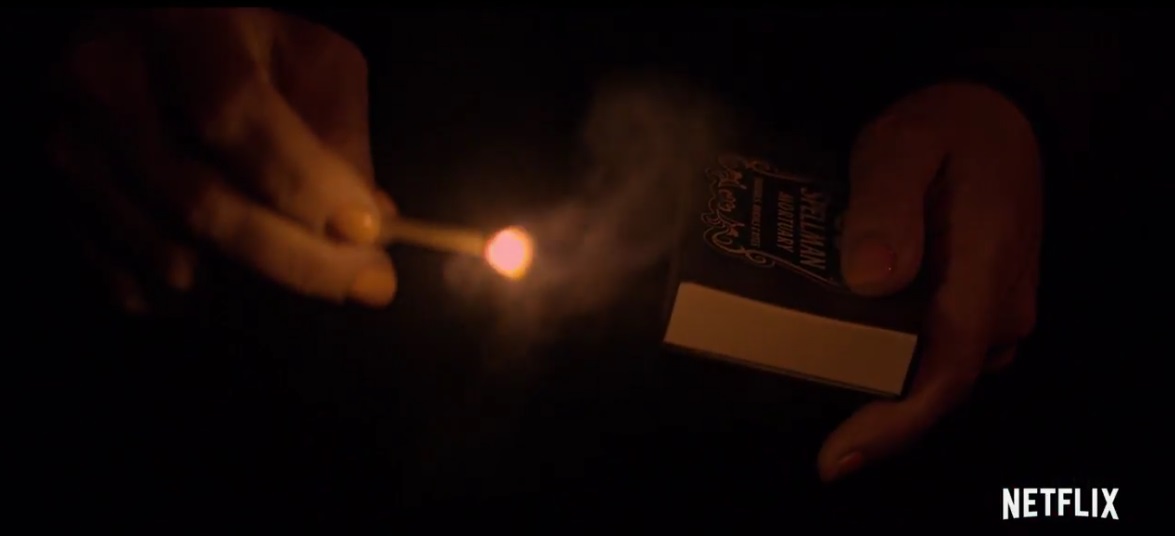 A 'Spellman Mortuary" (where Sabrina lives with her aunts Hilda and Zelda, and cousin Ambrose) matchbook is struck. Note the old-fashioned writing on the matchbook. Exactly how long have the Spellmans been in Greendale anyway? The match is being used to light the candles on a birthday cake, the same cake that is glimpsed in the above poster imagery.
As the cake starts to wind its way to reach Sabrina, a spooky rendition of "Happy Birthday" plays out on the soundtrack.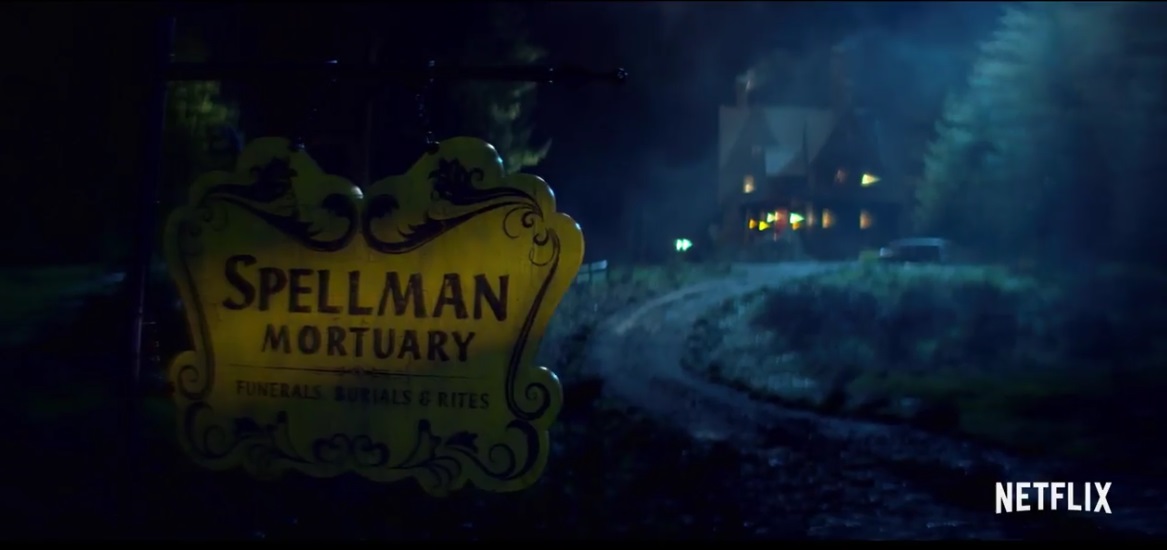 We get a look at the exterior of the Spellman Mortuary, with a sign that describes the property's business model as one dedicated to "funerals, burials and rites." It is the last one of these that sounds most intriguing, given the Satanic elements of the source material on which the series is based.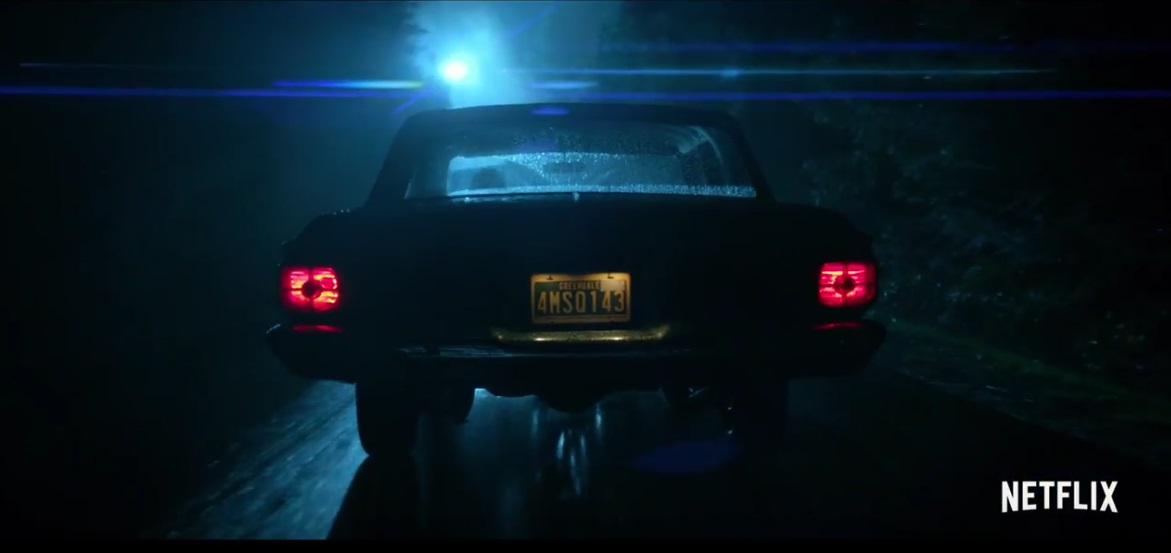 A car driven by an unknown person barrels towards a mysterious destination in the dead of night. The vehicle has Greendale plates.
As regular Riverdale viewers will point out, Greendale is the neighboring community to that show's setting, and one that is known for being a place of the supernatural. As of this writing, Roberto Aguirre-Sacasa (who is showrunner for both series) has ruled out a Riverdale/Chilling Adventures of Sabrina crossover…but we are still keeping our fingers cross that these shows collide at some point.
We see the exterior of Cerberus Books, which is exactly the sort of place we would love to hang at.
Is this spot the Chilling Adventures of Sabrina equivalent of Pop's Chok'lit Shoppe?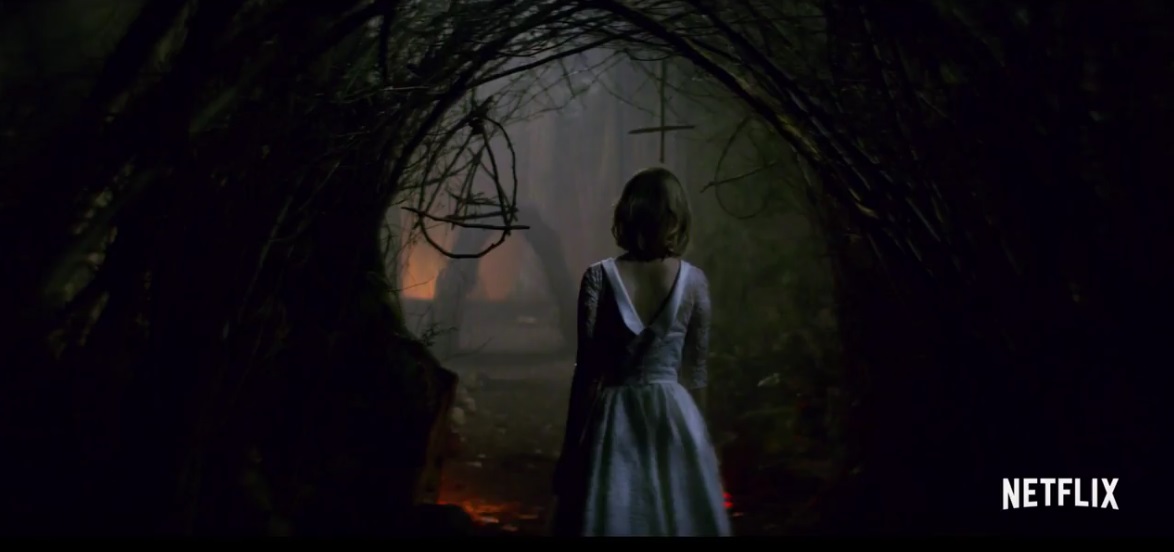 We see a character, most likely Sabrina, about to enter the woods. A Cross of Saint Peter, known as a Satanic symbol, hangs in front of her while off the distance an eerie light glows.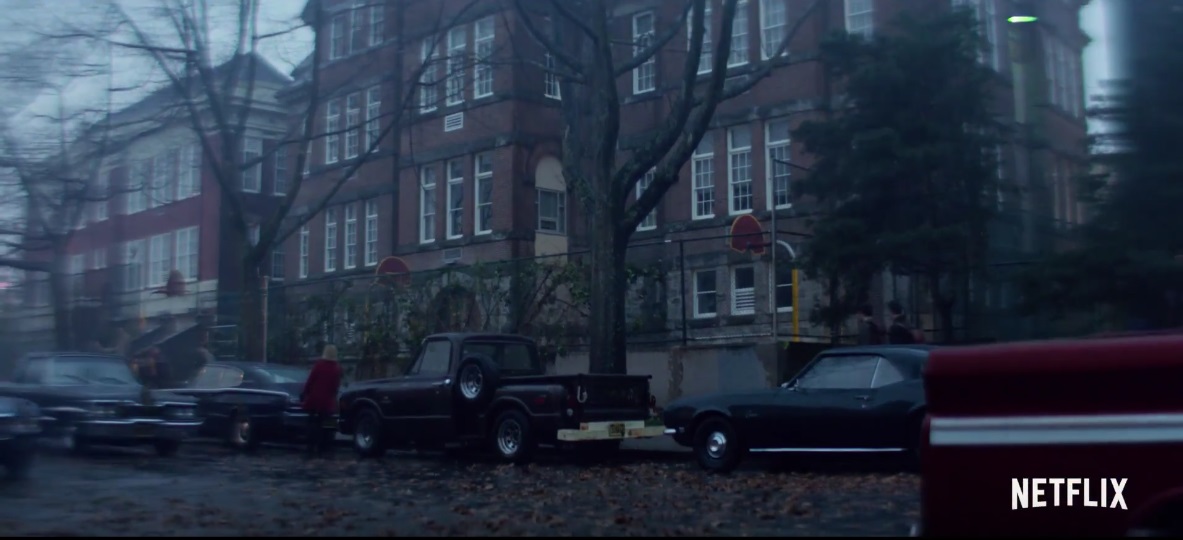 Following another quick shot of a full moon and a title card that lets viewers know that this series is "from the executive producers of Riverdale," we see an image filmed from the back of Sabrina sitting at a table. Then the action changes to show her running towards what we're guessing is her school, Baxter High.
Her coat here is very Little Red Riding Hood and we are, as the kids say, here for it. The following shot is of Sabrina walking the halls of the school, but it is one that is quickly interrupted by this…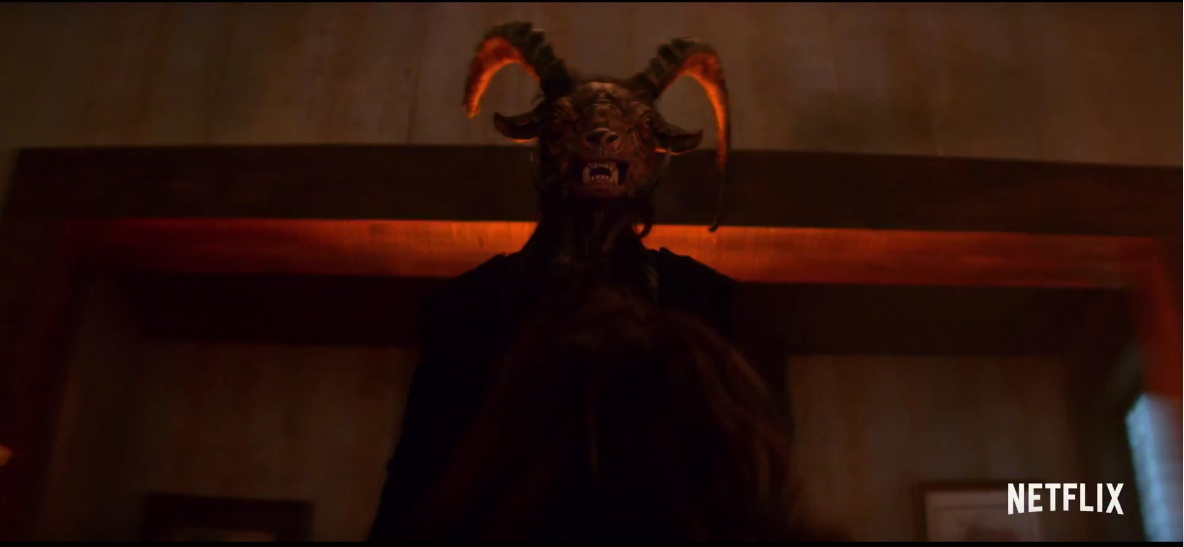 WHOA.
This almost subliminal shot of a ram-horned humanoid creature that looks like how Satan is depicted in the Chilling Adventures of Sabrina comic is truly unsettling.
So yeah, fans of the Melissa Joan Hart series may want to sit this show out.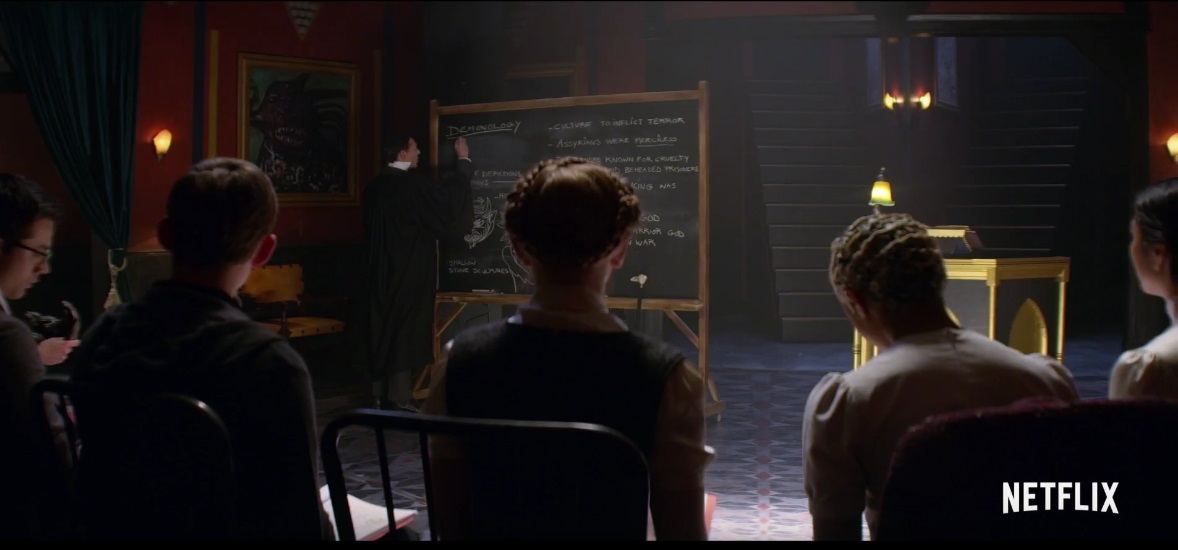 Students are then glimpsed taking a class on Demonology. The blackboard is strewn with dark writing that says things like "culture to inflict terror," so this school may need to chill.
The witchcraft school aspect of the series is brand new to Chilling Adventures of Sabrina lore, and will serve as a sort of anti-Hogwarts in which aspiring witches and warlocks can hone their dark magic skills.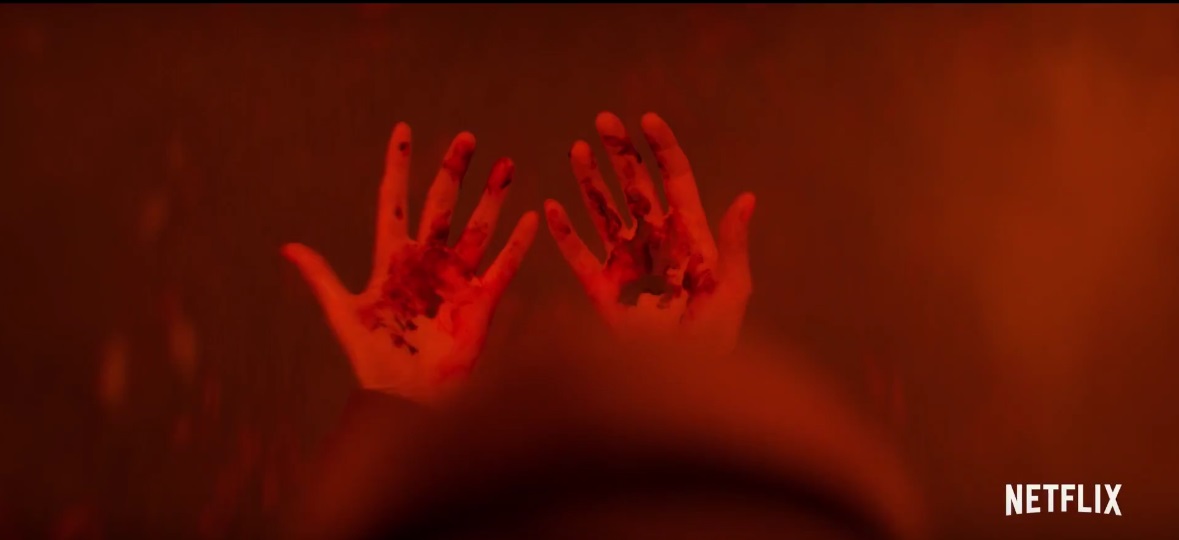 Another nearly subliminal shot shows a character whose hands are coated with blood. Well, either that or they left a Snickers bar in their pocket during a hot day.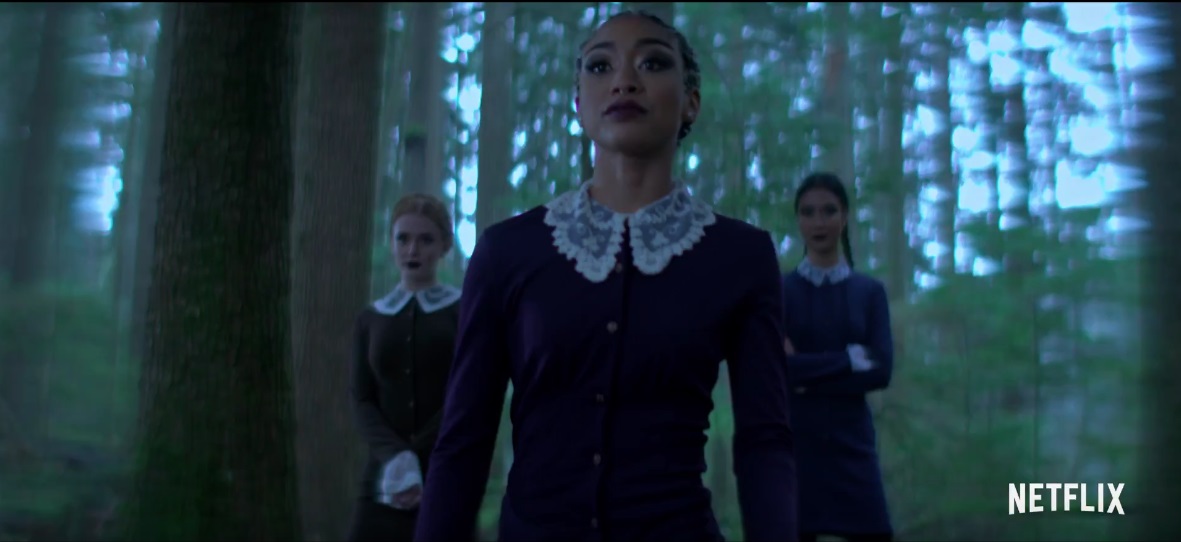 Three young witches dressed in vintage clothes appear in the lead. At the forefront is Prudence (Tati Gabrielle), a rival of Sabrina's.
It's interesting to note that her colleagues are blond and brunette, clear surrogates for Betty and Veronica — who are witches in the Chilling Adventures of Sabrina comic.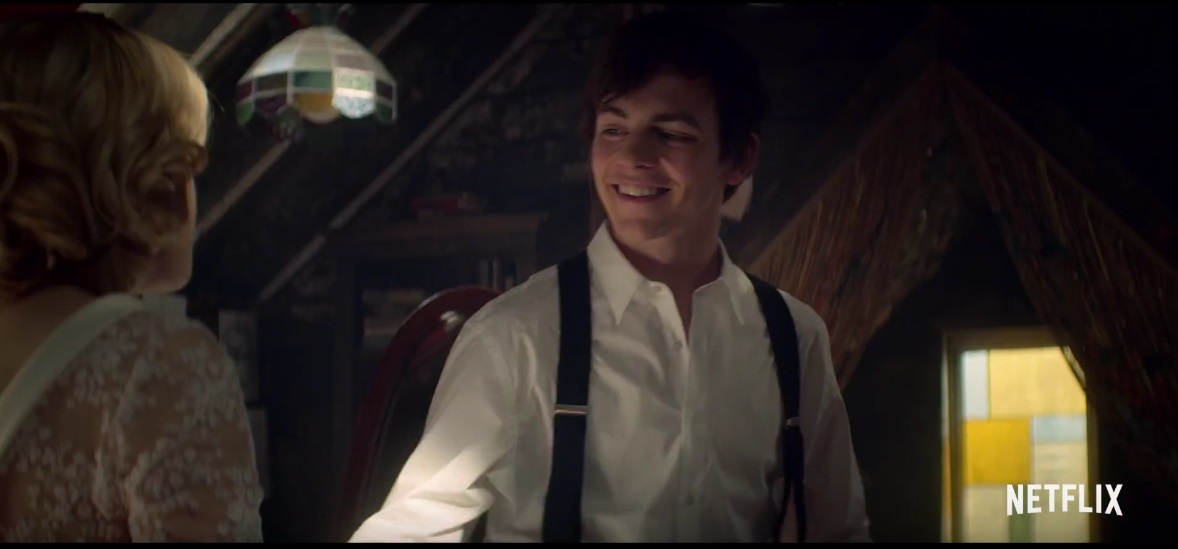 Here's your first look at Ross Lynch as Sabrina's love interest, Harvey Kinkle. A staple in the comics, Harvey is a loving and loyal (if somewhat dumb) boyfriend who has no idea about Sabrina's witch side.
Spoiler alert: The recent Chilling Adventures of Sabrina comic storyline had this character meet a grim fate (and even more twisted resurrection). After stumbling upon Sabrina's Satanic baptism, Harvey is murdered by witches. He is subsequently ressurected, and possessed by the spirit of Sabrina's dead father.
If the show takes this route, things will get way dark and fast. We can't wait to find out.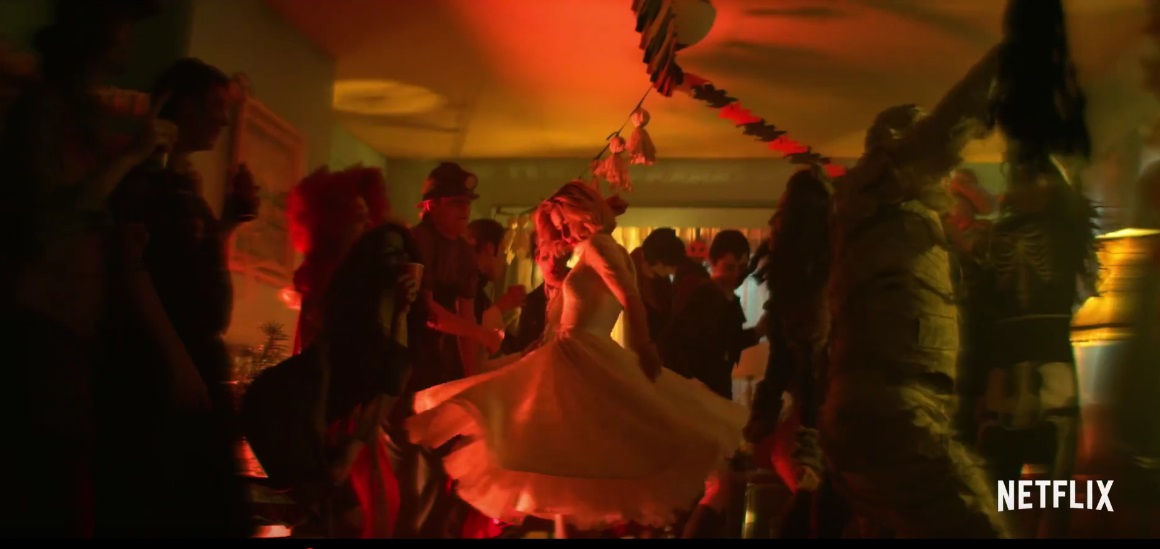 Fortunately, it's not all doom and gloom for Sabrina, who is seen here dancing at a Halloween party.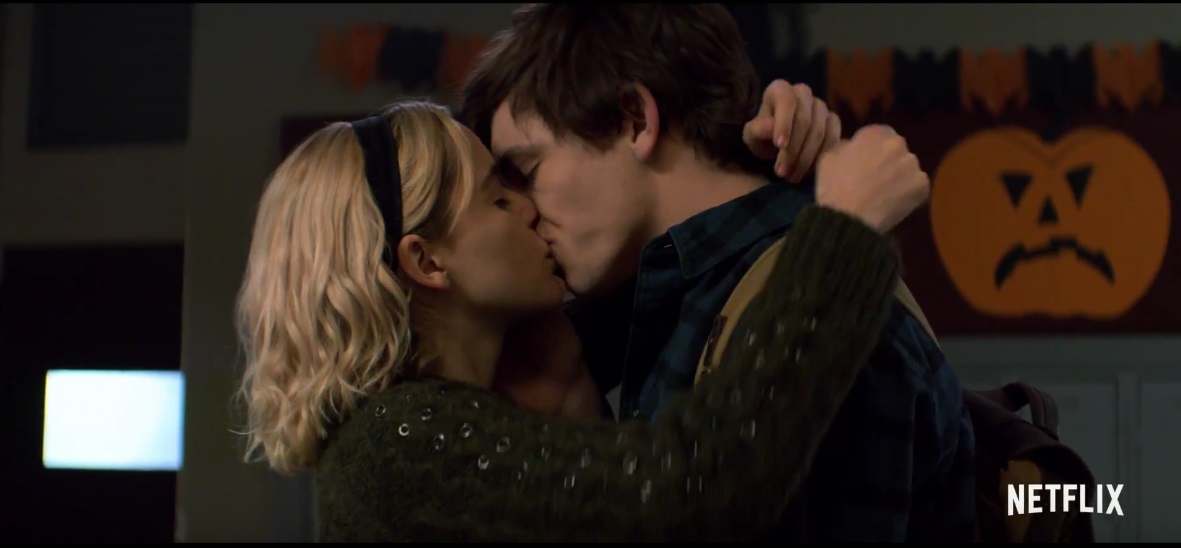 After another brief shot of the birthday cake, we see Sabrina and Harvey in a passionate embrace in school. The pumpkin in the background is simply not having it. Poor lonely pumpkin, will you ever find the love that eludes you so?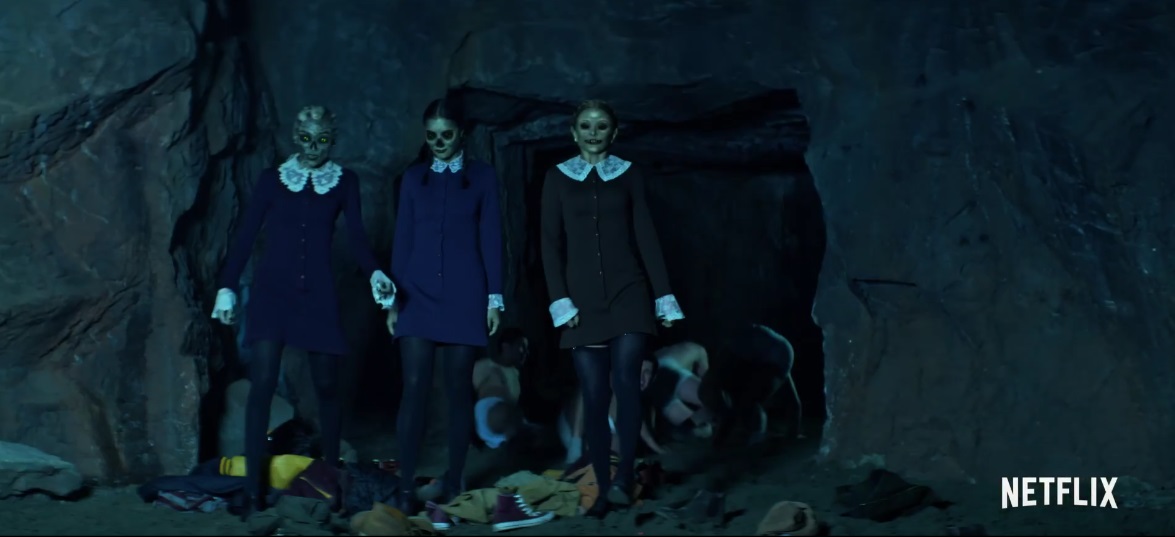 One of the greatest things about the Chilling Adventures of Sabrina comic is how it shows that the normal looks of witches is just a facade, and their true ghastly forms are revealed whenever they commit an act of evil. The above image of Prudence and her cohorts walking away from their latest victims replicates Robert Hack's illustrations from the book with precision. It certainly appears that the series is trying to stay as close to the printed page as possible, and that delights our inner fanboy.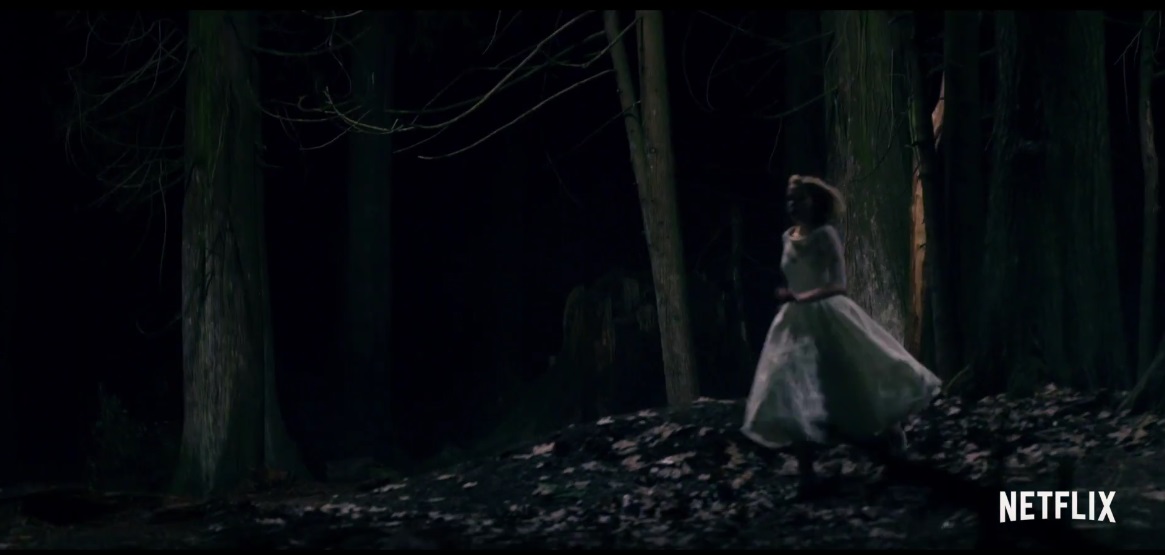 Sabrina runs through the woods in a beautiful dress. Is she late for a date with Harvey, or is something more sinister afoot?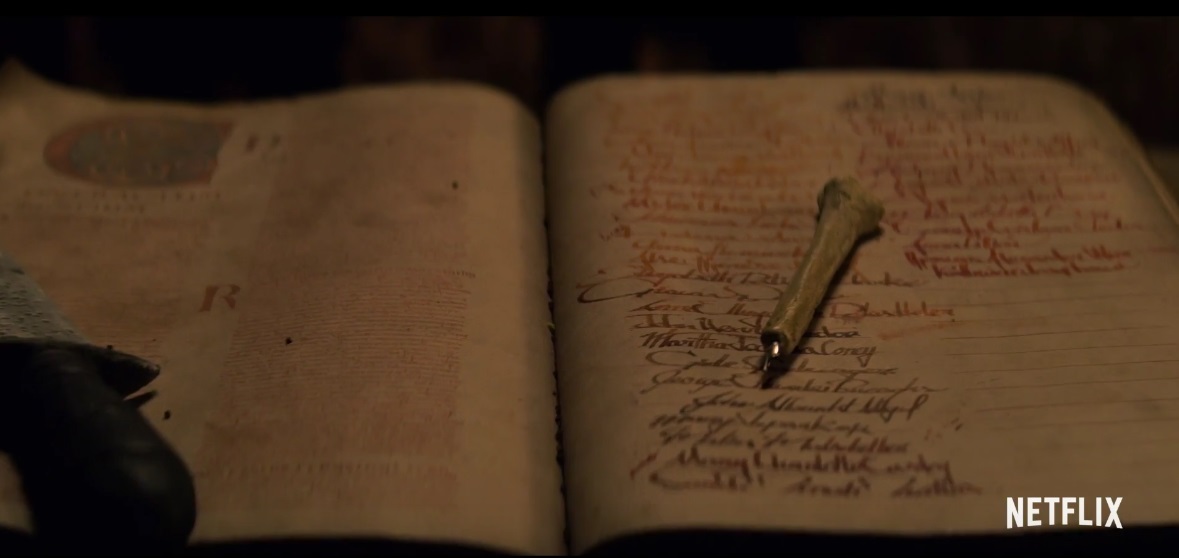 A pen made out of bone lies atop an ancient text filled with names. The ledger at a Holiday Inn, this ain't.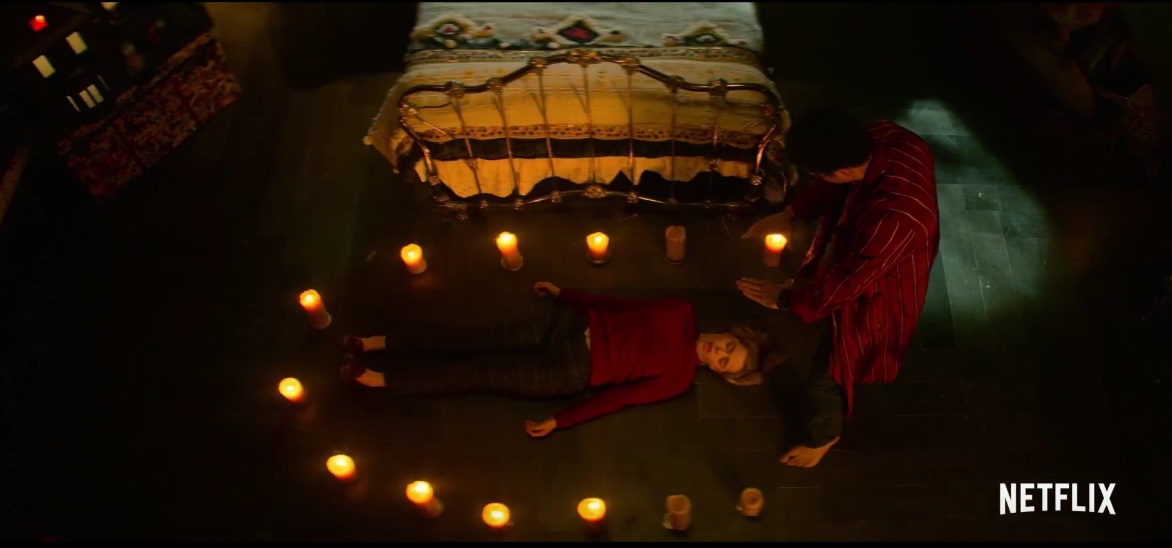 Sentenced to house arrest for violating Witch Law, the kindly Cousin Ambrose (Chance Perdomo) is here seen performing some sort of spell or ritual on Sabrina. Being fans of The Hitchhiker's Guide to the Galaxy, we appreciate that he is doing this in his dressing gown. Arthur Dent would be proud.
Ambrose has been a part of the Sabrinaverse since 1971, where he was initally portrayed as a warlock Mr. Belevdere. When the Chilling Adventures of Sabrina comic debuted, the character was revamped to be a much more complex character who is not above using his powers for personal gain. (An act that resulted in his ongoing punishment).
As you may have surmised, this new take on Ambrose works way better than the character's initial portrayal.
Weirdly enough, this isn't the only Ambrose in Archie Comics lore. Ambrose Pipps made his debut in the pages of Little Archie in the 1950s, had a one-shot solo comic and vanished into obscurity before he re-emerged in Life with Archie: The Married Life nearly a decade ago. He was regularly bullied by Little Archie and his friends, resulting in some fan fictiony head canon in which he teamed up with Sabrina's Ambrose to exact revenge against his ginger tormentor.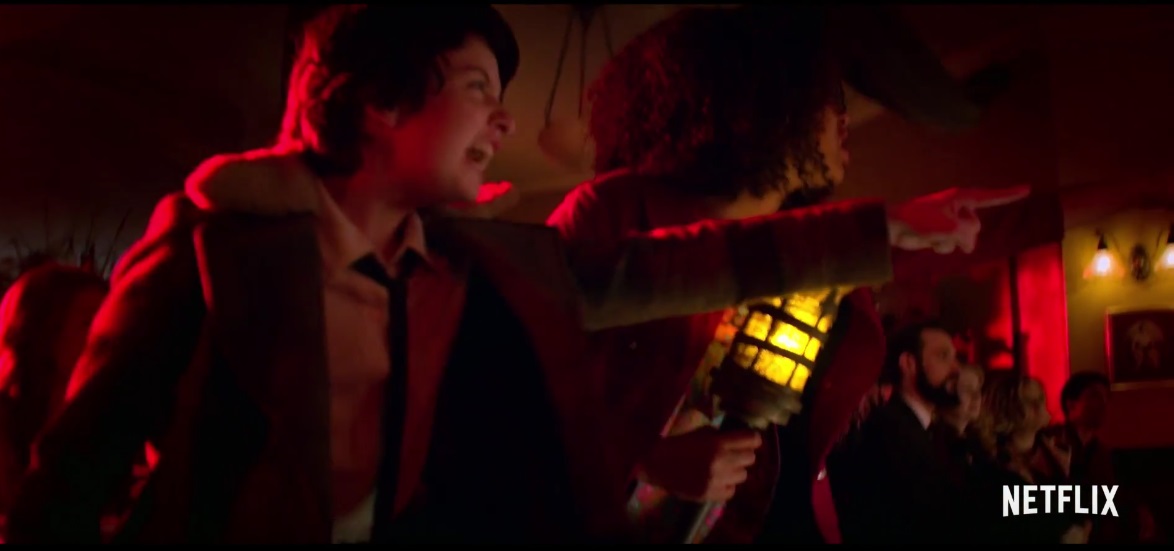 Sabrina's friends Susie (Lachlan Watson) and Rosalind (Jaz Sinclair) respond passionately about something. The lighting here is very Creepshow, which, given Roberto Aguirre-Sacasa's love for that film, was almost certainly intentional.
Another divergence from the source material is in how Rosalind and Sabrina are devoted to each other, whereas previously they were frenemies. This change makes a good deal of sense, as now the new character of Prudence takes over this adverserial role and showing Sabrina and Rosalind's friendship really hammers home how, at her core, deeply human Sabrina is.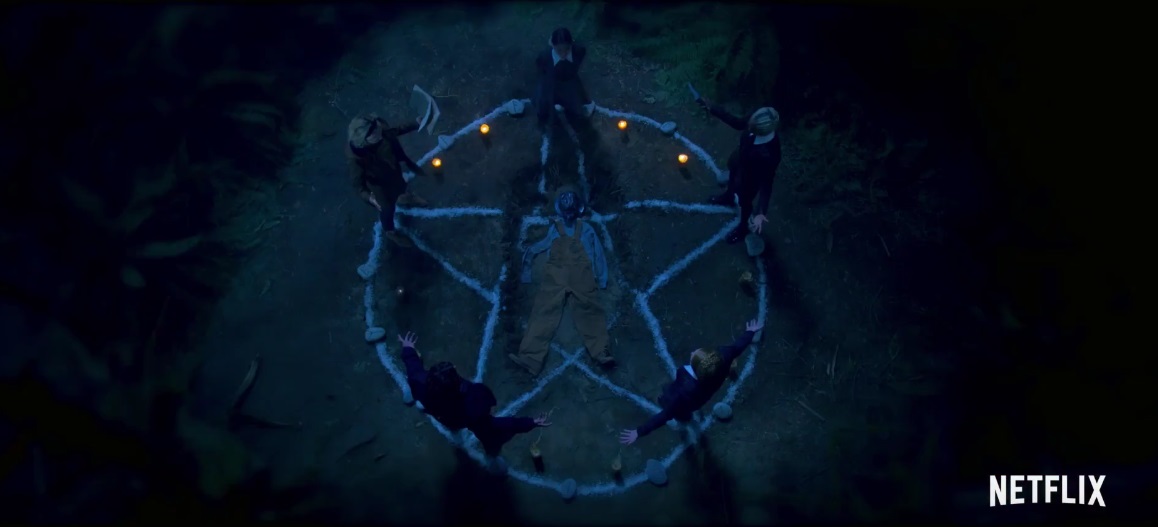 A dark ritual involving Sabrina and other witches (with what appears to be a long-dead body in the center of the pentagram) is well underway.
Which brings up an interesting point: Given the weird times we live in where everything unpleasant and old is new again, will Chilling Adventures of Sabrina jumpstart a new round of Satanic Panic? Back in the 1980s, everything from heavy metal music to Dungeons and Dragons was accused of leading youth to the occult and, eventually, the Devil himself. With Old Scratch looming large over this series, it's easy to envision a "morality" shitshow heading Sabrina's way. Stay tuned.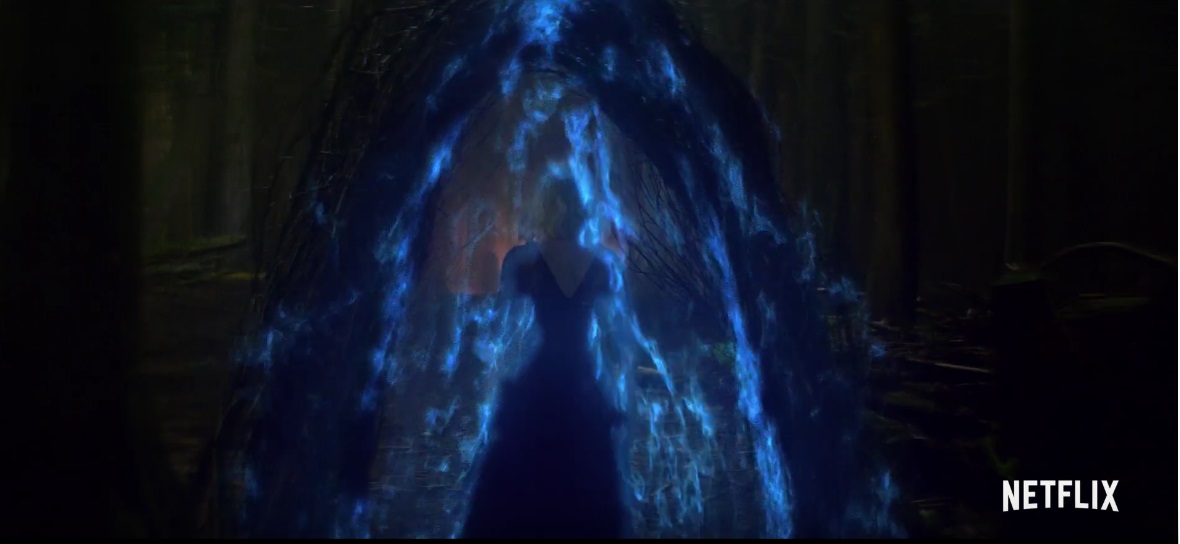 Sabrina walks through some sort of blue energy veil, one that is weirdly reminiscent of the river of slime from Ghostbusters II. Well, either that or pop culture has ruined us.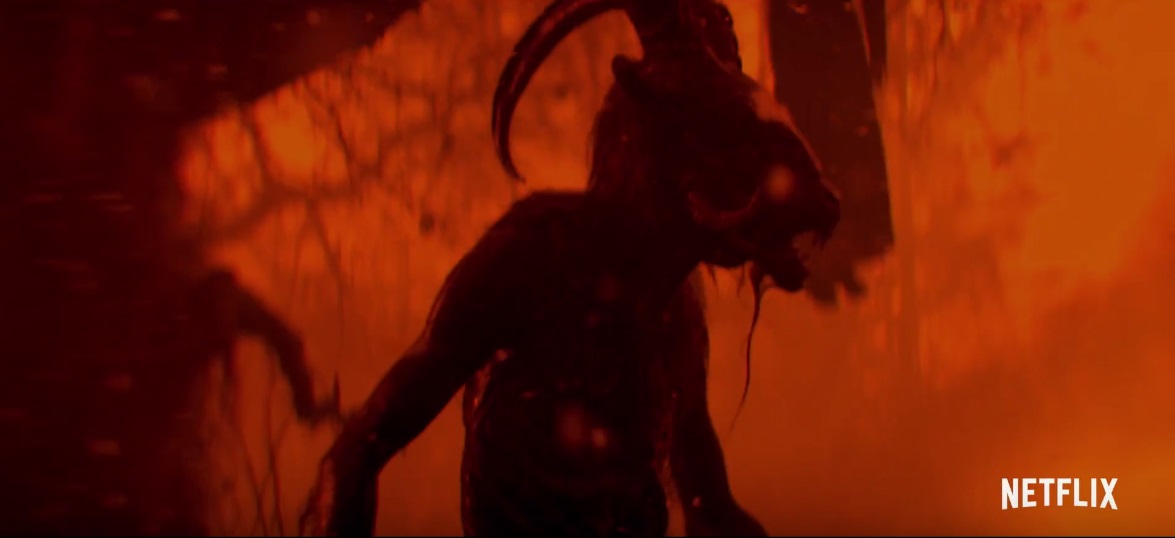 Two shots of the aforementioned horned creature walking through a fiery hellscape follow. This is immediately followed by a cut to Sabrina in a tub, making us wonder if she is imagining some sort of dark future.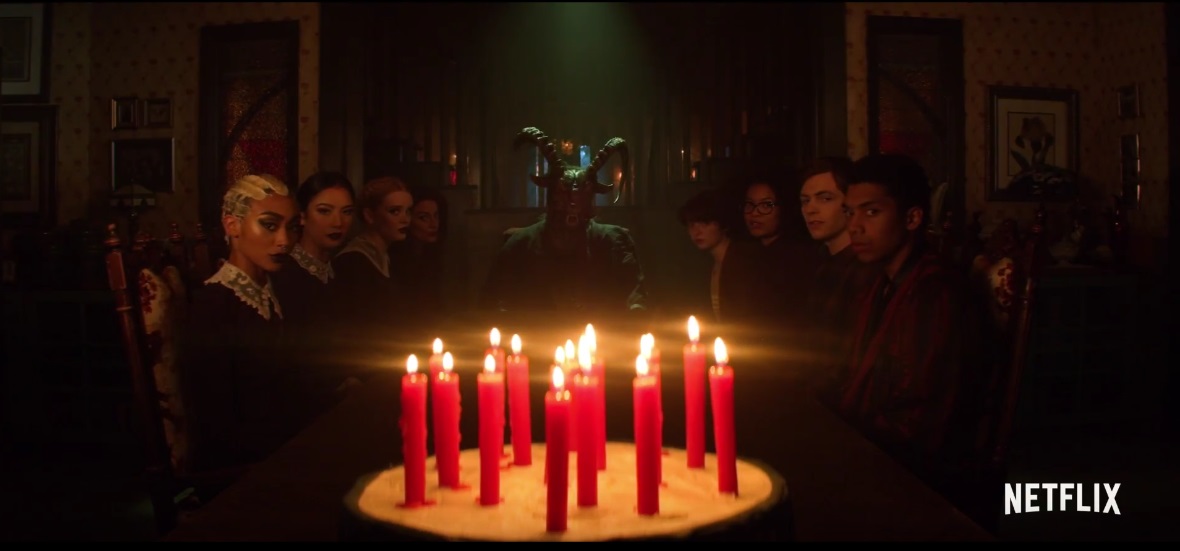 The cake finally reaches the table. Note Michelle Gomez in the upper left. She portrays Madam Satan, an antagonist of Sabrina's.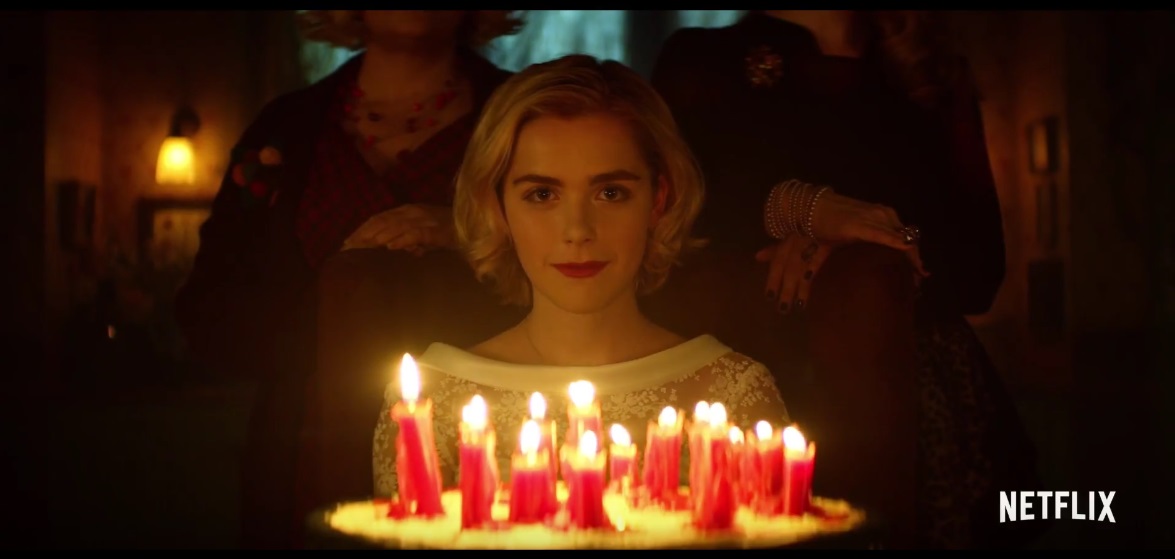 Sabrina greets her guests with a smile while her devoted aunts Hilda (The Office's Lucy Davis) and Zelda (Miranda Otto from The Lord of the Rings) stand behind her. But then the camera turns and Sabrina is all alone. Then the credits roll as a ghostly voice says "Sabrina" and Salem makes his eagerly anticipated appearance.
In the 1960s, the comic Archie's Madhouse debuted the main Sabrina players, although initially not at once. For example, the Hilda character was originally a witch who was unconnected to Sabrina, but folded into her storylne after the teenage witch became an overnight sensation. And the (much-needed) changes to Ambrose are documented above.
Madhouse was an interesting book, as it mutated over its 23-year existence from being an Archie-centric comic, to one focused on goofy monster-type stories, to a brief foray in EC Comics-style horror, before becoming an adventure-oriented book that featured a group of characters who were essentially rip-offs of Archie and his gang.
The Complete Sabrina the Teenage Witch: 1969 -1972 and the Chilling Adventures of Sabrina graphic novels are your best introduction to these characters and their witchy world. Although stylistically very different, they showcase how these characters have evolved over the decades, leading them to where they are today.
WHAT DOES THIS TEASER MEAN? We will find out when Netflix debuts all 10 episodes from Chilling Adventures of Sabrina's first season on October 26th. And we'll have much more on the series for you before then!
Chris Cummins is a Philadelphia-based writer, producer, and comics historian. Read more of his work here. You can find him on Twitter at @bionicbigfoot and @scifiexplosion