News
Chilling Adventures of Sabrina Season 3: Release Date, Trailer, Cast, Story, and More
Hail Satan. The Dark Lord reigns as Netflix conjures a release date for Chilling Adventures of Sabrina Season 3.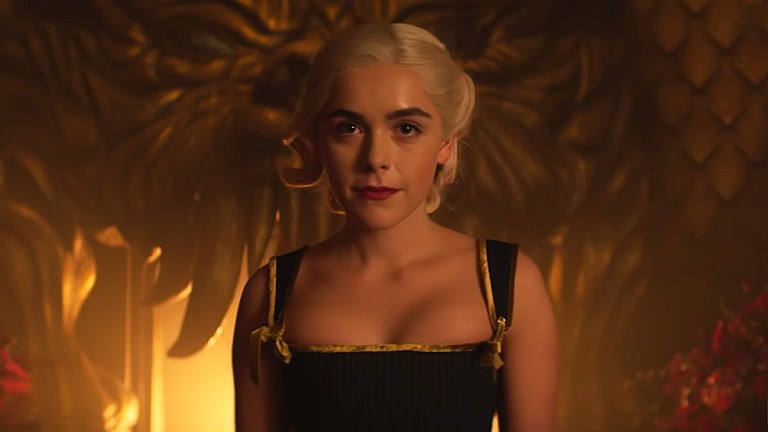 It's not a tornado that's coming. It's something much, much worse. The witches are coming. Despite what the false god and its propaganda machine would have you believe, Chilling Adventures of Sabrina Season 3 and Season 4 will be delivered by Netflix.
"Praise Satan! I'm so grateful to my partners at Warner Brothers, Netflix, Berlanti Television, and Archie Productions for supporting this darker vision of the world's most famous teen witch," creator and showrunner Roberto Aguirre-Sacasa, who is chief creative officer of Archie Comics, said in a statement via Variety. "And I'm thrilled to be continuing to tell Sabrina's chilling adventures with our incredible cast and crew, led by the unstoppable Kiernan Shipka."
read more: Interview! How Sabrina Explores Her Dark Side in Season 2
Chilling Adventures of Sabrina didn't come from your grandfather's Archie Comics. Why, if this were the Springfield of The Simpsons Universe, Abe would demand Roberto Aguirre-Sacasa and Robert Hack be sacrificed to their gods. But it's not. It was given life by in the Afterlife with Archie series from Archie Horror. While there seem to be no danger of a zombie apocalypse invading Riverdale's neighbor Glendale, there are darker things afoot than would ever step into a series on The CW.
read more: Sabrina Part 2 Ending Explained
Chilling Adventures of Sabrina Season 3 Release Date
Chilling Adventures of Sabrina season 3 (or part 3, rather,) will arrive on Friday, January 24 on Netflix.
To put some of that parlance into context, Netlix chops the story of the Dark Lord's rebellious servant into "parts," rather than seasons.
Chilling Adventures of Sabrina Season 3 Trailer
The first full trailer for Chilling Adventures of Sabrina Part 3 has arrived, proving that being Queen of Hell isn't a summer job.
Here's a music video titled "Straight to Hell," performed by Sabrina Spellman & Lovecraft, which, while still not a trailer, drops a little more footage from the third season.
When Netflix unveiled the Chilling Adventures of Sabrina season 3 release late at Argentina Comic Con, they also released the a teaser to go with it. It's not a full trailer but it'll do.
Welcome to hell, y'all.
Chilling Adventures of Sabrina Season 3 Cast
Sabrina the Teenage Witch is played by Kiernan Shipka. The dark coming-of-age story also stars Michelle Gomez as Mary Wardwell, but she's really Madame Satan.
Miranda Otto, Lucy Davis, Ross Lynch, Chance Perdomo, Jaz Sinclair, Richard Coyle, Tati Gabrielle, Adeline Rudolph, Abigail Cowen, Lachlan Watson and Gavin Leatherwood are also featured players. McKenna Grace (The Haunting of Hill House) plays young Sabrina Spellman in the holiday special.
"Part Three finds Sabrina reeling from the harrowing events of Part Two. Though she defeated her father Lucifer, the Dark Lord remains trapped within the human prison of her beloved boyfriend, Nicholas Scratch. Sabrina can't live with herself, knowing that Nick made the ultimate sacrifice and is suffering, burning in Hell under Madam Satan's watchful eye. So with an assist from her mortal friends, "The Fright Club" (consisting of Harvey, Rosalind, and Theo), Sabrina makes it her mission to free him from eternal damnation and bring him back into her arms. However, the Dark Lord's unseating has sent shockwaves through the realms—and, with no one on the throne, Sabrina must assume the title of "Queen" to defend it against a challenger, the handsome Prince of Hell Caliban. Meanwhile, in Greendale, a mysterious carnival rolls into town, bringing with it a threat to the Spellmans and the coven: A tribe of pagans looking to resurrect an ancient evil…"
Culture Editor Tony Sokol cut his teeth on the wire services and also wrote and produced New York City's Vampyr Theatre and the rock opera AssassiNation: We Killed JFK. Read more of his work here or find him on Twitter @tsokol.