News
Charlotte Has Become WWE's Top Heel
There isn't another wrestler on the roster generating more heat than the Women's Champion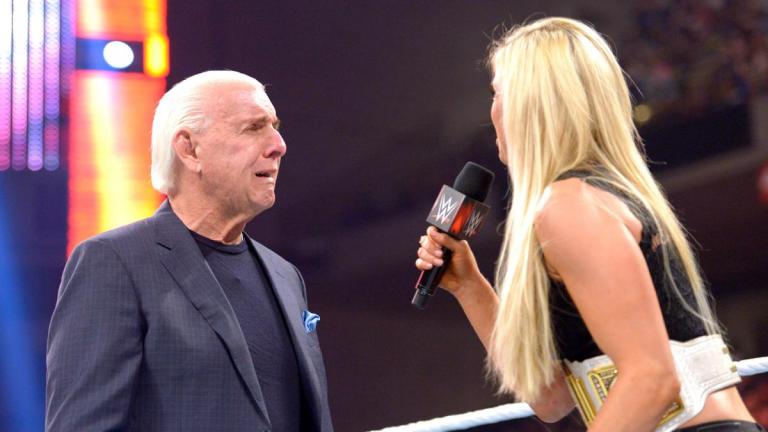 There's another Flair at the top of pro wrestling.
Charlotte Flair, of course the daughter of the legendary Ric Flair, is the hottest heel in WWE, and it really isn't even close. On Monday's Raw, Charlotte turned on her father, who had been managing her in recent months on WWE television, kicking him out of "her ring," and cutting an emotional promo on Ric's absence during her childhood.
Despite some slipping on her words — there was a lot of truth behind this promo, I'm sure — it really cut deep and was pure emotion. It probably wasn't an easy promo to cut for Charlotte, given the substantial true feelings I'm sure that were behind her exaggerated, perhaps, words.
This promo and this segment, which hit right around the top of the third hour, cemented Charlotte's status as not only a main-eventer, but the best heel in the company.
Just listen to the crowd reactions around WWE. No one is getting the heat that Charlotte is getting. That doesn't just go for television, either. Every house show report you read says that Charlotte was massively booed, and that was with her popular father by her side.
You could argue that Ric walking side-by-side with Charlotte was less of a heater, and more a presence which would generate some babyface reactions for Charlotte. The crowd would often let out some "woo!' Chants aimed at Ric.
Charlotte introduced Dana Brooke as her new sidekick. Brooke was compared to Arn Anderson. She's Charlotte's muscle the same way Arn was for her dad.
Who knows? Maybe Charlotte puts together a women's version of the Four Horsemen?
Dana is a good heater for Charlotte. She's strong enough to believably cost Charlotte's opponents matches, although it would be better for her to do it with some physicality, and less with a plain distraction, as she did with Natalya at Extreme Rules on Sunday.
Removing Ric from the picture was the right time and will only put more heat on Charlotte. Removing him the way they did — Ric was balling his eyes out in the ring — makes him a sympathetic figure for when he does return, whenever that is, and makes Charlotte out to be even more hated, as she mocked her crying father as he left the ring … HER ring.
WWE needs to continue to build this dynamic with Charlotte and Brooke, and let Dana Brooke get involved in Charlotte's matches. Charlotte has a lot of cool factor, and the second she starts winning matches clean with impressive moves, the crowd will quickly fall in love her with. Let's face it, she's beautiful, and extremely athletic. Her work in NXT and her early-work in WWE as a face was quite good, and now that the crowd is even more emotionally invested in that character with her work as a heel, the re-turn back to babyface will be easy. Almost too easy. WWE needs to make sure it doesn't happen before they want it to, but at the same time allow it to happen organically. That's a tough rope to walk.
As much as now is the right time to exit Ric, it's NOT the right time to turn Charlotte. She's getting the best heat on the show. She might be one of WWE's only true heels at the moment, in an era where it's become cool to boo the good guy and cheer the bad guy.
Shane Sets Up Rollins-Reigns at Money in the Bank
It's a tad disappointing to see Rollins return as a heel instead of a babyface, but as we pointed out in our Extreme Rules review, this does at least give the "smart" fan someone they respect to cheer for against Reigns.
Given Reigns matches with A.J. Styles, it should also make for a great PPV main event. Reigns really elevated his game in his matches with Styles.
1. Sami Zayn beat Sheamus in a MITB qualifying match
This is a huge, statement win for Zayn. Sheamus is a heel that WWE continually pushes and had in the WWE title picture not all that long ago. Giving Zayn a win here is a good indication that WWE likes his work and has some growing confidence in him. It's also a nice start to the MITB qualifiers. The younger the better, when it comes to this match.
2. New Day beat The Social Outcasts
This match was over in less than two minutes, and I'm totally fine with that. I'm all for WWE bringing back the squash match at some point, and that's basically what this was. With three hours of TV to fill, it was a nice change of pace to see New Day get a win where they can showcase all of "their stuff."
3. Cesaro beat The Miz in a MITB qualifying match
Another big development. This is a big win for Cesaro, who has a legitimate shot at winning the MITB match. If not, he at least has his due for another IC Title shot after getting the win over the champion.
4. Chris Jericho beat Apollo Crews in a MITB qualifying match
This was sort of a dud, with one really big blown spot near the end when Crews tried to counter the Lionsault. Jericho, it looked like, had to walk him through the rest of the match from there.
Crews is a talent, but right now, he seems more in the category of Tyler Breeze, in the sense that WWE threw him on their main television show and hasn't done much to build or explain his character since.
5. Big Cass beat Bubba Dudley
Enzo Amore returned before the match, cutting a promo and cornering Big Cass. This was your basic television match with Bubba Ray putting over the up-and-coming Cass. That has basically been the Dud's role since returning.
6. Dean Ambrose beat Dolph Ziggler in a MITB qualifying match
The live crowd was losing some steam at this point, as we enter the third hour, and this was a babyface match without a clear boo-cheer line. After some moments where it dragged, the finish was strong and generated a good reaction.
7. Kevin Owens beat A.J. Styles in a MITB qualifying match
This match will go down as being vastly underrated because of its reaction from a dead live crowd, but this was a very good match with two of WWE's best on the roster.
There were some very interesting developments here in regards to Styles. First, he essentially dumped Gallows and Anderson before the match, which probably makes way for Finn Balor's debut on the roster. It also means that Balor's first program is likely to come against Styles, as many of us expected.