News
Charles Dance Awes as Karellen in Childhood's End
Cast and crew of Childhood's End describe working with the eight foot alien with an iconic evil appearance.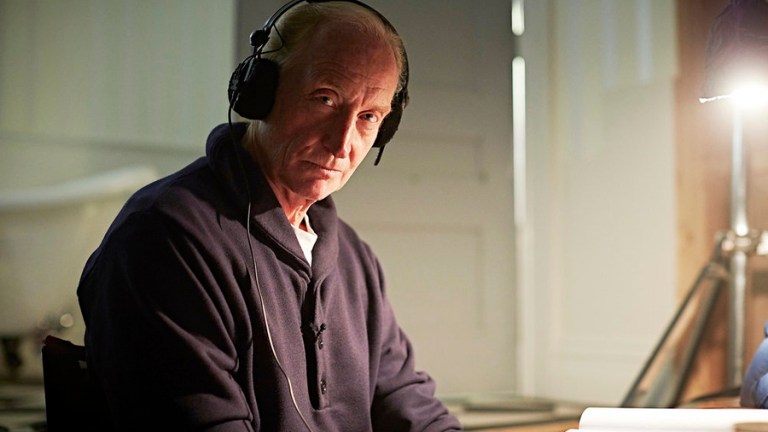 This article contains spoilers for the first night of Childhood's End…
The appearance of Karellen, the Overlord and Supervisor of Earth, was a closely guarded secret both in the near future world of Childhood's End and for the viewers of the miniseries. Although the audience only had to wait until the end of the first installment to see the shocking truth, the inhabitants of the new Utopia on Earth had to wait fifteen years to see the imposing appearance of their benefactor.
Charles Dance already has a commanding presence, both with his voice and his elder statesman look that serves him so well as Tywin Lannister on Game of Thrones. But the horned, hoofed, fork-tailed, red-skinned appearance of Karellen took the intimidation to a whole new level. The success of this character's costume lies in the use of both practical and computer-generated effects in combination.
"Originally, we had a full body suit for Charles," said executive producer, Matthew Graham in a recent interview with Den of Geek. "It looked fantastic, but there were two problems: one is Charles was dying of heat exhaustion as soon as he put the whole thing on, and two, every time he moved, five people had to shuffle around behind him with these wings attached to rods." Graham went on to describe other factors, such as the 100-degree summer in Australia, where the miniseries was filmed, and the pain Dance experienced in the suit.
So they took away the hoofed legs and wings to make him more comfortable. "He had his full face make-up with contact lenses and the horns, and that was all him," Graham noted. "And then he just had green stockings [and] we CGI'ed in the wings and, in the wider shot… his legs, and we'd just augment the body a little more with CGI as well."
Dance's fellow cast members admired the effort that went into making Karellen look real. "Charles had a monumental task in that suit and kind of pulling that off in all of that makeup and garb," said Mike Vogel, who plays Ricky Stormgren in the miniseries. "I was shocked to turn around and see this guy looking like he looked… I would say 95 percent of what was there was what you saw in person, and I was grateful for that."
Yale Stone, who plays Peretta Jones, is only five feet tall herself, and she enjoyed having a larger-than-life alien to act opposite. "It was incredible… we were able to actually relate to the creature in terms of our eye line," Stone shared. "And our physical relationship to this being which was just an enormous, 7-foot, imposing, terrifying creature."
To see what Karellen looks like, watch as the Childhood's End miniseries continues on Syfy at 8pm ET tonight and concludes tomorrow night at the same time.