Features
Celebrating Stingray: Barry Gray
Andrew salutes seminal TV theme composer Barry Gray, whose work with Gerry Anderson became the earworm of a generation...
There are many memorable images in the shows of Gerry Anderson, and it is nearly impossible to disassociate these from the incidental music supplied by composer Barry Gray. From The Adventures of Twizzle to Space: 1999, Gray was an instrumental part of AP Films/Century 21 Productions, contributing story ideas, incidental and theme music.
Stingray's opening titles are, as previously discussed, spectacular. Typically for a Gray composition, it's brass and percussion heavy, and catchier than influenza. The March of the Thunderbirds and other pieces are played by brass bands and orchestra's to this day. On top of this, his interest in electronica resulted in his producing effects and music for the Amicus film Dr. Who and the Daleks, utilising ring modulaters and an obscure French instrument called an Ondes Martenot. This latter was used by Radiohead's Jonny Greenwood to great effect on several songs, most notably The National Anthem (Interestingly, Barry's original Ondes Martenot has been fully restored and is again being used in film scores, the last being a brand new recording of Lawrence of Arabia).
Chances are, he'll have either been involved in or influenced the music on one of your favourite shows.
As Barry sadly passed away in 1984, we don't know too much about him. There were few interviews with him (though there are some available online, including with four of his session musicians who remember him very fondly as a patient and hard working man – google 'Barry Gray SuperM'). However, the best source of information remains the Barry Gray Concert Programme Book, from 2008's Centenary Concert, which contains a biography written by Cathy Ford and is available from www.barrygray.co.uk.
Den of Geek spoke to Ralph Titterton, the Producer of said concert, about Barry Gray's life and work.
Firstly, could you tell us a little bit about Gray Lady Productions?
Gray Lady Productions Ltd was a company formed by myself, Cathy, and my business partner Francois Evans to specifically manage the administration side of the 2008 Barry Gray Centenary Concert. I was the Producer, Cathy handled research and finance, and Francois was the Musical Director. The Company is currently on hold pending any future Barry Gray concerts, or similar.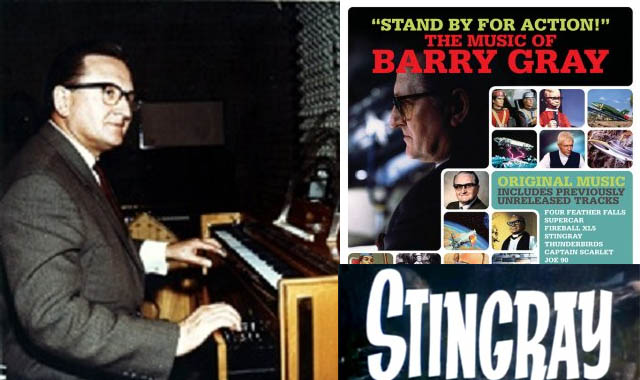 Can you confirm that it was Barry's work with Dame Vera Lynn that brought him into contact with Gerry Anderson?
This is correct. Barry Gray was introduced to Gerry Anderson through Roberta Lee, who was also a friend of Vera Lynn. Anderson made his first two puppet series for Lee (The Adventures of Twizzle, Torchy the Battery Boy), before his company developed their own show, Four Feather Falls, from ideas developed by Barry.
While he's known for his orchestrations and arrangements, how important was his role in the expansion of electronic music? For example, do you think his use of the Ondes Martenot may have influenced Radiohead to use the instrument?
Well he was certainly a very early exponent of the use of such instruments, which whilst introduced in Supercar, came to the fore with the score to Fireball XL5. As to influences on others I don't really know enough to comment. Author Mark Brend has written books on the subject – which can be found on Amazon if you do a search on his name.
In terms of AP Films/Century 21 Productions, what was the process for composition? I have read that Barry would break an episode down into sections – was this from a script or footage?
Good question, and one that does not have a clear answer. Yes, shows were broken down into "acts". A half hour show would have three acts, and an hour (fifty minutes in reality) would have five. Cue sheets would be written that would list the music, describe it, give the length (in feet and inches at a tape speed of fifteen inches per second over the playback head), and often detail the accompanying action. An audio reel would accompany these notes, and from this the music editor would add the music to the soundtrack. What is not clear is whether Barry sat down with each director to discuss where the music would best fit as there are no records of such meetings. We can only assume this was the case, be it with the director, or with Gerry himself. What we do know however, is that Barry wrote to the completed pictures on screen.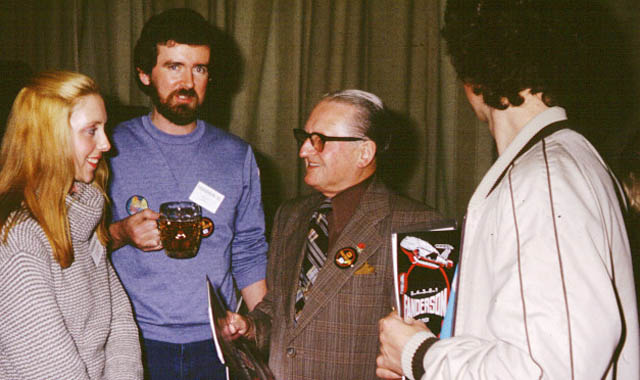 The most famous images from Gerry Anderson shows tend to be associated with the music that went with them (eg. the Stingray theme, or Spectrum segue, the Thunderbirds launch sequences). I wanted to know more about the development of these leitmotifs. Who came up with the idea? As you said it crops up in contemporary Doctor Who, but was it often used in shows contemporary to Stingray?
I don't have any specific documentary evidence regarding this, however we know that:
a/ Barry wrote to the pictures on screen.
b/ Gerry, Barry said, always knew what he wanted.
c/ Barry would present demo ideas to Gerry, as evidenced by early versions of the UFO theme, and a piano demo of the iconic Zero X theme from Thunderbirds are GO!
Within the above I think it would have been a team effort, especially for the first episode of each series, when the music identity of each show is created.
Can you hear echoes of Barry Gray's work in today's incidental music?
In some yes, and what immediately springs to mind is the new Doctor Who, in as much as specific characters, monsters etc have specific themes. Pieces that you can remember after a show has ended, and is good enough to generate its own series of superb soundtrack CD's. Another well written score in recent times, and for the same reasons, is [Bear McCreary's] Battlestar Galactica.
Towards the end of the Stingray theme tune, on the final 'Stingray' repetition, there seems to be a problem with the recording, as if the tape has been pinched. Do we know what the reason for this is?
Don't forget that we have been dealing with audio tape that is thirty – fifty years old, and until I got my hands on it stored in less than ideal conditions. Audio tape would often be spliced together with a form of sticky tape, and some of this had got very tacky over the years. A LOT of work took place over more than five years to get these tapes in a state where we could start making the many soundtrack CD's that exist today.
And, on a sillier note:
The song Aqua Marina is meant to be sung by Troy Tempest. In which case, can we assume that it is Phones who sings the opening 'Aaaaaooooh' bit?
I hate crap questions! – Sorry…
I'm taking that as a 'yes'.
Thanks to Ralph Titterton and Cathy Ford for answering my questions, even the stupid ones. For further information on Gray Lady Productions, Barry Gray and his music, please visit www.barrygray.co.uk.