News
Catherine the Great HBO Miniseries Trailer, Release Date and More
HBO miniseries Catherine the Great will star Helen Mirren as the Enlightenment-era Russian monarch.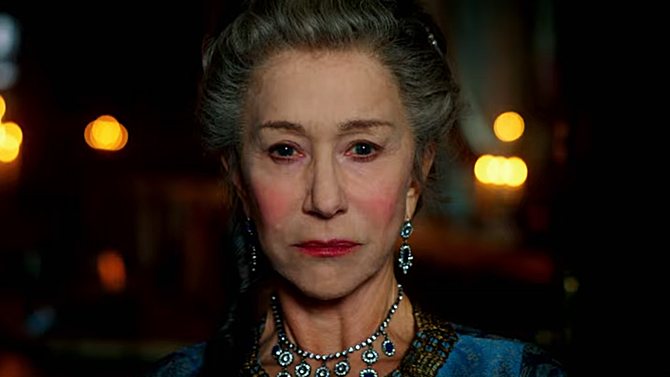 Catherine the Great is headed to HBO in the U.S. and Sky in the U.K. as a four-part television miniseries starring Helen Mirren (who will also direct and executive produce). She plays the eponymous Russian empress, whose late-18th-century reign is widely considered the Golden Age of the old Russian monarchy and a time of rapid rise for the country. Indeed, the miniseries focuses on Catherine's political machinations, chronicling her rise to power and subsequent rule.
Mirren will be joined by co-star Jason Clarke, who plays Grigory Potemkin, a Russian military leader who came into Catherine's favor as a friend and trusted advisor, going back to his support for her during the 1762 coup, which removed her husband, Emperor Peter III, from the throne, leading to her ascension. The series serves as a quick reunion, since Clarke recently co-starred with Mirren in the 2017 fact-based horror film, Winchester.
Catherine the Great Trailer
Here's the full trailer for HBO's Catherine the Great.
You can also check out the teaser trailer below.
Catherine the Great Release Date
Catherine the Great will premiere on HBO on Monday, October 21 at 10 p.m.
Catherine the Great Details
Catherine's story is one that saw a monarch who brandished attitudes considered modern in terms of strength, independence and sexual liberation, making the role of this historical figure perfect for Mirren, who knows the cinematic throne well, notably from her Oscar-winning role as Queen Elizabeth II in 2006's The Queen. Indeed, in the January 2018 press release that initially announced the project, Mirren stated:  
"I am very excited by the possibility of embodying a woman from history who grabbed and then wielded great power. She rewrote the rules of governance by a woman, and succeeded to the extent of having the word Great attached to her name, Catherine the Great. I am very grateful to have HBO and Sky as partners in this endeavour. There are no other homes on television that bring the support and understanding needed for this kind of project."
The title role is especially apropos for the London-born Helen Mirren, whose paternal family were Russian. The accidental expatriation occurred in 1917 when her grandfather, a Tsarist aristocrat, was stranded in London in the midst of an arms deal negotiation while the events of the Russian Revolution (not a good time to be Tsarist aristocrat in Russia,) were playing out back home. Mirren is just coming off another Russian role in the June release, Anna, playing the handler to the film's eponymous KGB assassin. She recently reprised her role as Magdalene Shaw in franchise spinoff film Fast & Furious Presents: Hobbs and Shaw, which hit theaters on August 2, after which she'll reprise the role again in the untitled Fast & Furious 9.
Co-star Jason Clarke has seen his star rise in recent years, with films such as Chappaquiddick, Mudbound, Dawn of the Planet of the Apes, Terminator Genisys and Zero Dark Thirty. He comes into Catherine the Great off roles in films such as director Damien Chazelle's Neil Armstrong biopic, First Man, as well as Matthew McConaughey/Anne Hathaway thriller Serenity, Keira Knightley-starring World War II drama The Aftermath, and just starred in this past April's remake movie of Stephen King's Pet Sematary.
Mirren and Clarke are joined in the Catherine the Great cast by names sucgh as Thomas Doherty, Georgina Beedle, Antonina Clarke, Andrew Rothney, Adam El Hagar, Phil Dunster, Georgina Hale, James Northcote, Paul Kaye, Lucas Englander, Felix Jamieson, Sam Palladio, Tom Lawrence, Simon Thorp.
Catherine the Great is produced by Origin Pictures and New Pictures. With star Helen Mirren directing and executive-producing, the script will be written by Nigel Williams, whose vast body of work also happens to include another one of Helen Mirren's royal starring roles in 2005 miniseries Elizabeth I.
Joseph Baxter is a contributor for Den of Geek and Syfy Wire. You can find his work here. Follow him on Twitter @josbaxter.