News
Catch-22 Hulu TV Series Trailer, Cast, Release Date, Story, and News
Catch-22 will be a six-episode series based on the 1961 novel will mark George Clooney's return to television.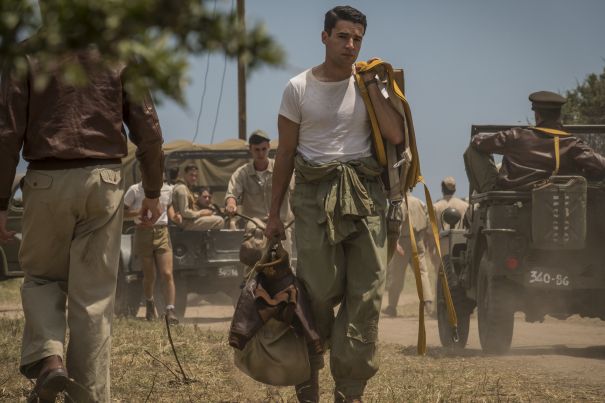 Catch-22, the 1961 novel by Joseph Heller, considered one of the most influential books of the 20th century, famously adapted in director Mike Nichols's 1970 film, will be revived as a 6-episode TV miniseries on Hulu, directed by George Clooney, who will even play a role.  
Director George Clooney may be best known as a star of numerous high-profile films, as well as the former star of TV's ER, but he has previously directed six films, including Good Night, Good Luck and Ides of March. This will be his first television role since he left ER in the 1990s.
further reading: The Best War Movies Available to Stream
Clooney will work off a script written by Luke Davies (Lion) and David Michôd (Animal Kingdom). It is a joint venture of Paramount Television and Anonymous (who also collaborated on 13 Reasons Why and Berlin Station).
Catch-22 is clearly another prestigious get for the service that looks set to give Netflix a run for its money in the near future.
Catch-22 Trailer
Now here is a full-length Catch-22 trailer. Now that's the expected balance of comedy and pathos.
Hulu released a first look at the George Clooney-produced Catch-22 at their 2019 TCA winter press tour appearance. Yep, that's war!
Catch-22 Cast
Harrison Osterfield will join the Catch-22 cast for a "key role," according to Deadline. He will play Snowden, who's described as "a tail gunner who does not know what awaits him on his first mission." A newcomer who's banked roles in short films, Osterfield just made his feature debut in a little movie called Avengers: Infinity War for an uncredited role. It was an opportunity that came about from being the friend and assistant of Spider-Man: Homecoming star Tom Holland. Indeed, another promising prospect lies ahead for Osterfield in the March 2019-scheduled Chaos Walking, in which Holland co-stars with Daisy Ridley.
Giancarlo Giannini will play Marcello, the owner of a bordello in Rome. The character, described as "weathered and once handsome but still debonair," is known to engage in aggressive debates with young American soldiers over concepts such as patriotism and the politics of history.
further reading: The Handmaid's Tale Season 3: Everything You Need to Know
Giannini, a veteran Italian actor, made an international break in the 2000s with a notable appearance in the Denzel Washington crime drama, Man on Fire. He subsequently fielded a memorable recurring role as the mysteriously-motivated MI6 contact, René Mathis, in the first two Daniel-Craig-headlined James Bond movies, Casino Royale and Quantum of Solace.
Kyle Chandleris set for the role of Colonel Cathcart. – This news will likely come as a surprise to those following the project, since George Clooney was previously set for the role. Well, Clooney has scaled back his onscreen presence here, likely to accommodate his directorial duties, ceding the Cathcart role to Chandler. Clooney will, instead, opt to play the supporting role of Scheisskopf.
Chandler's character, Cathcart (played by Martin Balsam in the film), is a commander who continues to increase the number of combat missions required before a soldier can return home. The "Catch-22" of the title refers to the fact that anyone who is crazy can't be cleared to fly a combat mission, but anyone who claims to be crazy in order to get out of flying these missions is showing a rational concern for their own well-being, and thus cannot be crazy…so may continue to fly missions.
Chandler starred on NBC's 2006-2011 series Friday Night Lights, which led to film roles in Super 8, Zero Dark Thirty, and The Wolf of Wall Street. He was also the star of Netflix's acclaimed Key-West-located dark family drama, Bloodline, which concluded last year after three seasons. He was last seen in this past February's comedy film, Game Night, and is set to appear in the Ryan Gosling-starring Neil Armstrong biopic First Man, as well as Godzilla: King of the Monsters.
further reading: The Best Documentaries on Hulu
Hugh Laurie will join (fellow former TV doctor) George Clooney in Catch-22, reports Deadline. He will play the co-starring role of Major de Coverley. It will be a quick Hulu turnaround after having recently wrapped his run starring in the streaming platform's two-season-spanning thriller series, Chance.
Laurie, a veteran British actor and comedian, is, of course, best known for his 2004-2012 run as the star of Fox's medical drama, House; a run that yielded several Emmy nominations and three Golden Globe wins. He recently fielded a run on HBO's Veep, a spectacular villainous turn on AMC miniseries The Night Manager (which is circling a second season). Interestingly enough, Laurie's role in Catch-22, opposite Clooney, will be a reunion, since the two appeared together in the 2015 Disney fantasy film, Tomorrowland. He'll next be seen in director Etan Cohen's comedic Sherlock movie, Holmes and Watson, which is scheduled to arrive in November.
Catch-22 Release Date
Catch-22 will debut on Friday, May 17.
Catch-22 Photos
Hulu has released and Deadline has compiled a host of photos from the upcoming Catch-22 series. Yep, that's war.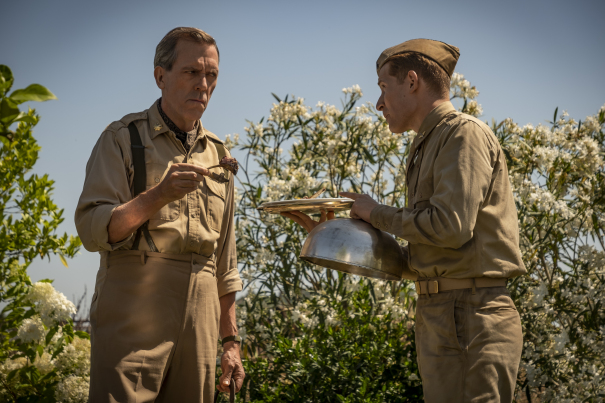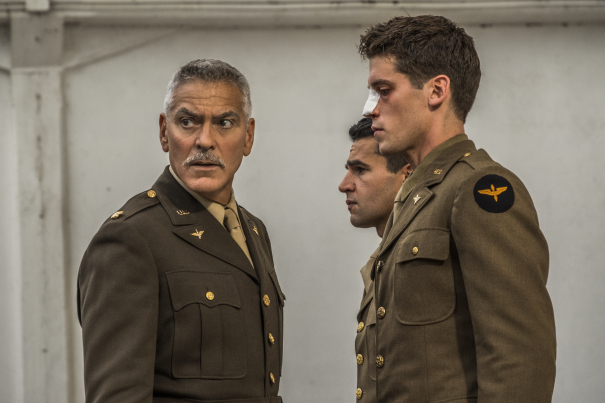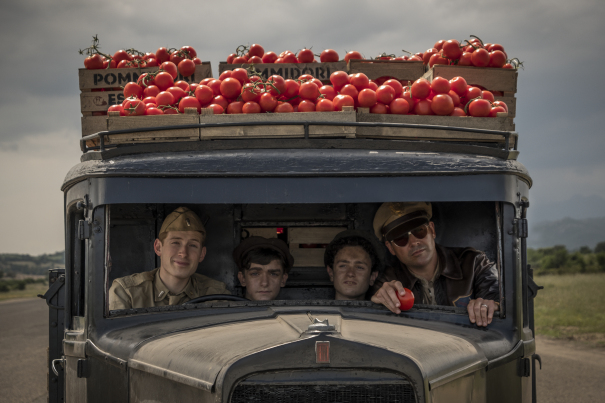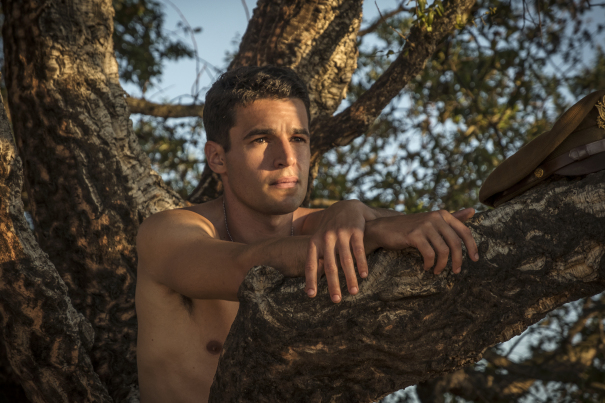 Catch-22 Story Details
The story follows the exploits of Captain John Yossarian, played here by Christopher Abbott (The Sinner, Girls). Youssarian is a U.S. Army Air Forse B-25 bombardier, and his fellow airmen as they struggle to maintain their sanity amidst the extreme wartime circumstances.
further reading: John Grisham Shared Universe Heads to Hulu
The novel was written by Joseph Heller and is considered a classic satire about the insanity of war. The titular "catch-22" refers to the paradox that the only way to be sent home from war to is to be declared insane…but requesting to be sent home from war would make you a fundamentally sane person.