News
Can Being Human survive its latest casting cull?
Caroline looks back at the fates of TV shows that have lost key cast members and asks whether Being Human can survive its recent departures…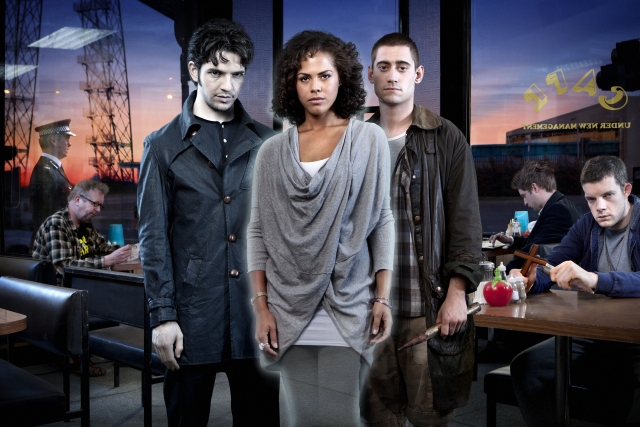 This article contains spoilers.
So we've all seen it now. The slate has been wiped clean for the current series of Being Human, and the departure of Nina and George, on top of the earlier exit from Aiden Turner's Mitchell last year, has not gone down well with viewers. There are of course those happy to roll with whatever decision showrunner Toby Whithouse comes up with, but there's also a much more vocal faction who have expressed strong feelings towards the slightly clumsy revelation of our favourite werewolf couple's tragic fate.
These are the viewers Whithouse has publicly called out in various interviews, as he reacted to their refusal to follow the show into its new era at all. But is change always a bad thing? It seemed impossible to comprehend at first; how can a television series built around three (and then four) central characters carry on without three quarters of that magic team? As it stands, we're left with original cast member Annie, returning werewolf Tom and newcomer Hal.
Not many fans outwardly hate Annie, but I've not heard of any queues of fans lining up to call her their favourite either. I may be alone here, but I always felt that the series' power revolved around Mitchell and George's relationship, and to have both branches severed within the space of two hours (watched consecutively) could have considerably cheapened that importance in retrospect. I also, however, would rather there be more Being Human than the alternative, and shifts this substantial can sometimes actually rejuvenate a flagging show.
Last weekend's premiere episode proved that there's still life in the series, but such a sudden shift in the dynamic of the cast is hard to take for even the most dedicated of fans. The fact that some are  reacting so negatively is completely understandable, but there have been a number of classic series that have lost a main cast member in a similarly sudden manner and lived to fight another day. But there have also been those that struggled to stay afloat after their stars chose to walk off into the sunset, and it's unclear which path Being Human will take at this juncture.
The most recent example is Misfits, which unexpectedly lost one of its most popular members after its second series. Forced to write Nathan's exit into a web-only short, fans of the show were offered little in the way of reasoning or explanation come last year's premiere, which introduced the similarly hyper Rudy into the gang as a replacement. Series three survived viewer distaste and emerged stronger than ever, but time will tell whether the further departures of Simon and Alisha will spell greater trouble in the future. 
At the end of the Misfits finale, left only with Curtis and Kelly from the original line-up, a few alarm bells rang for the show's die-hard fans. It seems that British shows are more subject to change than their US counterparts, which often rely on familiarity to draw disparate viewers into each week's adventure. Just think of Doctor Who as a prime example. Who would have thought, having witnessed the furore that's surrounded Being Human and Misfits over the last year, one of our most popular shows makes a habit of changing its entire cast every few years or so.
The closest the BBC series came to the same violent reactions was with David Tennant's departure on New Year's Day 2011. While I'm sure there are some people who stayed true to their threats never to watch the show again, many more have persevered with the new line-up, and the nation has taken Matt Smith to their hearts to almost the same extent as they had with Tennant.
Skins, too, chose to avoid the post-college slump in its attempt to portray the teenage condition, and thus bravely changes its cast every two years. I'm almost certain that the quality of the E4 show would not have been so high for so long had they stuck with the original generation of teens, and the unique take on keeping the show fresh has paid off. 
There are, of course, those series that rely so heavily on their leading man/lady, that a change in the subordinate line-up goes largely unnoticed. House MD, for example, changed its medical team more times than viewers could count, and the current cast consists of doctors collected over its eight year run. Only three original characters remain, Chase, Wilson, and Dr. House himself, and the entertainment value has been all the better for the risks the showrunners dared to take, though sadly it wasn't enough to save the show from cancellation, as announced this week.
But there are also those series that fail miserably after a member of their cast is removed. Some continuations after a notable departure simply smell of greed, and Scrubs learned the hard way that a popular show may quickly lose favour once your leading man has moved on. The Office: An American Workplace, too, recently lost its Ricky Gervais, in the form of funny-man Steve Carell, and speculation on who was to replace him was rampant. Two and a Half Men seems to have blown through the Charlie Sheen controversy, but not all shows get that lucky.
No one is sure whether Being Human can survive this latest blow, but fans owe enough to the show to at least give it a chance. Lesser series have gone on to have long and successful runs after a prominent or popular cast member is lost, and there are just as many that could stand to lose some of their stale cast members. Would another eight episodes of Mitchel, Annie, George and Nina really have satisfied viewers, or could getting some fresh blood into the bed and breakfast be the best thing to have ever happened to Being Human?
Follow Den Of Geek on Twitter right here. And be our Facebook chum here.