News
Camping: Trailer, Cast, Release Date
Camping is based off of a British TV series of the same name, and is written by Lena Dunham.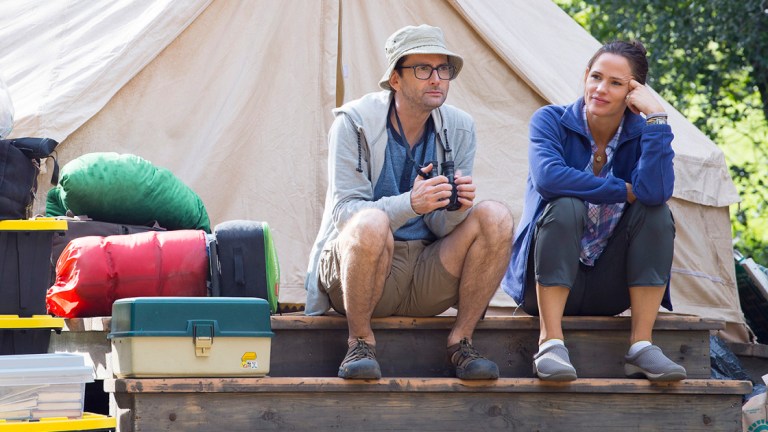 David Tennant has joined Jennifer Garner in Camping, an eight-episode, limited series HBO comedy from Girls co-creators Lena Dunham and Jenni Konner based on the British series of the same name. 
Here's everything you need to know about the sheningians that Garner and Tennant will get up to in the HBO adaptation…
Camping Trailer
Here's the first trailer for Camping…
Here's the official description:
Walt's 45th birthday was supposed to be a delightful weekend back to nature, at least according to his obsessively organized and aggressively controlling wife Kathryn. But when the camping trip gathers Kathryn's meek sister, holier than thou ex-best friend and a free-spirited Tagalong in one place, it becomes a weekend of tested marriages and woman on woman crime that won't soon be forgotten. Plus, bears.
Camping Cast
According to Deadline, Tennant has been cast to star alongside the Alias alum in the comedy Camping.
Tennant will star as Walt, while Garner stars as Kathryn, a controlling LA mom who is forced into her worst nightmare when faced with a woman who ruins all of her plans.
"We love Jennifer's restraint and comedic timing," said Dunham and Konner, "and we can't wait for the warmth and intelligence she'll bring to our central character, Kathryn. It's truly a dream to have her first on our call sheet. Now we just have to write her some stunts."
Camping Release Date
Camping will premiere on HBO on October 14th.
In the mean time, check out the trailer for the British version of the show…