News
Bruce Springsteen's Broadway Show Is Coming To Netflix
Netflix has picked up the rights to stream Springsteen on Broadway and will debut it later this year.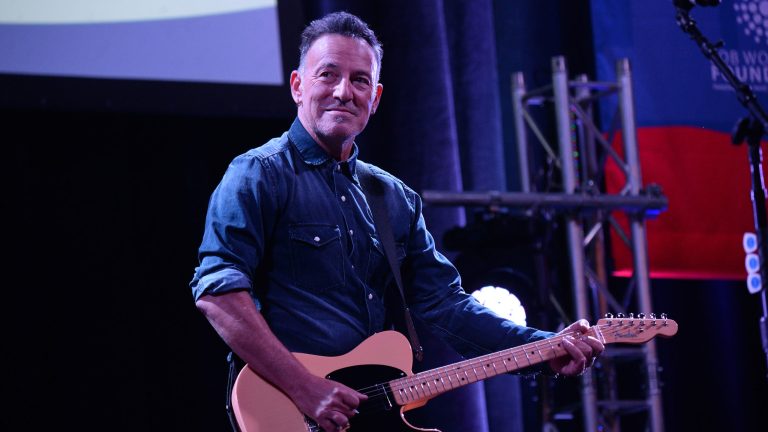 When Bruce Springsteen wrote his classic fifth album, "The River," nearly 40 years ago he must have foreseen we would one day be involved with a stream of another sort. *takes exaggerated writer-ly bow*
Netflix has picked up Springsteen's very well received one-man show Springsteen on Broadway and will stream it later this year. The show will premiere globally for Netflix on December 15, 2018, which is also the final day of Springsteen's 236-show run at Jujamcyn's Walter Kerr Theatre on Broadway.
Springsteen on Broadway is one of Broadway's hottest tickets and reportedly a very unique theatrical experience. The 68-year-old songwriter performs many of his hit songs acoustically while also sharing intensely personal and introspective stories from his life. 
"We are thrilled to bring Bruce Springsteen — a master storyteller, humanitarian and voice of the everyman — to Netflix in this historic one man show," Netflix Chief Content Officer Ted Sarandos said in a statement. "This groundbreaking experience defies the boundaries of theater, concerts and film and will give our global audience an intimate look at one of the biggest cultural icons of our time."
When Netflix rustles up Ted to give an official statement, you know they're excited and believe they've got a huge get. And this time they most certainly do!
Springsteen on Broadway began previews on October 3, 2017 before launching October 12. The show was extended three times after its initial eight week run. The show is written by Springsteen and directed and produced by Thom Zimny (who previously directed Bruce Springsteen and the E Street Band: Live in New York City).
Springsteen has previously won a Tony, and Oscar, and countless Grammy Awards. You know what that means. There's a whiff of EGOT in the air.