News
Brooklyn Nine-Nine Season 7 Confirmed at NBC
NBC officially orders Brooklyn Nine-Nine Season 7, saving the Internet from having to advocate for its renewal again.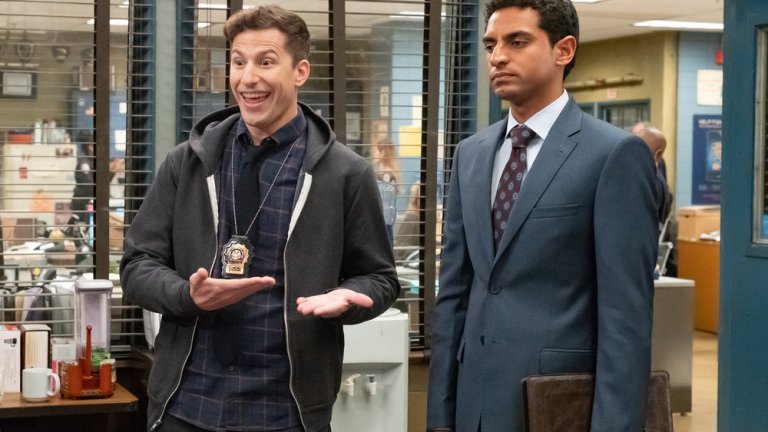 Brooklyn Nine-Nine has done it again! And this time no Guardians of the Nine-Nine intervention was necessary.
NBC has ordered Brooklyn Nine-Nine Season 7, which will be the second season the show will have aired on NBC, after its former life on Fox.
Around this time last year, a Brooklyn Nine-Nine Season 6 seemed unlikely and Brooklyn Nine-Nine Season 7 next to impossible after the beloved cop comedy starring Andy Samberg was canceled by Fox after five seasons. Then the Internet did what the Internet does best: made a fuss. That fuss led to NBC (which not-so coincidentally developed the show and remains on as a producer) to rescue Brooklyn Nine-Nine. Now look at it out here, thriving. Thanks, Internet!
The renewal comes less than halfway into Brooklyn Nine-Nine Season 6's run. NBC originally ordered 13 episodes for the show's sixth season before bumping that order up to 18 episodes. There is no word yet on how many episodes will be included in Brooklyn Nine-Nine Season 7.
"It's been one of our great joys as a network to give Brooklyn Nine-Nine a second life," said Lisa Katz and Tracey Pakosta, Co-Presidents of Scripted Programming, NBC Entertainment. "Cheers to Dan Goor, Mike Schur, Luke Del Tredici and David Miner, and our amazing cast and crew who each week turn New York's finest into New York's funniest."
According to NBC, Brooklyn Nine-Nine Season 6 has averaged 3.9 million total viewers in the "live plus seven day" Nielsen ratings. More impressively it has derived 45% of its "live plus seven day digital" Nielsen ratings from non-linear (a.k.a. not live on television) sources. That's the highest percentage among NBC shows.
further reading: The Best Brooklyn Nine-Nine Episodes
Brooklyn Nine-Nine was created by Michael Schur and Dan Goor, both of Parks and Recreation. Goor has served as showrunner for the entirety of the series' run. Like the Schur-produced shows before it, Brooklyn Nine-Nine featured a high profile comedic star front and center in Andy Samberg. Also like the other Schur-produced shows, it quickly became apparent that the show's deep bench of supporting actors was its real strength. 
The show has also earned a reputation for handling current social issues gracefully and hilariously. 
Alec Bojalad is TV Editor at Den of Geek and TCA member. Read more of his stuff here. Follow him at his creatively-named Twitter handle @alecbojalad