News
Brooklyn Nine-Nine Season 6: Release Date, Trailer, Episodes, Cast, and News
Brooklyn Nine-Nine Season 6 is happening thanks to NBC. The Peacock rescued the cop comedy from Fox hours after its cancellation.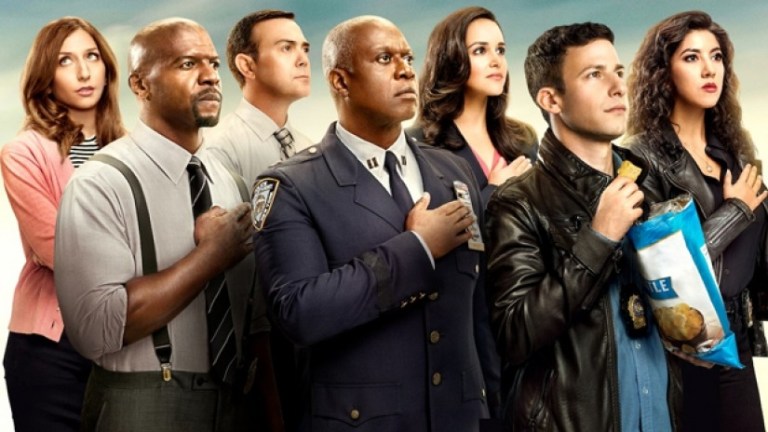 Rumors of Brooklyn Nine-Nine's demise were greatly exagg…well they were exactly right actually. But all the same, here comes Brooklyn Nine-Nine Season 6!
Indeed, first Fox canceled the show. Then after a panicked Internet spent the day eulogizing one of its favorite shows, rumors started to swirl that another network would pick it up for a sixth season. While Netflix, Hulu, and TBS were reportedly all options with only Hulu officially passing on the opportuntity. But it was ultimately NBC who picked up the show, making them the unquestioned hero of the upcoming network upfronts.
While Fox cancelled Brooklyn Nine-Nine, less than 24 hours later, Brooklyn Nine-Nine Season 6 would be officially picked up by NBC on May 11. Moreover, the Peacock would, months later, announce that even more episodes have been ordered, upgrading Season 6 from 13 to 18 episodes! To quote the parlance of Peralta: Noice!
Brooklyn Nine-Nine Season 6 Release Date
Brooklyn Nine-Nine Season 6 will make its NBC debut on Thursday, January 10 at 9/8c.
While NBC initially ordered a 13-episode run, it has opted for an upgrade, extending the order by five more episodes, bringing the total of Brooklyn Nine-Nine Season 6 to 18 episodes.
The show's move to NBC almost made too much sense. Brooklyn Nine-Nine is produced by Universal TV, a studio aligned with the NBC Universal corporate family.
"Ever since we sold this show to Fox I've regretted letting it get away, and it's high time it came back to its rightful home," NBC Entertainment chairman Robert Greenblatt said to THR. "Mike Schur, Dan Goor and Andy Samberg grew up on NBC and we're all thrilled that one of the smartest, funniest, and best cast comedies in a long time will take its place in our comedy line-up. I speak for everyone at NBC, here's to the Nine-Nine!"
Brooklyn Nine-Nine Season 6 Trailer
A new first look Brooklyn Nine-Nine Season 6 trailer has arrived, previewing the Peacock-bound frame, featuring cast interviews discussing the network transition.
What does Jake Peralta love more than anything in the world? Probably Amy Santiago. But after that?!? A certain Christmas movie about a cop who has a very bad day at Nakatomi Plaza. That's why you can't trust him to pitch trailers for the Nine-Nine. Luckily someone let him anyway.
Previously NBC released a (very brief) teaser of their shiny new toy in Brooklyn Nine-Nine.
Brooklyn Nine-Nine Season 6 Episodes
Brooklyn Nine-Nine Season 6 Episode 1: Honeymoon
air date: 1/10/19
Brooklyn Nine-Nine Season 6 Episode 2: Hitchcock and Scully