News
Brooklyn Nine-Nine Season 6: Chelsea Peretti to Exit the Series
While Brooklyn Nine-Nine was saved by NBC, the return will serve as the send-off for Chelsea Peretti's Gina Linetti.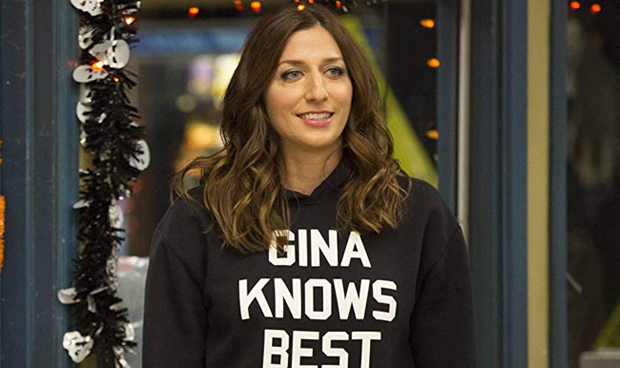 Brooklyn Nine-Nine fans have been – in numerically-appropriate fashion – on cloud nine ever since NBC stepped up to rescue the popular sitcom in the aftermath of cancellation from Fox. However, when the sidesplitting bullpen ultimately return to the titular police precinct in 2019, it will be under bittersweet circumstances, since it will mark the show's very first cast member departure with the impending exit of Chelsea Peretti.
That's right, Peretti, who has played Brooklyn Nine-Nine's sarcastic civilian administrator, Gina Linetti, since the show's 2013 inception, will leave the series during the NBC-charted Season 6. Peretti confirms her departure in a series of tweets, explaining:
"I won't be doing a full season of Brooklyn Nine-Nine in season six. But that doesn't mean I won't ever be back, [winky face emoji, heart emoji]. I want to thank you for the hours you spent watching Gina be Gina." She continues, "confident, idiotic-but-smart, pithy, and infused with rhythm and cell-phone radiation."
While Peretti stops short of explaining the specific reason for her exit, she does – in comedic fashion – point to selected text from Emmy Rossum's August announcement, in which she confirmed her departure from her longtime TV gig on Shameless. – Judging by her curation of those comments, its sounds as if Peretti is proud of the work she's done on Brooklyn Nine-Nine and enjoys the stability it provides, but feels that it's time to move on to other things and grow creatively.  
Regardless, there's no way around it, the loss of Peretti is a blow to the cast dynamic. Indeed, viewers have become accustomed to the bountiful burns by the enigmatic, lazy-but-surprisingly-wise desk jockey, Gina, dealt to the typically-uptight Amy Santiago (Melissa Fumero), eccentric milquetoast Charles Boyle (Joe Lo Truglio) and slothful pension-watchers Hitchcock (Dirk Blocker) and Scully (Joel McKinnon Miller), while fielding a unique platonic chemistry with Jake Peralta (Andy Samberg).
Brooklyn Nine-Nine executive producer/co-creator Dan Goor took to Twitter praise Peretti, stating:
"From the moment Mike Schur and I decided to create this show, we wanted Chelsea Peretti be a part of it, and she always will be."
Regarding the way in which Gina will be written off the series, he explains:
"We have tried really hard to create a storyline for her departure that lives up to a character who can only be described as "The human embodiment of the 100 emoji." Adding, "While it's sad to see a member of the family leave, we are so proud of Chelsea and excited for what she does next. Also, I know for a fact this isn't the last we'll see of Gina Linetti."
Peretti, who first made her mark as a standup comedian, recently appeared in the comedy movie, Game Night, and has banked TV appearances on Girls, Kroll Show, Key and Peele (she is married to Jordan Peele), Parks and Recreation, The Sarah Silverman Program and Louie. The role of Gina on Brookyn Nine-Nine was her first run as a series regular. She's set for roles in movies such as the 2019-scheduled dramedy, Friendsgiving, and a comedy, called Spinster.
Brooklyn Nine-Nine Season 6 is set for a premiere on NBC sometime 2019.
Joseph Baxter is a contributor for Den of Geek and Syfy Wire. You can find his work here. Follow him on Twitter @josbaxter.