News
Brooklyn Nine-Nine Season 5 Confirmed by Fox, New Timeslot
Fox slop cop sitcom Brooklyn Nine-Nine will continue its watch with a renewal for Season 5.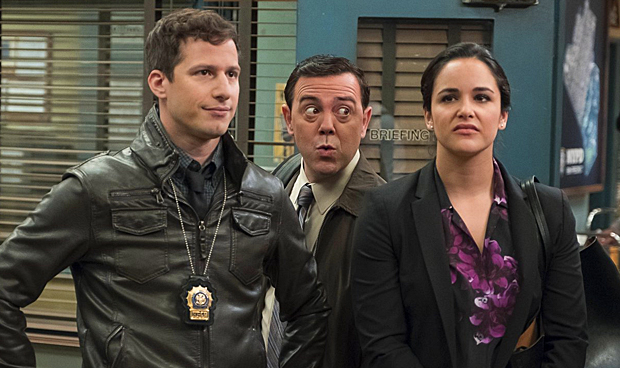 The season four finale won't be the end of Brooklyn Nine-Nine. Fox already confirmed Brooklyn Nine-Nine season 5, set to air this fall. The renewal for the cop comedy, starring SNL alumnus and The Lonely Island troupe star Andy Samberg as wisecracking police detective Jake Peralta, will be a relief for fans, since it comes during a rather precarious time for the series, ratings-wise.
However, it appears that Fox has confidence in Brooklyn Nine-Nine, not forgetting how much of an asset it has been. The Fox and Universal Television workplace cop comedy, created Dan Goor and Michael Schur, sees Andy Samberg co-starring with Andre Braugher, Melissa Fumero, Terry Crews, Joe Lo Truglio Stephanie Beatriz and Chelsea Peretti. 
Brooklyn Nine-Nine Season 5 Release Date
At Fox's upfront presentation on May 15th, the network announced a new timeslot for Brooklyn Nine-Nine. The series will shift to Tuesday nights at 9:30 p.m. for the 2017 Fall TV season. 
Brooklyn Nine-Nine Season 5 will arrive this fall following significant Season 4 ratings dips, with the most recent airings on May 9 – a double-episode block – bringing the series numbers to a new low of 1.7 million viewers compared to the 2.4 million who tuned in for the Season 4 premiere back in September. Indeed, Nine-Nine's current numbers pale in comparison the 6.2 million viewers who tuned in for the series pilot back in September of 2013 or, for that matter, during the apex of its popularity when it aired with New Girl as a part of a lead-out for Super Bowl XLVIII on February 2, 2014, watched by 15 million viewers that night.
For now, though, Fox, who have been conducting some bizarre, mad scientist-like scheduling strategies on many of its primetime shows this year with awkward mid-season hiatuses, is playing out the current season of Brooklyn Nine-Nine with Tuesday double-doses of its 30-minute episodes, leading to an expedited Season 4 finale on May 23. Thankfully, for fans, the zany bullpen lineup of Brooklyn's 99th precinct will, indeed, return this fall for Season 5.
Where Can You Watch And Stream Brooklyn Nine-Nine?
You can stream Brooklyn Nine-Nine on the Fox Now app. For Live TV streaming, Sling, DirecTV Now, YouTube TV and Playstation Vue all stream Fox live. You can find out more information on those services here.
This article will be updated to reflect new information.