News
Brooklyn Nine-Nine Canceled At Fox After Five Seasons
Fox will not renew Brooklyn Nine-Nine for season six, ending the show's five year run. The now series finale airs May 20.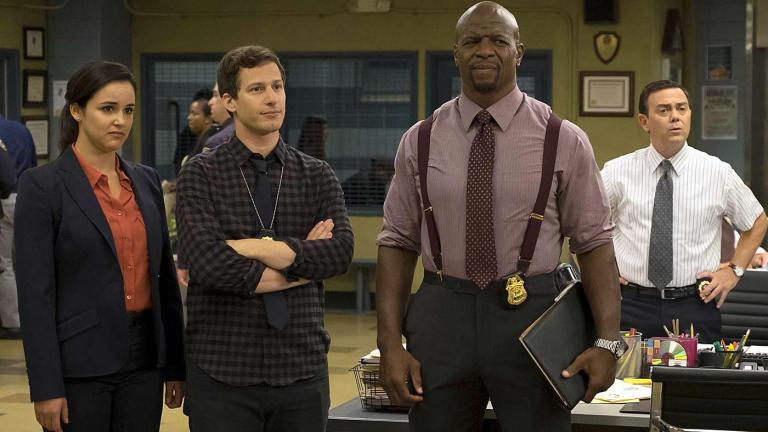 Fox has asked Brooklyn Nine-Nine to turn in its gun and badge. 
Normally Detective Jake Peralta would enjoy being compared to a fictional loose cannon cop but this is a decidedly sad pop culture reference as Brooklyn Nine-Nine is no more. Fox will not renew Brooklyn Nine-Nine for season six, effectively canceling the show after a five-season run. 
Brooklyn Nine-Nine was created by Dan Goor and Michael Schur (the creator of Parks and Recreation and The Good Place for NBC). Brooklyn Nine-Nine was Schur's first creation for a non-NBC network and at first it looked like the Schur-Fox partnership was working out quite nicely.
The cop comedy debuted to a strong 8 million viewers in September 2013. That same year (well technically 2014) it won the Golden Globe for Best TV Series – Musical or Comedy and the following season it was granted the coveted post-Super Bowl spot.
Unfortunately, ratings started to fall shortly after that as Fox made several schedule changes. 
Still, Brooklyn Nine-Nine might have had juuuuust enough cultural cache with critics and Schur fans to escape the bubble if only it were owned by Fox exclusively. Brooklyn Nine-Nine was a NBCUniversal TV production and with its ouster, Fox now has no comedy series left on its schedule that are produced by an outside studio. 
Brooklyn Nine-Nine has two episodes left: "White Whale" on May 13 and the now series finale "Jake & Amy" on May 20. Take two weeks to say goodbye to Jake's Die Hard obsession, Terry's yogurts, Amy's binders, Rosa's leather jackets, Charles' Latvian recipes, Gina's sarcasm, Hitchcock and Scully's everything, and of course: Captain Raymond Holt's one-liners.