News
Brockmire's Mom Goes Full Pete Rose in New Season 3 Clip
A reluctant Brockmire lets his mom into the Oakland clubhouse in a new clip from Brockmire Season 3 Episode 4 "Banned for Life"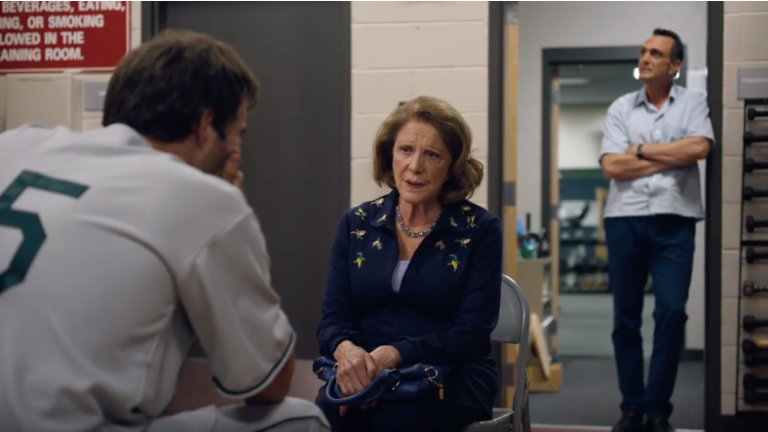 In baseball's glorious Garden of Eden, there is but one rule: no betting on baseball. And in Brockmire season 3, episode 4 "Banned for Life," it would appear that is the one rule Jim Brockmire may have to come close to breaking.
In this exclusive new clip from IFC, Jim Brockmire has reluctantly let his mother, Lorraine (Linda Lavin) into the Oakland clubhow to do some…advanced scouting. Give it a looksie below:
The clip comes from Brockmire season 3, episode 4  "Banned for Life." The episode description reads: "Brockmire's mother, who abandoned him and his sister at a young age, comes to town. She challenges Brockmire's relationship with his sister and threatens Brockmire." "Banned for Life" undoubtedly refers to Pete Rose, the only man barred from baseball's hall of fame for committing the cardinal sin: gambling on games. Given the title and Lorraine's mind games with Cooch, it seems likely that she is attempting to do the same thing.
Yes, it would appear that Lorraine is running some kind of racket in which she wants to know what Oakland players are or aren't in the best state of mind. Oakland pitcher "Cooch" (baseball nicknames are so wonderfully dumb) is a down in the dumps merely because his wife "found texts from some girl that I barely even slept with!" Lorraine is happy to take advantage of his vulnerable state, saying "Oh don't see a therapist! They put those awful thoughts in your head. You stuff this all down, numb yourself. They don't drugs test for alcohol."
Jim Brockmire is disgusted with his mother's abhorrent display but even more so that she used the term "incepted" from his one true enemy's films. 
Brockmire Season 3 has followed Jim Brockmire's most difficult personal journey yet: sobriety. Jim has done a good job walking the straight and narrow thus far but the introduction of his Lady Macbethian mother looks like it could up-end everything. At least he's interacting with her for a good cause. As Lorraine says at the clip's end, she will hold up her end of the deal and never reach out to Jim's sister, Jean again. 
Brockmire Season 3, Episode 4 "Banned for Life" airs at 10 p.m. ET on April 25 on IFC.
Alec Bojalad is TV Editor at Den of Geek and TCA member. Read more of his stuff here. Follow him at his creatively-named Twitter handle @alecbojalad