News
Brockmire Season 3: Trailer, Release Date, Cast, and News
IFC pulled off the double play with two more seasons of Brockmire on deck. Here's what we know about Brockmire Season 3.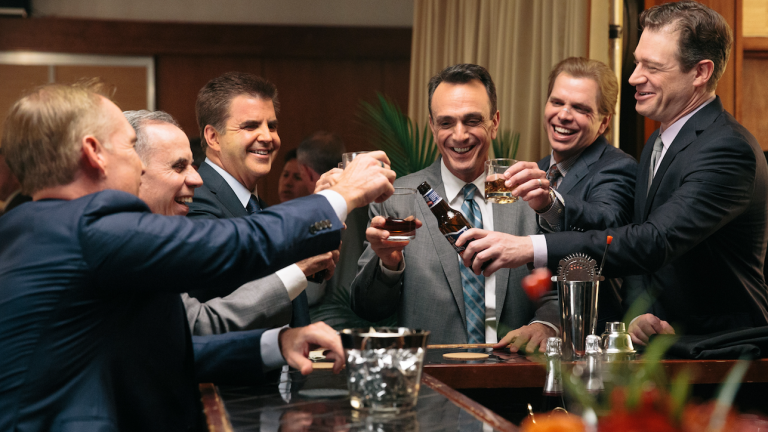 Hope springs eternal on Opening Day. The grass is freshly cut, the vendors are hawking peanuts and crackerjacks, and Jim Brockmire's liver has yet to make a trip to the disabled list. Old Brockmire will have to keep it together for a few more seasons: IFC renewed the baseball comedy for two additional seasons. Ahead of the Brockmire season 2 premiere, IFC confirmed a greenlight for Brockmire season 3 and 4.
In season two, baseball broadcaster Jim Brockmire (Hana Azaria) moves to New Orleans with his new best friend, Charles (Tyrel Jackson Williams), and hopes to continue his quest to return to the big leagues after a pitstop in the minor leagues. Thanks to Charles, Brockmire now has one of the highest-rated podcasts in the country, but he's got competition for the Atlanta's major league broadcast job and some unfinished business to take care of with Jules (Amanda Peet) back in Morristown. 
further reading: Why Brockmire Can't Use MLB Logos
In season three, after a major life shakeup, Brockmire charts a path to redemption in what might be his final shot to hang around the big leagues. 
AMC's official release reads:
Season three takes place three months after his stint in rehab, with Brockmire doing play-by-play in the radio booth for the major leagues in central Florida during spring training while maintaining his brazen and narcissistic tendencies, despite actually being on the wagon. When an opportunity arises for Jim and his new co-host Gabby (Tawny Newsome) to take over as lead broadcasters in Oakland, he must fight to change his ever-present amorality.
Brockmire Season 3 Trailer
Brockmire returns to the booth where he belongs in the trailer for season three. Watch it below!
Brockmire Season 3 Release Date
Brockmire Season 3 will premiere on Wednesday, April 3 at 10 p.m. ET. There's no word on when Brockmire Season 4 will premiere yet.
Brockmire Season 3 Cast 
The series has had some great cameos in the past and that will continue in season three. From the sports world, Kansas City Royals Hall of Famer George Brett and broadcaster Bob Costas, both playing ficitonalized versions of themselves, join the show as key figures from Brockmire's past. 
Enjoy a free trial of ESPN+, on us!
With Jim's sobriety a key storyline in the new season, there will be some new faces in his life. The recurring cast for season three includes Richard Kind (Red Oaks) as Brockmire's new producer, Linda Lavin as his estranged mother, Martha Plimpton as his AA sponsor, and Tawny Newsome as his new broadcast partner. J.K. Simmons (Whiplash) is also set to guest star as a former player turned announcer. 
Amanda Peet (Jules), Tyrel Jackson Williams (Charles), and Becky Ann Baker (Jean) will also make appearences in season three.