News
Brockmire Still Needs a Higher Power in Season 3 Exclusive Clip
Jim Brockmire is dealing with an unusual problem for him in this exclusive clip from Brockmire Season 3 Episode 7.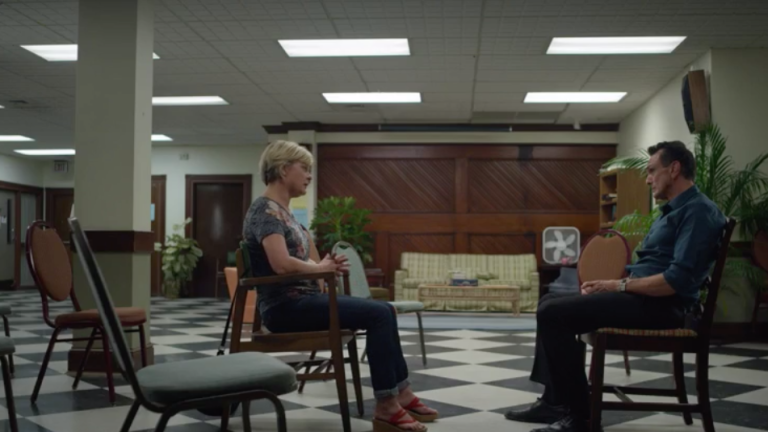 Jim Brockmire has faced many challenges throughout his life. He's been cuckolded, fallen in thrall to addictions, and had to pretend to be friends with Joe Buck. But in this new clip from Brockmire season 3 episode 7 "Disabled List," Brockmire is dealing with a new kind of problem…a personal kind of problem.
Look, we're all adults here so just watch the clip below featuring Hank Azaria and Martha Plimpton and know that it features a grown man talking about his boner…or lack thereof. 
Yes, for the first time in his life, Jim Brockmire can't get it up, which is obviously mystifying for him. His AA sponsor Shirley doesn't seem to think it's that surprising given that earlier this season he had the "yips" and was unable to correctly call balls and strikes on the air. 
"Well I've never had the dick yips, Shirley," he responds. Brockmire then entertains the horrifying thought that his penis may have some kind of moral compass even after all the horrific things it's made him do. Sadly Viagra is not an option as Jim's never abused it but he did go on a crystal meth bender every time he did take it…which was "only" about 8 or 10 times a year.
further reading: Can Brockmire Be Baseball's Best Redemption Story?
Really, what this all is about is that Jim Brockmire is still looking for his higher power. It's not an easy thing to do for this fiercely independent and atheistic man. 
Brockmire season 3 episode 7 "Disabled List" airs Wednesday, May 15 at 10 p.m. ET on IFC. In the episode, "Brockmire deals with sobriety-induced impotence and Matt's declining health. Brockmire's sponsor reminds him that he needs to find a higher power if he wants the AA program to rid him of his anxiety."
Alec Bojalad is TV Editor at Den of Geek and TCA member. Read more of his stuff here. Follow him at his creatively-named Twitter handle @alecbojalad