News
Brockmire Season 2: The Hilarity and Tragedy of Baseball's Favorite Announcer
We got a behind-the-scenes look at Brockmire season 2.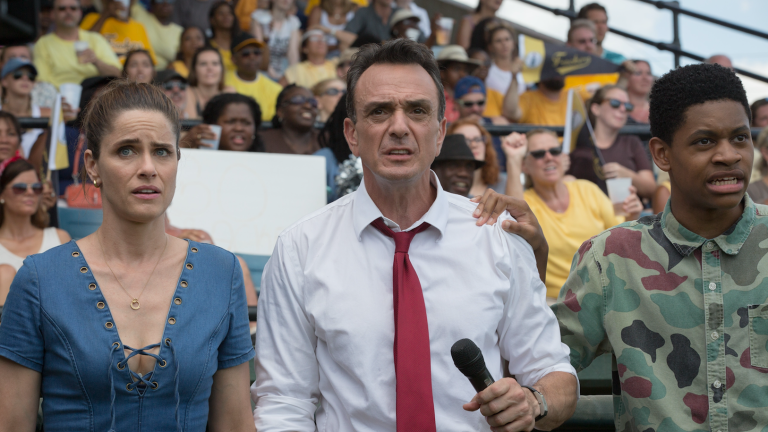 When you're shooting eight episodes of television in 24 days, there's little room for error. Hank Azaria knows that as well as anyone. As the executive producer and star of Brockmire, his preparation and attention to detail anchors the production, akin to one of the hardest working men in sports, former Dodgers' broadcaster Vin Scully, who was an inspiration for the character Jim Brockmire.
Inside Coolray Field, the home of the Atlanta Braves Triple-A team where much of Brockmire season 2 was shot, we're sitting through several takes of a pivotal early season scene which sets the table for the season's narrative. It's apparent just how prepared Azaria is. In each take, you notice him make slight riffs on the material, whether it's self-correcting a mistake or improving on the original dialogue. Watching the same take over and over on a set can be tedious, but Azaria is one of the rare talents who can make lines like "America loves a loaded gun… especially the kids" increasing more hilarious with each time he tries it. 
Committing all of the scripts to memory gave him the freedom to work without worry about remembering lines. As one producer told us, Azaria had the scripts for all eight episodes nearly memorized three weeks out from shooting episode one: "He said up until the last 10 pages, you can cite any episode monologue and I can give it to you."
That kind of all-star caliber preparation rubs off on Azaria's younger teammates. "It forces you to get your ass in gear, because he'll show up to work and he'll have five pages of just so many words to say, and he knows all of them," says Tyrel Jackson Williams, who plays Hank's buddy and business partner Charles. Added Utkarsh Ambudkar, who plays Hank's new broadcaster rival Raj: "You feel like a jerk if you've got your script in your hand. That's a great tone for the rest of us."
It's not all work and no play on the set, though. After all, this is Brockmire, where baseball meets sexualy deprevity and fuctional alchoholism. As Brockmire season 2 begins, we find the titular character on the upswing professionally. He left Morristown for New Orleans, where he now announces for Atlanta's Triple-A squad. Bringing Charles along with him proved to be a sound financial decision: The youngster turned Brockmire into a podcast superstar. The drunken ramblings of a broken play-by-play man are hot stuff on iTunes these days. Though he's back on his game in the booth and in the podcast world, his personal life is still a mess. Amanda Peet's Jules is back in Morristown, but she's surely not left the mind of Jim Brockmire. It's a comeback story, a coming of age buddy comedy, and a dramedy about life, love, and addiction all in one. As Brockmire says during season two, "I may not be in the major leagues, but I've really upped my game when it comes to alcoholism."
"New Orleans definitely is conducive to his bad behavior," Azaria says. "He's left a relationship behind that was anchoring him. He's free to carry on. He gets in some trouble for sure."
Azaria may be the titular character and carries a heavy load, but the show around him is stronger this year, with a fresh crop of teammates for season two. Dreama Walker (Don't Trust The B In Apartment 23) plays a no-nonsense PR rep named Whitney from Atlanta's major league team. When the major league job opens up, her character encourages a competition between Brockmire and other the Triple-A broadcaster, Raj, a charismatic people pleaser in a tailored suit with no affinity for baseball.
"Raj is this new up and coming hot shot who doesn't know that he's a total douchebag," Ambudkar says. "He's ambitious, and he wants to be Bob Costas. He's trying to take over, get the HBO show, get the magazine spinoff. He's oblivious to the fact that Jim doesn't like him. He just loves Jim so much."
The announcer rivalries don't stop there. It wouldn't be Brockmire without that pesky Joe Buck showing up. While Buck serves as a piece of Brockmire's professional backstory, the season spends time with the Brockmire family, delving into new territory for the character. In an episode where Brockmire is forced to return home, we meet his sister, played by Becky Ann Baker, who had a memorable run as the mother of Lena Dunham's Hannah on HBO's Girls.
Having been granted a second season to expand the character (and a third and fourth season are already confirmed), Azaria himself was surprised by the emotion and reality that come through in the scripts.
"This season we've gone even darker and further," Azaria says. "We're continuing to pull the thread. The premise of the show was what if a guy did this on the air, melted down, and that was probably gonna be alcohol fueled to make it believable because why would anybody do that unless they were pretty blacked out drunk? [Series creator] Joel [Church-Cooper] kinda took that literally and like, 'What kind of a man does that?' And then this is now, 'Well, if a man like that does that, where does his life start going?' That's where we're continuing to go. His career is going up but his psyche is going down."
Mo Marable, who's done some recent directing on It's Always Sunny in Philadelphia, VEEP, and Hap and Leonard, was behind the camera for all eight episode of season two. He says this season is one of Azaria's best performances of his career.
"It's a comedy, but Jim Brockmire has consequences," Marable says. "He's got real shit happening to him."
There is great humor to be found in a downtrodden baseball announcer sleeping and boozing his way back to the bigs. But Brockmire is striving for something a little deeper this year, and he'll have to go down a dark New Orleans alley to get there. 
"We're trying to reflect the times we're living in, which are, let's face it, pretty bleak and dark as fuck," says series creator Joel Church-Cooper. "The show takes on that a little bit. We're not necessarily commenting on the political climate so much as the vague sense of unease that is constantly around us, rather than taking that super seriously. We're trying to make jokes out of that darkness. We put the dark in dark comedy this year."