News
Brock Lesnar Written off WWE Programming for Now
WWE kept its foot on the gas following WrestleMania on Sunday …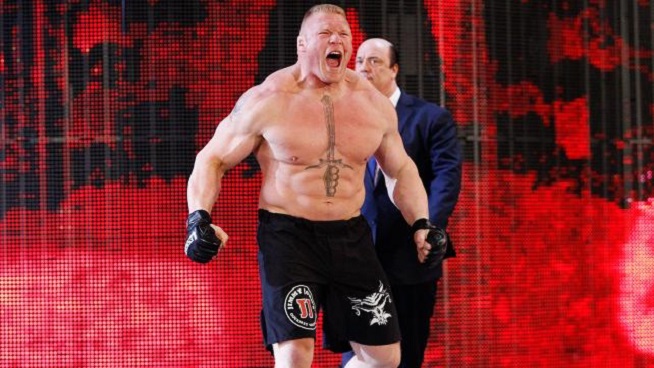 In the build to WrestleMania 31, there was a lot of blurred lines when it came to who was the babyface and who was the heel. WWE seemed to be laying subtle clues that a lot of character development changes could be forthcoming either before, during or immediately following the biggest show of the calendar year for WWE.
Coming out of WrestleMania, one thing is clear: Brock Lesnar is a babyface. Not only that, he's probably the biggest babyface in the company.
Sucks that he'll be going away for a while.
In an attempt to write him off television for what seems like the foreseeable future, Lesnar was suspended by WWE Principal Owner Stephanie McMahon last night after Lesnar flipped out and destroyed Raw's announce team after WWE World Heavyweight Champion Seth Rollins squirmed his way out of a title rematch.
Rollins, who received a huge babyface reaction for his win at WrestleMania — that probably had a lot to do with the sheer surprise of his victory — was in full chicken heel mode Monday. Lesnar demanded a rematch as Raw kicked off at 8 p.m. and by 9 p.m., the match was ready in the ring. Rollins then grabbed a mic and said he was jetlagged, and tonight wasn't going to be Lesnar's night.
Lesnar, as you might imagine, didn't take that news kindly. He destroyed Joey Mercury and Jamie Noble at ringside. He flipped the announce table over on top of Booker T and JBL, and then F5'ed Michael Cole out of his shoes (literally). He snatched a cameraman on the ring apron and F5'ed him. He picked him up a second time and Stephanie demanded Brock put him down. Brock then F5'ed him a second time.
That's when Stephanie suspended him, and said she would also hit him with "a large fine."
The only issue I had with this angle was that it took place so early in the show. WWE would have had to scrap the 6-man main event (we'll get to that in a minute) but booking the rematch and building to it the entire night, only to have Rollins screw the fans, is a sure way to put even more heat on the champion. Also, the match going on at 9 p.m. guaranteed, at least to me, that there was no way the title was changing hands. You knew something screwy was about to happen. It foreshadowed too much for me.
I'm sure WWE also had concern with ending Raw with the heel getting the upperhand, just 24 hours after doing the same thing at WrestleMania. So Lesnar's gone. That leaves Randy Orton and Roman Reigns as likely challengers for Rollins in his first title defense, presumably at Extreme Rules in a few weeks.
Quick Strikes
1. The 6-Man Tag in the main event really fell short of delivering what the Raw after WrestleMania has become known for. In recent years that main event spot has been filled with things like John Cena and The Rock booking their match for one year later. This 6-Man just felt like any other Monday's main event.
I would have rather seen WWE put the Lesnar-Rollins match in the main event, and shift use the top-of-the-hour matches as Bryan-Ziggler and Cena-Ambrose. Then they could have given Reigns just another match on the card to get his win back for losing last night.
This 6-Man felt like a main event on the build to Survivor Series, not the night following 'Mania.
The Reaction Roman Reigns received was not kind at all. Perhaps the boos were lifted into the California sky on Sunday night in the open-air stadium. The indoor arena in San Jose sounded like a boo box when Reigns made his entrance, and almost every time he landed any sort of offensive maneuver.
Truth is, Reigns really delivered on Sunday. The match was far better than I, or anyone else, probably imagined. But Reigns is going to have to do a lot to overcome the perception that he is WWE's corporate-picked man. That's just asking for him to be a heel. WWE, for years, has conditioned its fans to go against what they pick as the corporate speak. Seth Rollins was the hand-picked heel. Go back to 1998, Dude Love was Vince McMahon's hand-picked corporate champion against the rebel Steve Austin. Wrestling fans will always want to buck that trend, and WWE made it so.
2. WWE gave a storyline update on Cole during the show that said he possibly suffered "cervical damage" as a result of Lesnar's attack. Personally, a few weeks off from Cole might be a good thing for the television product. He's over-exposed as the voice of Raw, Smackdown, and every pay-per-view. He's not Jim Ross, but he's good for what WWE wants its announcers to do. I could just take a little less of him.
3. This idea that Daniel Bryan and John Cena will raise the value of the Intercontinental and U.S. Titles might actually work. Both defended their belts on Raw and both matches were fantastic.
I believe Daniel Bryan deserves to be WWE World Heavyweight Champion. The crowd behind him as much as they are says he should be carrying that belt. But if WWE doesn't agree, and he's having killer matches with guys like Dolph Ziggler every week, I'm a happy man.
Also, Cena gets a lot of flack for his "workrate" from the real snarky insiders. Well Cena and Ambrose had a great match in the television era, if you will. Try to think of a big match Cena has had that has been terrible? When it matters most, he usually delivers. His main events with CM Punk were great. Cena isn't Bret Hart or Shawn Michaels, but he knows how to work the crowd within his limitations as a wrestler.
Match Results
1. Daniel Bryan [c] def. Dolph Ziggler for Intercontinental Title
2. Lucha Dragons def. Tyson Kidd & Cesaro, The Ascension, New Day
3. Sandow def. Stardust
4. Neville def. Curtis Axel
5. John Cena [c] def. Dean Ambrose for the U.S. Title
6. AJ Lee, Paige & Naomi def. Natalya & The Bella Twins
7. Rusev def. Goldust
8. Roman Reigns, Randy Orton & Ryback def. Big Show, Kane & Seth Rollins
The Finish
The main event was only so-so at best, but this was still a really good show. The Lesnar segment was great and the Bryan-Ziggler, Cena-Ambrose matches were both fantastic. WWE also continued its tradition of debuts the night following WrestleMania, with the Lucha Dragons and Neville both making it on to the main roster.
It wasn't as much of a reset as we've become accustomed to seeing, but that's OK. This was a good show to set some good things moving forward.