News
Brock Lesnar Returns to WWE, Kevin Owens Looks Strong
WWE rebuilt its strongest heel, and returned its strongest babyface in a packed episode of WWE Raw …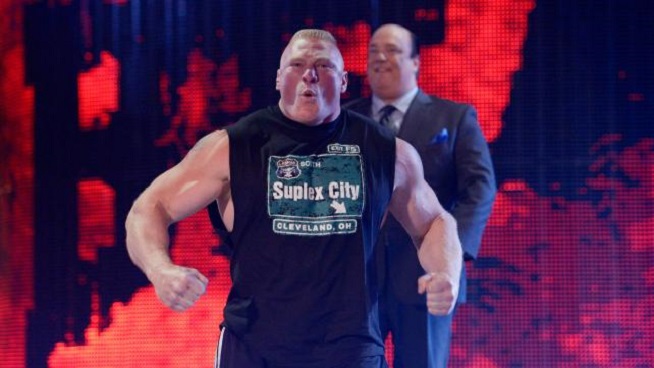 One night after losing clean to John Cena at Money in the Bank, WWE rebuilt Kevin Owens in a big way on Raw. Owens issued an open challenge after a good promo, in which he challenged Cena to a match at Battleground, and this time, he wants the U.S. Title at stake.
In the open challenge, Owens defeated Dolph Ziggler. It was a good, strong segment for Owens after taking a clean loss on Sunday.
But it wasn't over there for Owens. Later in the night, musical guest Machine Gun Kelly performed on the Raw stage and after the song, Owens appeared on stage clapping somewhat condescendingly. After some back and forth with Kelly, Owens kicked him, lifted him over his head and powerbombed him off the stage on to what looked like a huge crash pad on the floor.
I don't care about the crash pad. Visually, this looked awesome. It also helped Owens get even more over as a heel. Kelly is from Cleveland, and while the live crowd didn't really seem to eat up the performance, the post-song angle was terrific. The only criticism is that officials got Kelly up rather quickly, and showed him being walked to the back. I would have preferred they either go to commercial, and miss watching him walk out, or do the whole stretcher deal. Still, it was a good segment, it helped Owens, and credit to Kelly for being willing to do it. That's cool to see.
Owens is WWE's biggest heel at the moment. And its biggest babyface also made news on Raw.
Brock Lesnar returned to WWE after a "suspension" the night after WrestleMania. Lesnar was introduced by Triple H and Stephanie as Seth Rollins' next challenger to the WWE World Title at Battleground.
WWE foreshadowed that on Sunday, with Rollins proclaiming himself the "greatest WWE Champion of all-time," and the look on Triple H's face as he yelled it.
The Authority seems to be growing tired of Rollins' confidence. What will be interesting to see is where WWE goes with it from here. Both The Authority and Rollins are still coming across as heels, just heels that aren't getting along. It's not as if one side is showing some babyface tendencies.
But for now, this should be a fun few weeks with more of building Owens, and re-establishing Lesnar as a babyface.
Match Results
1. Dean Ambrose def. Sheamus: This match highlighted a jam-packed opening 45 minutes. Rollins' opening-show promo gloating about his WWE Title win over Dean Ambrose at Money in the Bank was fantastic, and Ambrose interrupting him, followed by Sheamus coming out to challenge to a match, Ambrose's win and then Randy Orton attacking Sheamus after the match all combined for a solid opening. WWE also gave audiences a bit of mystery, with Triple H and Stephanie McMahon deciding on Rollins' next challenger. And Triple H looked not pleased at Rollins' gloating about "being the best WWE Champion ever."
2. R-Truth def. King Barrett: Whose grandmother did Barrett insult? Truth picked up the win in 22 seconds, start to finish, according to the stopwatch on my iPhone.
3. Kevin Owens def. Dolph Ziggler: Owens cut a good promo before the match began, saving face in a perfect heel way after losing to Cena on Sunday. Owens said he wanted Cena again, but this time he wanted the U.S. Title on the line. Also good to see WWE give Owens a win back after losing on Sunday.
4. Kane def. Randy Orton: Interference from Sheamus cost Orton the match, and post-match interaction between Kane and Rollins actually made me excited for a potential Kane-Rollins match. Rollins hit a nerve talking about Kane's "family," and Kane showed more aggressiveness there than he has since becoming "Corporate Kane."
5. The Miz def. The Big Show: I don't know what Miz is at this point. I don't really know what Big Show is either. Their characters just aren't all that defined. They're annoying, Miz was in his hometown and kind of treated as a babyface? It was very confusing. Ryback was on commentary and did a nice job. It's good to hear him speak more. But the match itself seemed like it was just thrown on paper without much thought.
6. The Bella Twins def. Paige: I think the Bella Twins are heels again. Cole seemed to condemn "twin magic" and JBL was defending it. So I think that makes the Bella Twins heels. It's hard to tell with the way WWE treats its Divas division, but I think that's the case. We'll see what happens next week …
7. The Prime Time Players & Neville def. New Day: I really liked this match. I thought it was fun. The commentary was quite corny, but the match was good.
The Finish
This was a good reset show. We have some fresh new feuds for the summer, including Rollins-Lesnar, Reigns-Wyatt and more. After a flurry of big shows over the last three weeks, WWE has a nice break of five weeks to build up Battleground.