News
Broad City Season 4 Episode 3 Review: Just the Tips
We've got your Broad City lessons for the week right here.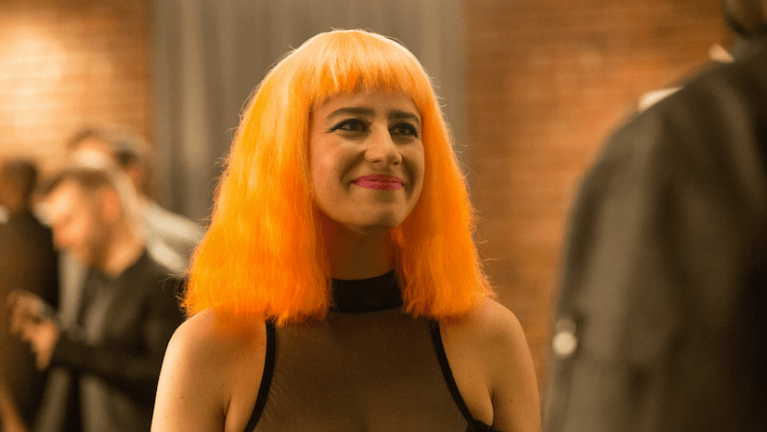 This Broad City review contains spoilers.
Broad City Season 4 Episode 3
This week, Abbi and Ilana learn how the "other half" lives. Abbi settles into being a relationship type of girl, after all of six days with her sexy EMT, Mike. Meanwhile, Ilana has the day off from her new waitressing job, and lots and lots of cash to blow.
Ilana stole the show in this episode. While Abbi's storyline in episode four, "Just the Tips," felt a little tired and, frankly, annoying, Ilana's story felt like a distinct marker in the evolution of her character. After three seasons, fans have come to know Ilana as risk-taking, fearless, and emotional free spirit. But, after running into Lincoln and his new girlfriend at a party, "Just the Tips" throws us a new twist for the show with a more vulnerable self-aware sad Ilana. The scene took what could have been a typical "strong-willed woman crumbles over a man" trope, and instead lets Ilana keep all of her great qualities and her spark, but teaches that you can be a powerful woman and also allow yourself to have emotion and be vulnerable.
Three episodes into the fourth season of Broad City, and it's becoming clear that the series is progressing into something more than just the witty banter and shenanigans fans have become accustomed to. All that good stuff is still there, but the characters are showing signs of development.  
Episode four had a lot of great things in it, but most importantly Ilana takes the lifestyle of the rich and famous for a spin and it's something we can all learn from.
So here is your lesson for the week. 
Nouveau Riche according to Ilana Wexler: 
Heat your apartment with that paper.
Why pay the gas company when you can just stuff cash under your blankets, in your pillow cases and down your pants? Ever wonder how the rich stay rich? I always thought it was whatever the stock market is, but Ilana could be onto something.
Always have what she's having. 
Those triple and above dollar sign restaurants never have any prices on their menu, and that's because rich people don't care about prices. The wealthy never want to be caught taking money into account. If you want to keep up, you'll have to pick out the wealthiest looking person in the room and say, "I'll have what they're having!"   
Rebrand
Your working class feet are no longer working class feet. They are now "Ballerina Feet." Like Ilana, you might work hard for the money and people can tell. Calloused hands from construction or figuring out how to eat meatballs while also putting together your IKEA furniture. Busted up feet from bringing matcha lattes to kids in beanies. Imperfections are only okay if they are for the sake of art that allows you to look down on everyone else. But don't tell anyone that. Emily Post wouldn't like it. 
Buy yourself a snazzy new leotard.
Because you're worth it. 
Look like a Video [Woman]
Ilana knows that showing up to a party in a kick-ass new leotard with a wig whose color is not known in the universe will make you look like you've been dancing behind Snoop Dog for the past five years, and that's the way to do it.  
Barack and Michelle Obama Nail Art
What says money like blinged out nails with the former President and First Lady on them? It shows you are both wealthy enough for awful trends and can hold a conversation centered on today's political climate. 
"One night, off get me off."
Ilana knows the mantras we all should be leaving by.
If you have come into some money recently and would like to blow it like only Ilana can, follow these tips and you are sure to have people saying, "Must be new money."