News
BritBox: What To Expect From The All-British TV Streaming Service
We dive deep into the latest streaming service to hit the market, BritBox.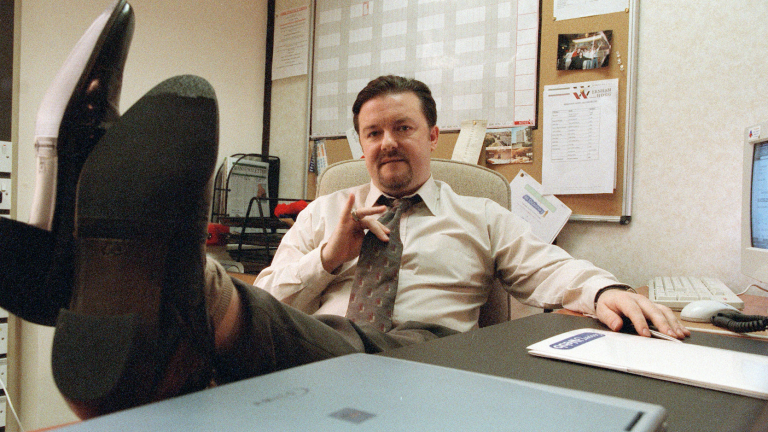 The future of streaming is tailoring full libraries of content to specific needs. If a deep well of British classics is the itch Netflix couldn't scratch, then you British ex-pats, Anglophiles, or people with damn good taste were likely delighted to hear about BritBox.
The streaming service comes from a partnership between BBC Worldwide and ITV and brings the largest collection of British programming available to an American audience. A larger rollout of programs is expected in the coming weeks and months, but the launch titles include classics like Fawlty Towers, The Office, and Blackadder, one of the most loved British sitcoms of all time. They also have a carefully curated selection of hits that will have U.S. appeal. For instance, Gavin & Stacey, a comedy about young love and the challenges of a long distance relationship, became an instant hit and helped to make James Corden a household name in Britain. Aside from promoting the early work of stars like Corden or Daniel Craig, the service has playlists like "The Best British Detectives" for users to browse based on their streaming appetite.
With the roots of Den of Geek sprouting in the U.K. (nearly 10 years ago!), BritBox was a hot topic of discussion in our office when it was announced. Our publisher Matthew Sullivan-Pond, a British expat himself, joined me as we rang Soumya Sriraman, the President of BritBox, to discuss the appeal of all-British streaming, which shows will become hidden gems, and how they'll help fans find the deep cuts of their favorite stars.
DEN OF GEEK: Were you responding to a vocal need from the US to create a product like BritBox? Again, personally, when I came over here, it was one of the first things I looked for, something similar to the BBC iPlayer (Only available in the U.K.). And obviously until now, that hasn't been available. So was there much of a demand stateside?
Soumya Sriraman: I would actually tell you, Matt, that this is not the iPlayer. It's not meant to be. What we do know is that there is a strong demand for British programming, and how it's very distinct from people get on their normal television today. Right? We've known that. We experience it on a regular basis, and we know that what's fascinating about British programming is it appeals to a certain psychographic, and what happens is you can have British programming that's quirky humor. You can have British programming that's very high drama. And you can have British programming that's very thinky-factual. And what connects all of them is not a demographic, but a psychographic. And I think that's what made us think about putting it together in the way that we did.
How do you articulate that psychographic?
I don't think I can put it into a neat frame, other than we know that this is an observational audience who enjoys quality programming and defies norms.
So why do you think U.S. audiences get so excited about U.K. programming?
[Laughs] I will turn that right back on you! With some of us, like you and me, who've probably experienced both sides of the pond in programming, I mean, we have very strong feelings about what is and what is not, right? So I'd love to hear from you.
I guess another aspect to that question is for non-expats, what are they finding, at least in your research, that's really turning them on to British programming? Where are they going to seek it out?
Yeah, we know that there's a significant population that's non-expat, that gravitate to the programming because they see it as… you don't get eight seasons of a drawn-out drama.
You get a piece of programming that's succinct, that has well-defined characters, that are speaking to a very, very clear voice. And I think that's… And I think it's the size of the U.S., right? The U.S. is so vast. You have to appeal to so many different psychographics, and this is probably where, the U.K., given its size, has a nice and targeted psychographic.
There's this tier of online streaming where people can a la carte pick and choose their comedy, news, and other kinds of services that live outside of Netflix, Hulu, and Amazon. Where does BritBox fit in there? Specifically, for the business side, price points are always really important when you're talking about streaming. How did you guys determine what was the right price point for this?
You all have been in the states long enough, and you know where prices for these kind of services have evolved over time. We all know what HBO is doing and Showtime are doing. But what's important was to provide something that we thought was acceptable, and we thought would fit in nicely with someone's add-on service. Because we think that we're absolutely something that people want to add on.
Which shows do you see as hidden gems for U.S. audiences on your service?
All of our British series, in one way or the other, have been inspirational to so many procedures here. If you think about Silent Witness, which I think has been some version of a procedural here for however many years. But Silent Witness is now, what, on 20 seasons or 21 seasons? We have another show called Inside No. 9 that I think is going to be really exciting. It's a great comedy.
I know that you have Louis Theroux, which is gonna be huge for our audience. How important do you think a voice like Louis Theroux is today?
Very important. I'm sure you're familiar with Lucy Worsley as well, right? I've been thinking about, like, how do we showcase someone like Louis is also a familiar name—not quite a household name—but a familiar name in the U.S. because of Scientology. But there are so many other advocates of distinct factual points of view that I think we haven't had a chance to explore this market and people. We want to bring those kind of voices to the forefront with BritBox.
It seems like you guys were going in a direction where really want to showcase people like Gillian Anderson or Daniel Craig in their lesser known roles before they became huge stars. Is there other cool stuff that you are looking at to make sure that people are finding the right picks and not spending hours like we do on Netflix, where we're scrolling down trying to figure out what the heck to watch?
This is another thing that we thought a lot about, right? Do we think that we going to get a lot of people who know what they want to watch, and so they're going to come in with a specific point of view? Or are we going to lead them down journeys? And I think the true answer is there are always going to be a mix of both, but we like the idea of bringing people into our world. We like the idea of introducing them to this vast, British stage, using things that they're familiar with, using a conduit they'll understand.