News
Breaking Down The WWE Draft
WWE's Draft split the roster mostly down the middle, but some divisions are left with big holes ...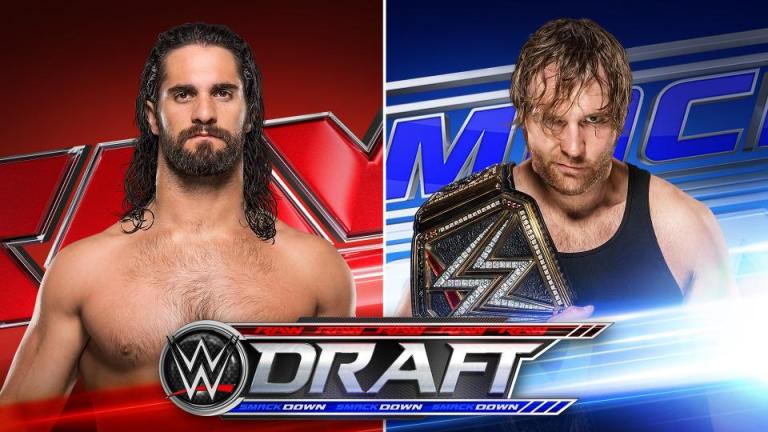 The WWE has officially been split.
Raw and SmackDown held its draft on Tuesday night, as the SmackDown show ran its first live episode on USA Network. The show will now be broadcast live, every week, at 8 p.m.
The draft selections were interesting. The shows weren't as split as some may have expected, when it comes to "sports entertainment" on one brand and "pro wrestling" on the other. Both rosters have a good mix and it seems as though, at least on the outset, the shows may look too similar.
Both rosters have strong "workers"
In-ring ability is something that most critics thought would be featured on SmackDown, while Raw was more of your typical WWE "sports entertainment" show, which is more storyline driven through promos and talking segments.
But both brands have a good roster of strong in-ring workers.
On Raw, that portion of the roster is led by Seth Rollins, Finn Balor, Sami Zayn, Chris Jericho, Kevin Owens and Cesaro.
On SmackDown, they can feature Dean Ambrose, A.J. Styles, Dolph Ziggler, Bray Wyatt and Randy Orton.
SmackDown has serious star power
In an interesting development, considering Raw's poor ratings in recent weeks, is that SmackDown has much more star power.
John Cena, the leading face of the company, is on SmackDown and Randy Orton will also be on the blue brand.
Dean Ambrose is the WWE Champion and A.J. Styles has quickly risen the ranks since joining WWE in January.
Bray Wyatt is another star SmackDown can feature in the main event.
Raw still has its stars, headlined by Rollins, but Roman Reigns is still the big X factor. He's solidly perceived by the fanbase as a heel — he was booed loudly when shown on screen last night — and if WWE thinks that he is a babyface Raw can be built around, they have another thing coming.
This storyline with Rollins, where they're almost trying to put sympathy on Reigns for failing a drug test, is laughable. Reigns was booed before, upon returning from suspension, he'll be booed out of the building.
The biggest "star" on Raw is Brock Lesnar, and as we know, he's not around all the time.
Both shows will have a strong women's division
Raw has the WWE Women's Champion, Charlotte, although it's likely that SmackDown will have a newly-announced women's title soon.
On top of Charlotte, Raw will feature Sasha Banks, Nia Jax from NXT, Paige, Summer Rae — who is underrated as a wrestler — Alicia Fox and Charlotte's muscle, Dana Brooke.
SmackDown's division is headed by Becky Lynch and Natalya, who brawled all over the DCU Center in Worcester, Mass. last night. Becky-Natalya will be the feature women's feud on SmackDown for the time being.
SmackDown will also feature NXT's Alexa Bliss and Carmella, as well as Eva Marie.
Raw's division is deeper, but SmackDown's has some serious potential, in particular with Bliss and Carmella.
Raw owns the tag team division
This isn't even a contest.
Raw drafted New Day, Enzo & Cass, The Club, Golden Truth, The Dudleys and there's also the Social Outcasts team of Curtis Axel and Bo Dallas, who could be put together as singles competitors.
SmackDown has some intriguing picks in the tag division, which is headlined by NXT's American Alpha, but aside from American Alpha and The Usos, there isn't much to write home about on the SmackDown side.
Other teams in blue include The Ascension, Breezedango and The Vaudevillians, with the potential for Mojo Rawley and Zack Ryder to re-team as The Hype Bros.
So it's The Usos, a rising NXT team we haven't seen on the main roster (but who have unlimited potential) and the a group of wrestlers WWE has treated as job guys for most of their runs.
Biggest reaches
There were some wrestlers picked way too high. Baron Corbin went to Smackdown with Dolph Ziggler, Cesaro, Alberto Del Rio, Sheamus and others still on the board.
Big Show was also drafted awfully high (No. 23 overall) considering he hasn't been on television much.
Show was picked ahead of Ziggler, Neville and Cesaro.
Biggest fallers
On the flip side, there was also a group of talent that fell further than it should have.
Cesaro is the biggest faller, falling to No. 28, behind Neville, Nia Jax, Big Show and Baron Corbin.
I was also surprised to see Kalisto fall as far as he did. It was not that long ago he was a featured member of the roster as U.S. Champion.
Zack Ryder is also challenging for the U.S. Title this Sunday on a pay-per-view, and he fell to the 43rd pick.
Apollo Crews hasn't hit yet with the crowd since his debut after WrestleMania, but he fell to the 45th pick, behind Summer Rae, Kane and Mark Henry.
Erick Rowan fell to the 55th pick.
Heath Slater was the only member of the roster not selected.
Here are the complete picks for both Raw and SmackDown: