News
Crisis on Infinite Earths: Brandon Routh to Play Kingdom Come Superman
The CW's Crisis on Infinite Earths crossover event will have multiple Supermans, including Brandon Routh's former big screen version.
A Crisis on Infinite Earths adaptation is certainly no small adaptation task, but The CW has nevertheless aimed stratospherically high by making it this year's big Arrowverse crossover event. Yet, in a phenomenon that's apropos to DC's industry-transformative 1985 comic book event on which it's based, it appears that Crisis will have multiple versions of Superman; one, of course, played by Supergirl's Tyler Hoechlin, and the other by former Superman Returns headliner, and the TV universe's current portrayer of the Atom, Brandon Routh!
Yes, folks, you read that correctly: Brandon Routh is suiting up once again as Superman in the upcoming Crisis on Infinite Earths crossover event, as Deadline reports. Furthermore, he's playing the Elseworlds version of Superman first introduced in the 1996 miniseries Kingdom Come by the all-star team of Mark Waid and Alex Ross. This tidbit was revealed by Routh himself during the Arrow panel at SDCC 2019. Now, we have our first, proper look (via EW) at Routh in the Kingdom Come costume…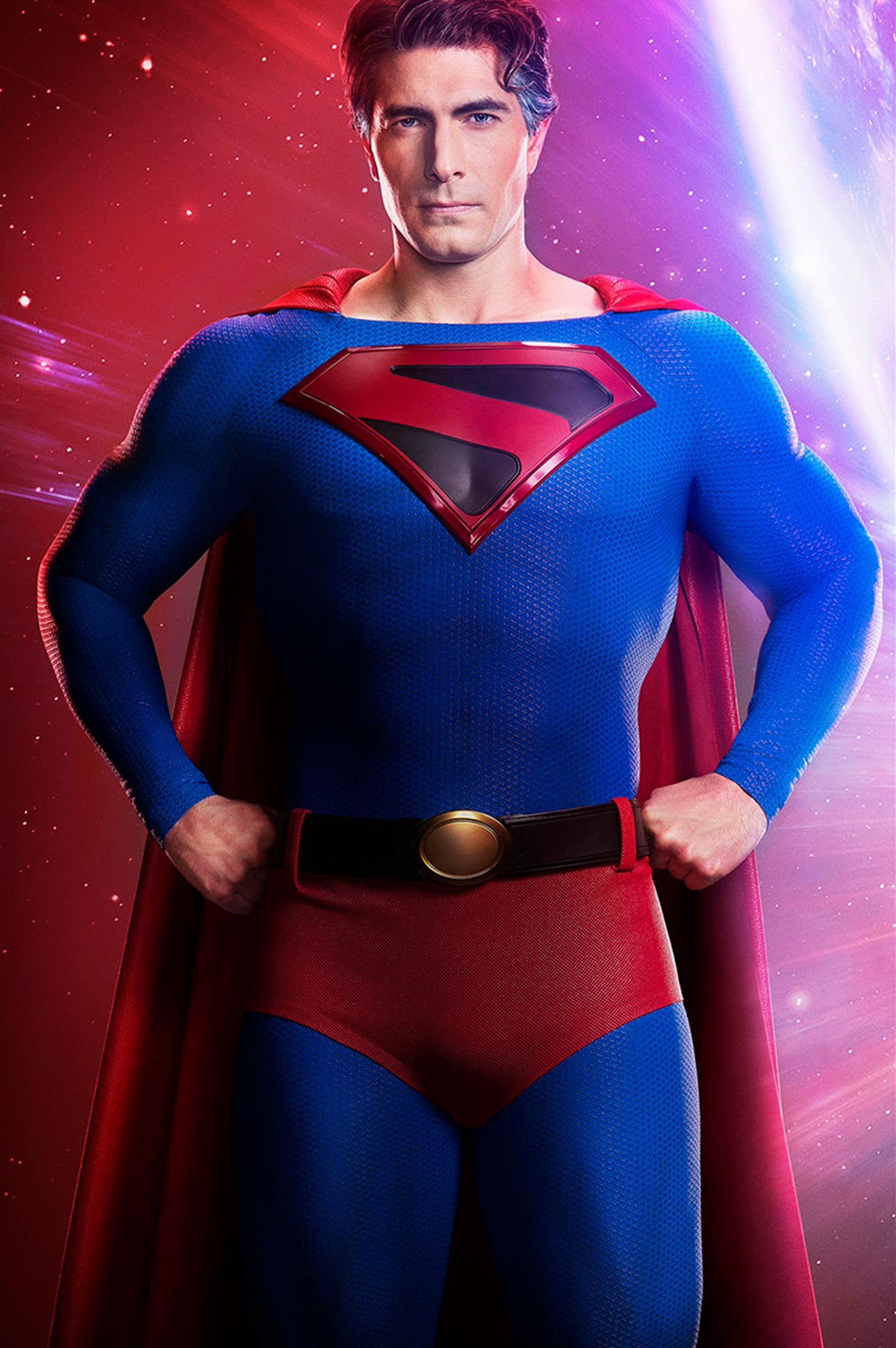 The particular red and black "S" symbol on Routh's chest belongs to the Supes of a much darker, alternate timeline where Lois Lane died in a Joker terrorist attack and Kal-El retired from crime-fighting to live in the Fortress of Solitude while new heroes took over. This Superman didn't stay out of retirement for long, of course. And while he didn't appear in the Crisis on Infinite Earths comic from 11 years prior, Kingdom Come's Superman did eventually make it to the main DC Universe as a member of the Justice Society of America, but that's a story for another time.
Routh was first plucked from obscurity to star in director Bryan Singer's 2006 reboot, Superman Returns, in which he starred as Clark Kent/Superman opposite Kate Bosworth's Lois Lane and Kevin Spacey's Lex Luthor. The film was a back-to-basics 21st century-minded movie continuation of the classic Superman story. However, it didn't exactly shatter the box office, earning $200 million domestic and $191 million foreign, or prove immensely profitable off its budget of $270 million. Yet, there is a contingent of the fandom who felt that, while Returns may not have been the most compelling of debuts, Routh's one-and-done run as Superman was well-performed, and, in the very least, deserved a shot at a sequel; a shot that, after years of rumored returns, finally evaporated when Henry Cavill was cast as Superman for 2013's Man of Steel.
Unfortunately, Routh would fall on his proverbial sword career-wise for Returns' lackluster performance, though he did continue to bank appearances in some films, notably 2010's Scott Pilgrim vs. the World and Dylan Dog: Dead of Night, as well as TV runs on Chuck and Partners. He returned to the live-action DC world in 2014, debuting in the role of Ray Palmer/The Atom on Arrow, eventually moving over to time-traveling team-up series Legends of Tomorrow, on which he is still a regular.
Regardless, it is absolutely thrilling to see Routh – for however briefly – put aside Ray Palmer to once again be mistaken by onlookers as "a bird" and "a plane."
Crisis on Infinite Earths kicks off with Supergirlon Sunday, December 8th on The CW.
Joseph Baxter is a contributor for Den of Geek and Syfy Wire. You can find his work here. Follow him on Twitter @josbaxter.
John Saavedra is an associate editor at Den of Geek. Read more of his work here. Follow him on Twitter @johnsjr9 and make sure to check him out on Twitch.