News
Booking Undertaker as a Heel Isn't Working for WWE
Despite some fun and nostalgia, the WWE has been making things awfully confusing lately.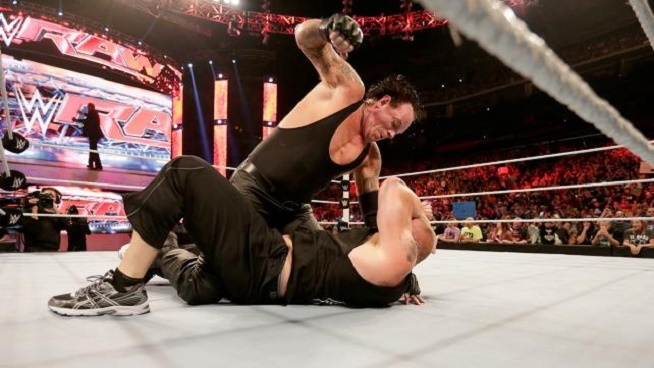 Monday's edition of WWE Raw kicked off in style with the return of 'Stone Cold' Steve Austin, who was in town to interview Brock Lesnar on his Steve Austin Show podcast. 
Austin opened Raw by welcoming the fans and then talking a little bit about WWE Hell in a Cell 2015 this upcoming Sunday on the WWE Network. Austin then introduced the Undertaker, and promptly left. 
Yup, that's it. 
This opening segment was hurt by that and also by the overall portrayal of Lesnar and Undertaker in this ongoing feud. Back at WrestleMania 30, Undertaker was easily a sympathetic figure. I think most people assumed that would always be the case. We saw the end of the streak – something no one ever imagined – and I think most people expected to maybe never see Undertaker again in a WWE ring.
Instead he has returned…many times. And that's OK, but WWE seems to be confused itself over whether or not Undertaker is a heel or a babyface. For weeks leading up to the first match a few months ago, Undertaker was clearly in the role as a heel. He cost Lesnar — a then babyface — his WWE Title shot for a selfish, self-centered reason. That's the mark of a heel.
But last night WWE seemed to erase that. It resulted in a confused crowd both in the arena and at home. Despite his heelish tactics earlier this very summer, Undertaker was booked here as a sympathetic babyface .
Lesnar, meanwhile, was booked as the guy not willing to fight. The roles were completely reversed, without any team reason as to why, and it's left a hole in the emotion of the show.
Overall, most members of the WWE Universe didn't seem to get behind the idea of Undertaker as a heel. Maybe that's why they moved away from it. However WWE can't forget what it wrote just a few months ago. That seems to be Vince McMahon's M.O. He assumes the audience won't remember and leaves gaping holes in the storyline. Most of us do, though. And that makes for some large holes in the story.
Match Results
1. The New Day beat John Cena & The Dudleys
2. Team Bella beat Team B.A.D.
3. Seth Rollins beat Ryback.
4. Wade Barrett, Sheamus and Rusev beat Cesaro, Dolph Ziggler and Neville.
5. Charlotte beat Brie Bella.
6. Kevin Owens beat Mark Henry.
7. The Wyatts beat Seth Rollins, Roman Reigns and Dean Ambrose by DQ
Quick Strikes
1. Another impressive night for the New Day, beating Cena and the Dudleys. However Bubba and Devon got their revenge post match, and the announcers did a nice job of building the Tag Title match on Sunday. Overall this tag-team feud has been really well done. The Dudley Boys have no doubt helped raise the stock of New Day.
2. Seth Rollins was really good in his promo segment with Shawn Michaels, and kudos to Michaels to raising Seth's credibility simply by standing in the ring and conversing with him. Michaels is a big star and one of the best ever on the mic, and Rollins held his own. It's also refreshing to see Rollins with someone outside of Kane, who has been booked as this mythical superhero of sorts. 
3. WWE seemed to steer clear of the Ziggler-Rusev feud, despite the opportunity to highlight it with a six-man tag. It seems — at least until Lana returns — that WWE has moved away from that storyline after the strange TMZ revelation last week.
4. Mark Henry got in quite a bit of offense in his match with Kevin Owens. A surprising amount of offense, actually. Henry actually looked really good here until the finish when Owens went over with his finish. I expected a dominant win for Owens, and in the end he almost felt more lucky to get out with the pin. They've set up Owens being vulnerable heading into the Hell in a Cell show on Sunday.
5. It seemed like a weird decision to book a Shield reunion match for the main event. I guess that's part of the three-hour Raw problem, where there is so much content to fill that WWE has to give away some things for free just for the sake of keeping up and filling the time. It's a similar pattern to WCW's Nitro when it was running three hours, and had trouble filling all of that time.
The Finish
What a weird episode, to be honest. The main event changed a handful of times during the show and Kane, who is challenging for the WWE Title on Sunday, wasn't even on the program. The Shield reunited with no advertisement. This show felt like a scattered mess and the result of a bunch of scrambling coming together.