News
Bone Animated Series Coming to Netflix
Netflix will develop a Bone animated series, based on the brilliant Jeff Smith Comics.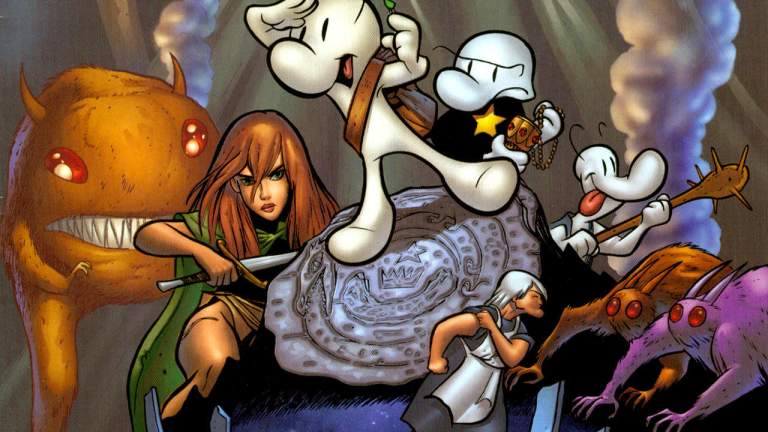 Jeff Smith's Boneis one of those comics, like Calvin and Hobbesor the '90s X-Mencartoon, that traces back to the very beginning of most comic fans' interest in the medium. It is a timeless classic, pure fantasy with roots in equal parts Lord of the Ringsand Carl Barks Disney comics. And now it's getting an animated adaptation.
Netflix announced today that it has acquired the rights to Bone and will begin development on an animated series. "Netflix is the perfect home for Bone," Smith told The Hollywood Reporter. "Fans of the books know that the story develops chapter by chapter and book by book. An animated series is exactly the way to do this! The team at Netflix understands Bone and is committed to doing something special — this is good news for kids and cartoon lovers all over the world."
This follows a number of moves from the streaming giant meant to hold onto subscribers by locking in home-run kids content. Netflix has also recently announced deals with Chris Nee (Doc McStuffins), Alex Hirsch (Gravity Falls) and obtained the rights to Roald Dahl's library. 
Bonefirst began publication in 1991, was collected as a launch book for Scholastic's graphic novel imprint in 2004, and now exists on the shelves of probably 7 out of every 10 comic readers in the universe. It garnered a ridiculous amount of acclaim over its published lifespan, including 11 Eisner awards and 10 Harveys. All of the awards are well deserved: Smith's art is precise, detailed where it needs to be and loose where it serves the story better. The color editions are beautiful, while the black and white ones are somehow even better. The most recent Eisner came in 2005 for the single-volume black and white edition released the year prior, for Best Graphic Album – Reprint, and quite frankly it should have won more. 
The book stars three Casper the Friendly Ghost-looking cousins: conman Phoney Bone, good-natured gruff Smiley Bone, and main character Fone Bone. They are kicked out of Boneville because of a Phoney scam gone awry, and get separated in the desert. They work to reunite, meet up at a beautiful woman named Thorn's tavern, and end up on a quest to free The Valley from the Lord of Locusts. The book is smart and funny and classic, and if the cartoon is half as good as the comic it will be the best thing on Netflix.