News
BoJack Horseman Season 5 Trailer and Release Date
Netflix's BoJack Horseman Season 5 is arriving soon. Here is everything we know!
Fans of animated alcoholic anthropomorphic equines have a reason to celebrate, since Netflix's ultra-irreverent, sometimes-satirical, animated series BoJack Horseman, is coming back soon for Season 5.
Netflix made BoJack Horseman Season 5 official in a fourth-wall-breaking, BoJack Horseman kind of way, citing the assertions of its message-bombarding "Clingy Execs" to make the announcement, accompanied by a video. That announcement arrived last year, less than two weeks after Season 4 debuted; a season that currently carries a 97% approval on Rotten Tomatoes.
BoJack Horseman Season 5 Trailer
The BoJack Horseman Season 5 trailer is finally here!
BoJack Horseman launched in 2014, depicting the ambivalent, alcohol-addled title character, a horse (Will Arnett) who formerly starred in a hit TV sitcom in the 1990s, as he muddles his way through post-stardom life. Joined on this journey by human pal Todd (Aaron Paul) and his agent and ex-lover – a cat – Princess Carolyn (Amy Sedaris), BoJack is perpetually chasing the stick-tied carrot of comeback that is typically just out of his reach. The series also features voice co-stars Alison Brie as Diane Nguyen and Paul F. Tompkins as Mr. Peanutbutter.  
The series was created by Raphael Bob-Waksberg, who has been propelled to grander projects, notably tapped to re-write the script to the 2019-scheduled The Lego Movie Sequel. Bob-Waksberg serves as an executive producer alongside Steven A. Cohen and Noel Bright, as well as voice stars Will Arnett and Aaron Paul.
BoJack Horseman Season 5 Release Date
BoJack Horseman Season 5 is set to premiere on Netflix on September 14.
The date was announced via the show's hilariously in-character Twitter account by BoJack, who exasperatedly revealed the release date to an unsuspecting fan.
Netflix has also provided a first look at BoJack Horseman Season 5. Presumably BoJack has gotten a new acting job, unless someone really does kill him in episode one and the rest of the season is the Mr. Peanutbutter show.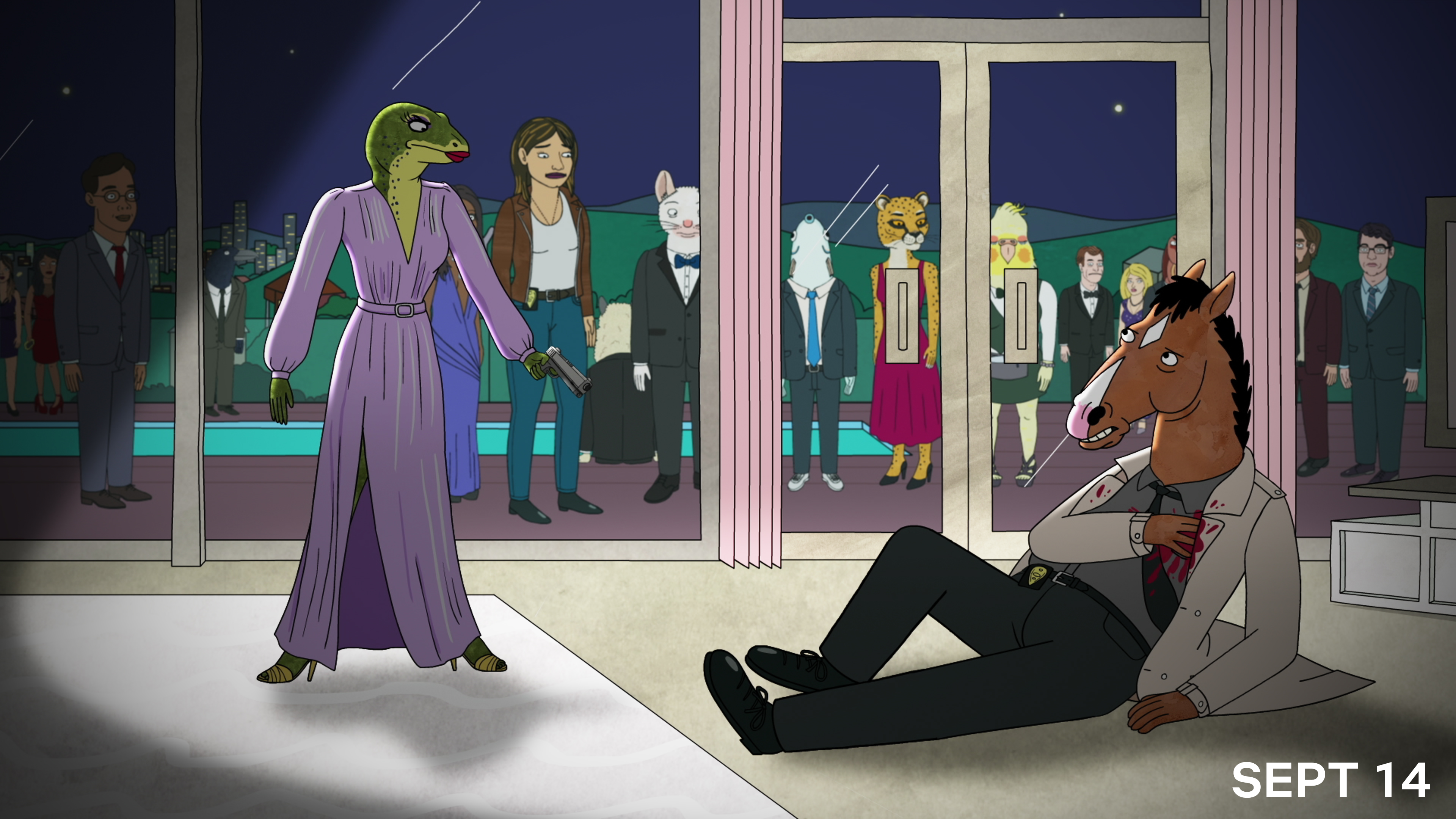 Joseph Baxter is a contributor for Den of Geek and Syfy Wire. You can find his work here. Follow him on Twitter @josbaxter.