News
BoJack Horseman Reruns Headed to Comedy Central
In the first deal of its kind, Comedy Central has acquired the linear television rights to current seasons of Netflix's BoJack Horseman.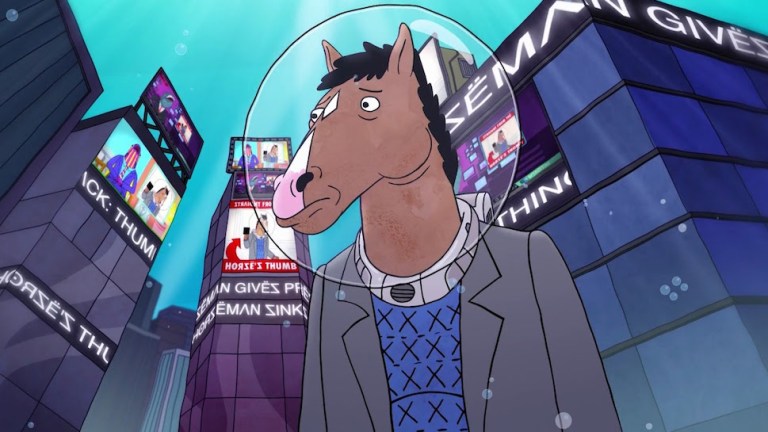 Former "Horsin' Around" star BoJack Horseman is heading back to terrestrial TV where he will be more comfortable…sort of. 
Comedy Central today acquired the exclusive "linear television" rights to all current seasons of Netflix's beautifully melancholic animated hit, BoJack Horseman.
"Comedy Central has a long history of using potent satire to help make sense of trying times, so BoJack Horseman is a perfect fit in our lineup," Tanya Giles, General Manager, Comedy Central, said in a statement. "We're thrilled to be the first to put BoJackon linear TV, and who better than an animated horse to teach us a thing or two about humanity? Straight from the horse's mouth."
So I guess we're just calling old-fashioned television "linear TV" now.
Season one of BoJack Horseman will debut on Comedy Central after the premiere of South Park Season 22 on Wednesday, September 26. BoJack Horseman Season 5 will premiere on Netflix on September 14. It's unclear is Comedy Central has purchased the eventual rights for season five and all future seasons as well.
BoJack Horseman follows the titular…horseman as he tries to make his way in Hollywoo (someone stole the "D" off the sign) as an aging former sitcom star. The world of BoJack Horseman is populated with anthropomorphic animals who live, work, and love alongside humans without anyone thinking that's weird. The show is a fascinating mix of animal pun humor along with insightful explorations of depression, dissatisfaction, worth, and the human capacity for change. Basically, this thing is going to be a real eye-opener for anyone tuning into South Park that Wednesday who doesn't have a Netflix subscription.
"BoJack Horseman has been a groundbreaking show, defining the best in adult animated comedy just as South Park was before it," Michael Eisner, founder of The Tornante Company, said. "It is very fitting that the two shows will air back-to-back on Comedy Central."
Read the latest Den of Geek Special Edition Magazine Here!
This deal is believed to be unprecedented. There is no other example we can point to of a streaming exclusive show cutting a linear television deal for its second life in syndication. But before your mind starts racing with the possibilities of Stranger Things coming to FX or The Handmaid's Tale airing on cable news (moreso than usual), know that this could very well be a one-off.
Per Variety, the deal that BoJack Horseman production company Tornante cut with Netflix back in 2014 is not the kind of deal that Netflix allows to happen now. Netflix now makes sure that it gets the worldwide distribution rights to all of its content, preventing this exact kind of deal that Tornante has made with Comedy Central. 
Still, the TV landscape is always changing as is the relationships between "traditional," terrestrial networks and the streaming services. Netflix is in a unique position with no corporate overlords to answer to and an eye on worldwide media domination. So it's unlikely that they would allow similar deals to take place. But money talks and if BoJack's second life on cable proves to be profitable it's not out of the question that Amazon or Hulu would take a look at some of their original properties and wonder what other audiences can be found for them. Streaming is likely the future of media but some people don't want the future yet – and their money's still green.
Basically, this deal is just the latest bit of evidence we have that the amorphous, ever-changing nature of what we know as "television" is not going to settle down anytime soon. The days of having a firm grasp of what a TV show even is and how we watch them may be over. Get ready for "TV is changing" thinkpieces until the sun eventually goes out. Oh, and enjoy BoJack wherever the hell it streams or airs because it's really great.