News
Blindspot Season 3 Cast, Release Date, Trailer and More
Blindspot returns to NBC for a third season in a new time slot this October, brandishing a storyline reset.
Blindspot debuted in fall 2015, emerging as a ratings winner that season, promoting (with visual intrigue,) the mystery connected to the tattoos covering the naked body of Jaimie Alexander's amnesia-afflicted Jane Doe (or, Alice "Remi" Kruger). Yet, the crime/action series heads into Season 3 with a new time slot, most of its original questions already answered and its primary villain (Michelle Hurd's Shepherd,) now neutralized.
Season 3 picks up a (literal) Season 2 cliffhanger, shifting its storyline to two years later, showing Jane Doe living in isolation with monks, spending her days climbing cliffs; a lifestyle that's interrupted when Sullivan Stapleton's Kurt Weller tracks her down, bringing a new mission to rescue their kidnapped FBI colleagues, coupled with the reveal that, unbeknownst to her, she's acquired new tattoos yielding more crucial clues.
Thus, Blindspot Season 3 jumps right back to the action!
Blindspot Season 3 News
Steve Kazee will join Blindspot Season 3 as a mystery recurring character, according to EW. That, however, is the extent of the available details. Yet, with the recent plot-packed Season 3 premiere showcasing an extensive reset of the series, setting things nearly two years after the culminating events of Season 2, the Blindspot scene has never been more open for new characters to play crucial roles.
Kazee, an American actor, is best known for his work on television, notably with runs on Shameless, Nashville and Legends. He previously fielded guest spots on shows such as Criminal Minds: Beyond Borders, Drop Dead Diva, Elementary, CSI, NCIS, Numb3rs and Medium and also co-starred in the 2017 TV movie The Haunted, alongside Lyndsy Fonesca and Liam McIntyre.
In other recent news…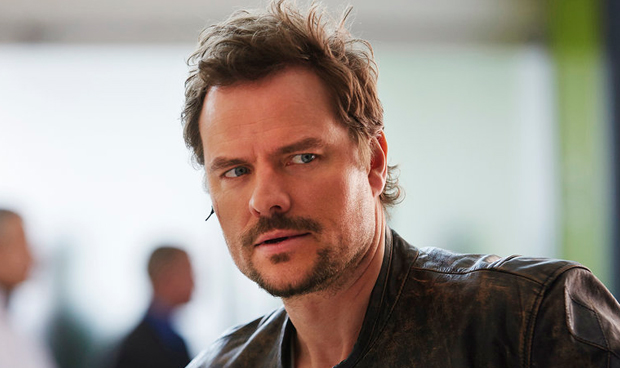 The recent cancellation of Syfy's Dark Matter now stands as Blindspot's gain.
Anthony Lemke joins Blindspot Season 3 for a recurring role, reports EW. He will play a character – potentially an antagonist – named Victor, described as "a charming and dangerous fixer" who is employed by a "questionable" organization. The character will debut in the ninth episode of the season.
Lemke has spent the past two years co-starring on Syfy's dystopian drama series, Dark Matter, which the cable outlet cancelled after a three-season run this past September. The Blindspot guest role will see Lemke remain under the NBCUniversal umbrella, now on its network mothership. Besides a wide array of guest spots, he's previously fielded TV runs on shows such as Good Witch, 19-2, The Listener and Blue Mountain State, along with film roles in 2013's White House Down and 2000's American Psycho.
Blindspot Season 3 Trailer
Here's the official Blindspot Season 3 trailer. As with the NYCC clip, the series time-jump is well in effect, showing the instant evolution of its central "will they or won't they?" couple dynamic with the reveal that main characters Jane Doe (Jaimie Alexander) and Kurt Weller (Sullivan Stapleton) have already tied the knot since we last saw them.
Besides the rather radical narrative move, the addition of Ennis Esmer's Rich Dotcom is also an attention-grabber in the trailer, especially since the character started on the series as a recurring villain who was a master cybercriminal and an outright murderer. However, after proving himself to be a valuable asset to the team in subsequent appearances, it became clear that he's not quite the sinister psychopath he initially seemed. Thus, the trajectory of Rich Dotcom's arc has arrived at a fateful destination of comic relief. 
Here's the Blindspot Season 3 trailer that debuted during New York Comic-Con.
Blindspot Season 3 News
Tori Anderson joins Blindspot Season 3 for a recurring role, reports EW. She will play Blake, described as "a charming socialite" and "an incredibly smart and charming business woman," who will become a friend (and prospective love interest,) to Jane's wayward brother Roman Kruger (Luke Mitchell). While the sparks will apparently fly between the two, Roman's motivations are a bit sketchy these days after Season 2 saw his memory wiped by Jane in an (ultimately unsuccessful) attempt to reform his ruthless murdering ways.
Anderson, a Canadian actress, recently co-starred in The CW's cancelled adventure/rom-com series No Tomorrow. Other TV runs include Killjoys, The Other Kingdom, MsLabelled, Open Heart and The L.A. Complex, along with guest roles on series such as Reign, Backstrom, Satisfaction, Murdoch Mysteries, The 4400 and Smallville. She'll also appear in the 2018-scheduled Canadian miniseries Caught.
Blindspot Season 3 Cast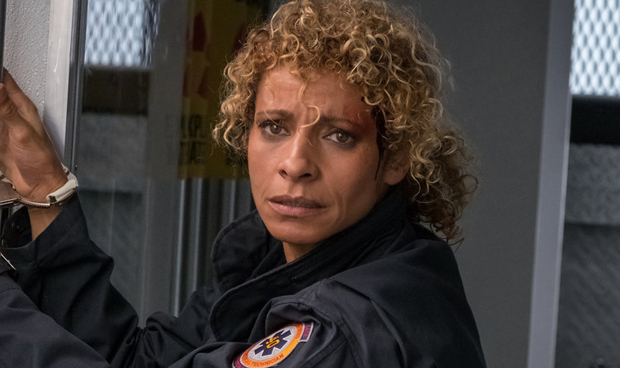 Michelle Hurd, who played the maternalistic terrorist big bad Shepherd in Season 2, will reportedly not return for Season 3, reports TV Line. The culminating clash of Season 2 saw Shepherd's plan to decimate the Eastern Seaboard with a nuclear weapon finally averted, at which point she was taken into custody and held at a CIA black site. Yet, creator Martin Gero hints that we haven't seen the last of Shepherd, stating of Hurd's Season 3 absence:
"We don't yet have a plan to bring her back, but it's not a closed door in any way. She's certainly busy because she's so amazing. We love her, and we'd love to find a way to bring her back, but there's no plan as of yet."
Indeed, the plot-centric explanation for Hurd's absence is also matched by the fact that Hurd has joined Fox's Lethal Weapon for its second season, playing a recurring, potentially-important, role as a police chief who has a romantic past with Damon Wayans's Murtaugh.  
Blindspot Season 3 Premiere Date
Blindspot Season 3 will arrive on NBC in a new 8 p.m. ET time slot on Friday, October 27, 2017.