News
Black Mirror: Striking Vipers First Took Shape as a Grease VR Musical
While Black Mirror's "Striking Vipers" used gamer culture to explore sexual fluidity, its idea was spawned from unlikely sources.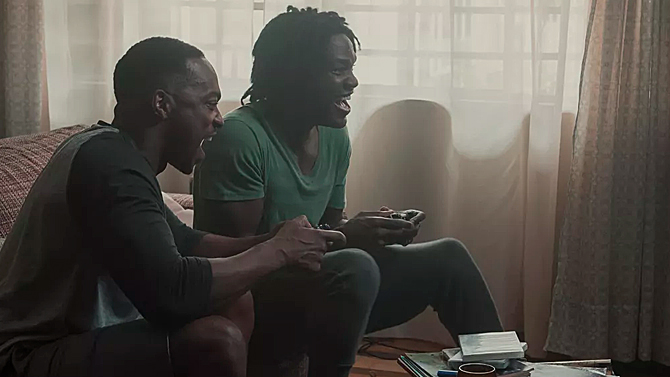 Warning: Spoilers ahead for the Black Mirror Season 5 episode, "Striking Vipers."
Black Mirror Season 5 came out of the gate with an intriguing twist on what society conventionally considers romance, using – of all things – the prop of gamer culture, specifically a fictionalized Mortal Kombat evoking fighting game. While the episode of the Netflix series, written by creator Charlie Brooker, can be analyzed and/or interpreted through several different lenses, it seems that the inspiration for the story came from the fictional, late-1950s song-strewn halls of Rydell High School. – Stay with us on this one!
– Episode spoilers below – 
In "Striking Vipers," two friends, Danny (Anthony Mackie) and Karl (Yayha Abdul Mateen II), indulge youthful memories by playing an updated – shockingly realistic – VR-immersive version of the fighting game they used to play together back in the day. Through the game, they engage in an unconventional sexual relationship through their male and female game avatars (played by Pom Klementieff and Ludi Lin). It is certainly one of the more provocative – perhaps uncomfortable-for-some – offerings of the series. However, showrunners Brooker and Annabel Jones reveal in an interview with The Wrap that the initial premise was actually set in an office, involving a VR exercise amongst team members to put together a (virtual) stage production of Grease! As Brooker explains to the outlet:
"Quite often with Black Mirror, there's two ideas that collide. And oddly enough, we had been discussing a story idea in which — the idea was as a team-building exercise in an office, a company decides to run some sort of exercise where it puts every member of the office into a VR simulation in which they have a task to do together and the task is to stage a musical."
Further reading: Black Mirror: Anthony Mackie and The Many Comic Book Movie Actors of Season 5
Yet, this unconventional aberration in the usual practice of platitude-pushing, acronym-addled company team-building activities would yield the familiar temptation of office romance, only through something akin to The Matrix. Brooker continues:
"The idea was, like, it was something like Grease. So, the people in an office staging Grease, but the key thing is that the identities are scrambled and you don't know who is who. So, like I could be Olivia Newton-John and you could be John Travolta," Brooker said, gesturing to Jones. "And crucially, we don't know in the office who is who."
Consequentially, the "Summer Loving" amongst these office workers would have manifested in a context deprived of gender identity – biological or otherwise – or sexual orientation through the VR simulation. However, at this stage of the story's development, practical obstacles started to show themselves.
"Then it was like, wouldn't it be an interesting story if you had these two characters that start an affair within this. And then the more we thought about it we thought, how do you work this in? We'd have to license all these songs and that would be a bit weird."
However, said obstacles proved serendipitous to the process, since it sent the showrunners back to the drawing board to add a more personal element to the concept, yielding the story that we ultimately got, that of Danny and Karl's Brokeback Mountain-type VR fighting game getaway. Indeed, from there, ideas about awkward sessions from Brooker's own gaming experiences started to flow. As he further explains:  
"Then idea number two was — I don't know how we got onto this — but I played a lot of Tekken in the '90s. Tekken on the PlayStation, and I was often struck by the fact that my neighbors must have thought there was a sort of sex dungeon operating in my flat. Because it was me and my flat-mate around the clock going like, 'Oh, yes! Oh, yes! Oh, God! Oh, yes!' And one evening we just sort of thought the neighbors must think something untoward is going on here. And it seemed like such an interesting dilemma to put two characters in, where they're old friends and this happens and the genders are reserved in the game world. And immediately it prompted loads of debates in our office."
Regardless, Black Mirror has, once again, managed to tap into a poignantly provocative – conversation-creating – well; a rare occurrence with so much (often-conventional) premium content out there in film and television.
Joseph Baxter is a contributor for Den of Geek and Syfy Wire. You can find his work here. Follow him on Twitter @josbaxter.