News
Black Mirror Season 5: Release Date, Trailer, Cast, Episode Guide, and News
Black Mirror season 5 is now available to stream! Here's everything you need to know.
Black Mirror season 5 is officially available to stream worldwide. The new season consists of only three episodes, which is a return to the show's original structure — three-episode series — before Netflix became its new home. No reason has been given for season 5's shorter episode count, but some of it might have to do with the last time Black Mirror darkened our screens. 
Netflix recently whetted the appetites of Black Mirror fans with an "event" movie brandishing a "Choose Your Own Adventure" style system, called Black Mirror: Bandersnatch, which arrived back in December. The innovative interactive experience has led Netflix to look for other opportunities to get viewers involved with its other shows. It's pretty ironic that Black Mirror seems to be at the cutting edge of a new viewing experience here. 
Here's everything else we know about Black Mirror season 5:
Black Mirror Season 5 Release Date
Black Mirror season 5 premieres globally on June 5th on Netflix.
Black Mirror Season 5 Episodes 
Click on the episode titles below for our full spoiler-filled reviews. 
Description: "Two estranged college friends reunite in later life, triggering a series of events that could alter their lives forever" 
Description: "A cab driver with an agenda becomes the centre of attention on a day that rapidly spirals out of control."
Description: "A lonely teenager yearns to connect with her favorite pop star – whose charmed existence isn't quite as rosy it appears…"
Black Mirror Season 5 Trailer 
Trailers for the three Black Mirror Season 5 episodes — "Smithereens," "Striking Vipers" and "Rachel, Jack and Ashley Too" — have arrived! Watch them below. 
Here's the first Black Mirror Season 5 trailer.
Black Mirror Season 5 Cast
Anthony Mackie (Avengers: Endgame) and Yahya Abdul-Mateen II (Aquaman) will co-star in a season 5 episode of Black Mirror.That, however, is the extent of the details, since nothing was revealed about the episode or their characters.
Pop star Miley Cyrus has confirmed herself that she'll be appearing in an upcoming Black Mirror episode. Weirdcool!
The cast also includes Andrew Scott (Sherlock), Topher Grace (BlacKkKlansman), Damson Idris (Snowfall), Nicole Beharie (Sleepy Hollow), Pom Klementieff (Avengers: Endgame), Angourie Rice (The Nice Guys), Madison Davenport (From Dusk Till Dawn: The Series), and Ludi Lin (Power Rangers).
Black Mirror Season 5 Posters
Each installment is like a little movie, so it's fitting the Netflix released episodic posters for the new season.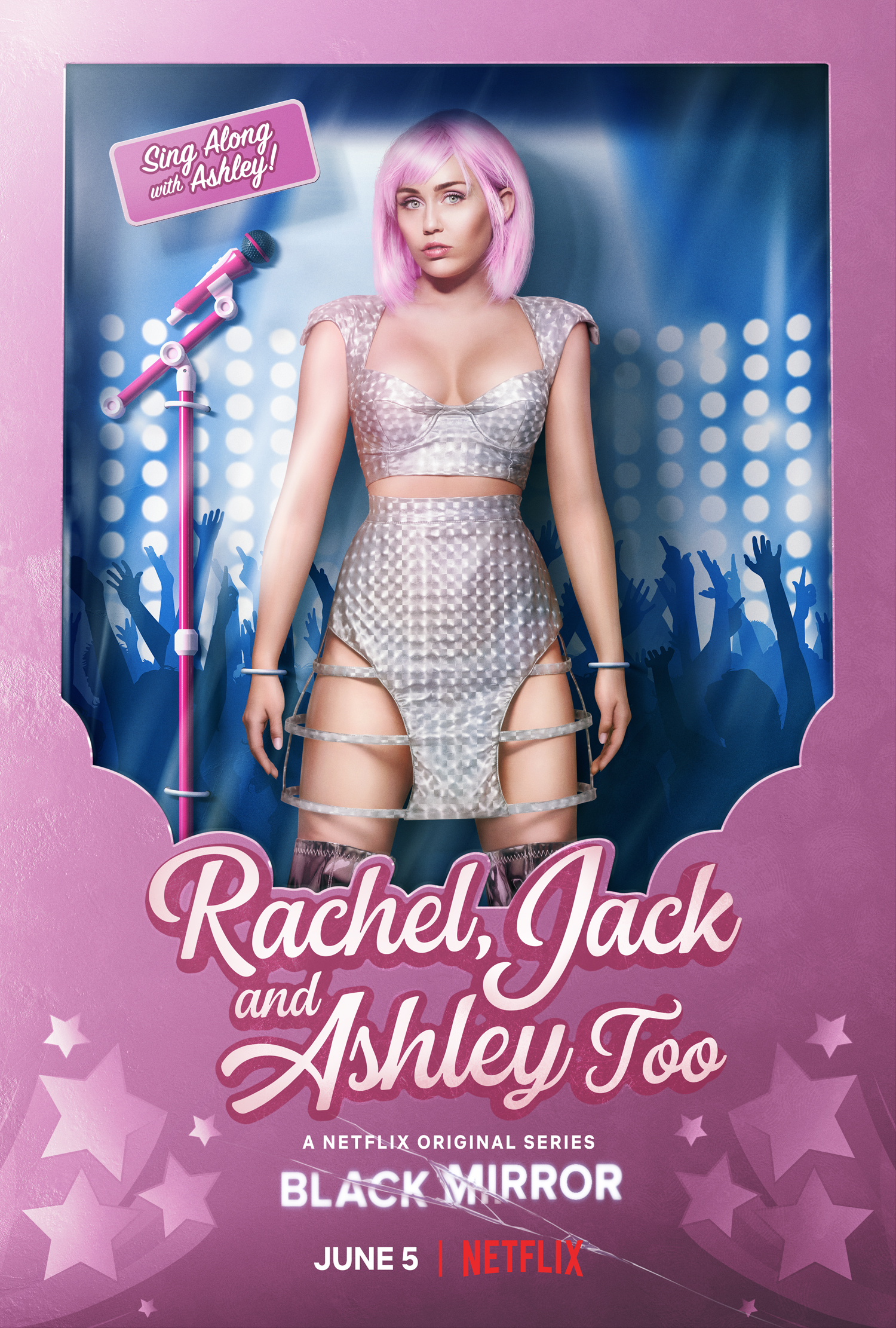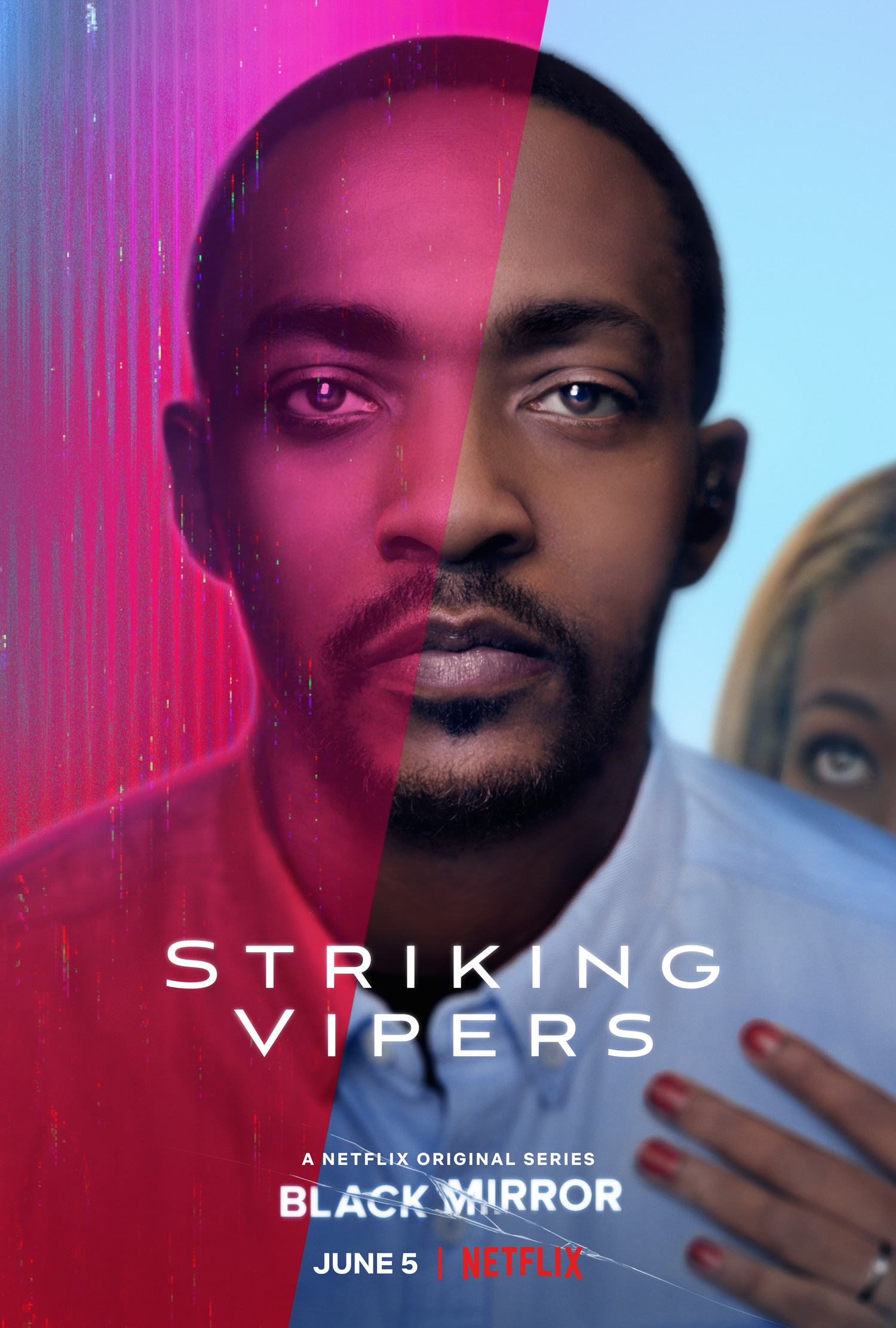 We'll be sure to update this post as we get more official information. You can also check out our Black Mirror Season 4 coverage.
Joseph Baxter is a contributor for Den of Geek and Syfy Wire. You can find his work here. Follow him on Twitter @josbaxter.