News
Black Mirror: Jodie Foster on Directing A Chilling Mother-Daughter Tale
Jodie Foster navigates technology and motherhood in her Black Mirror episode, "Arkangel."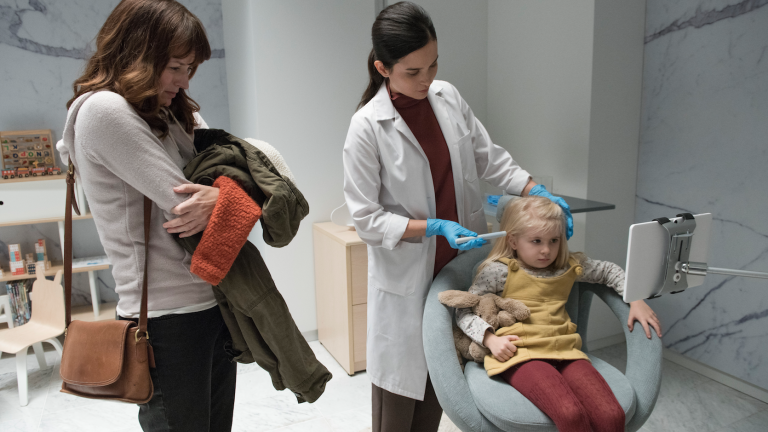 Over the course of Jodie Foster's long and acclaimed career, she's worked hard to keep her personal life private. The actor and director came into the public eye as a Coppertone girl in a 1965 commercial and has appeared in projects for the five decades since, growing up under Hollywood's spotlight. So when Foster made revelations about her personal life, it received plenty of attention. In her 2013 acceptance speech for the Golden Globe Cecil B. DeMille Award, she created headlines by addressing her sexuality, but the crux of her speech was about fighting and working hard for privacy.
"Privacy. Some day, in the future, people will look back and remember how beautiful it once was," Foster said.  
That privacy was given up for her when her mother and former manager, Evelyn, helped start Foster's career when she was only a toddler. Toward the end of the speech, though, Foster addressed her mother, who suffers from dementia.
"This brings me to the greatest influence of my life, my amazing mother, Evelyn. Mom, I know you're inside those blue eyes somewhere, and that there are so many things that you won't understand tonight. You're a great mom. Please take that with you when you're finally okay to go."
Foster, a mother of two, may never be an entirely open book, but the complicated emotions of a mother-daughter relationship are at the heart of her latest directorial project, a season four episode of the anthology series Black Mirror.
For Black Mirror, Foster, like all directors on the show, was allowed to bring in an entirely new cast, and even editors and her choice of a composer. "They give you total freedom," Foster told Den of Geek. "They come forward and tell you what their hopes are in an episode, but they really have faith in their directors."
Series creator Charlie Brooker told Deadline of the decision to bring in Foster: "She was a child actor, so who better to work with child actors? We were all discussing how our own complicated relationships with technology… we wanted it to feel irresistible. She's very grounded as a person, let alone as someone who has been in the public eye since the age of three."
In Foster's episode, "Arkangel," it's not the public eye that's worrisome, but parents who now have the ability to closely monitor their children through new technology. While the episode will be panic-inducing for any parent, in the foreground is its mother-daughter relationship.
"My relationship with my mom is the most profound and significant in my life. I will never know anything like that. It was complicated, she spent every moment with me."
The episode's star Rosemarie DeWitt sees the larger ramifications of the episode as universal challenges for future parents.
"How do you create this container for your children to thrive and be safe and acknowledge that they are their own person?" DeWitt said. "And that you don't have control over another human being? You have an obligation to protect them, but not to control them. In this storyline, it's slippery."
The stressful moments of parenthood are further complicated by the technology Black Mirror often scrutinizes. DeWitt said she's glad that Foster reigned in the emotional highs. "We did takes that were fuller emotionally, and some that were restrained," DeWitt said. "Jodie said to me: 'I get very uncomfortable when I see women cry.'" She added: "Jodie's sense of storytelling is letting the audience work for it."
To tell this story, Foster honed on those smaller, intimate moments.
"It's a really subtle movie," Foster said. "It's about small moves on a clock. If you're someone that likes like I do, where you're really watching the tapestry and how it all comes together."