News
Black Mirror: Bandersnatch Trailer and Release Date Drop
Relax, the frumious Bandersnatch is just a glitch in the system in Netflix's Black Mirror: Bandersnatch trailer.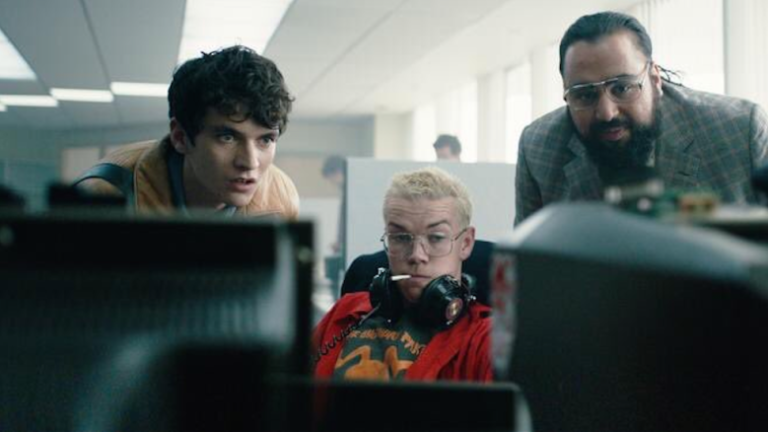 Forget the Jabberwock, the frumious Bandersnatch will catch you in a dream. The sci-fi anthology series Black Mirror is launching as a stand-alone film on Netflix. Black Mirror: Bandersnatch will be available for streaming starting on Dec. 28. With only one day of warning before the debut, the streaming station dropped its premiere date and a trailer.
The film is directed by David Slade, who directed Starz' American Gods, the feature films Hard Candy, 30 Days Of Night, the Twilight movie Eclipse, and Black Mirror's season 4 episode "Metalhead," which makes a titular cameo in the trailer in the forms of a poster for a computer game called "METL HEDD."
Further reading: Black Mirror Season 5 Release Date and Everything Else We Know
According to Netflix's title page, Black Mirror: Bandersnatch is a "mind-bending, offbeat, and cerebral" film that looks forward into the past. "In 1984, a young programmer begins to question reality as he adapts a sprawling fantasy novel into a video game and soon faces a mind-mangling challenge," reads the official logline. "Welcome back."
read more – Black Mirror: Bandersnatch Review
The "Black Mirror Event will star Finn Whitehead, who played Fionn Whitehead on Dunkirk,  as the programmer adapting the novel. The film also stars Will Poulter, Craig Parkinson, Alice Lowe and Asim Chaudhry.  
read more – Black Mirror: Bandersnatch Endings Explained
The trailer makes it look like the virtual world and reality bleed into each other. "Your fate has been dictated," the programmer learns form a woman while watching TV. "You're not in control." Set to Frankie Goes To Hollywood's song relax "Relax," the trailer is a trip through the looking glass. "We're going to be a hit factory, like Motown, but for computer games," we hear in the trailer. But it is infecting the programmer with lucid dreams and strange thoughts. "When it's a concept piece, a bit of madness is what you need."
You can watch the trailer here:
Black Mirror: Bandersnatch will be available for streaming on Netflix starting on Dec. 28.
Culture Editor Tony Sokol cut his teeth on the wire services and also wrote and produced New York City's Vampyr Theatre and the rock opera AssassiNation: We Killed JFK. Read more of his work here or find him on Twitter @tsokol.