News
Black Lightning Officially Not Part of Arrowverse
Sorry, but those references to other DC superheroes on Black Lightning aren't hints of what is to come.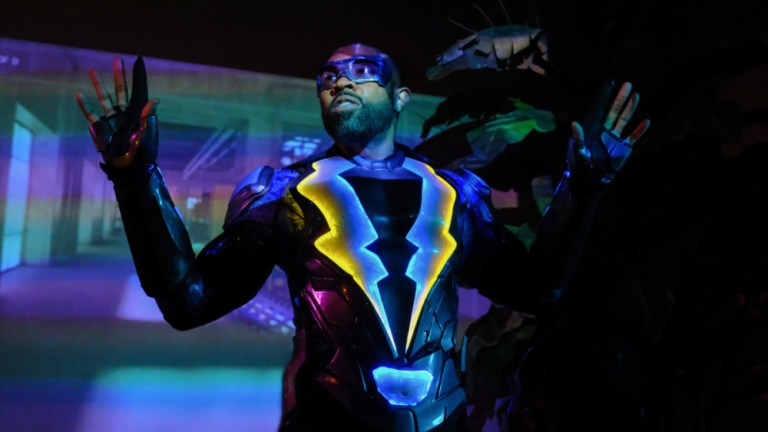 By now you probably know that Black Lightning is just about the best superhero show on television right now. The series has really broken free of expectations, telling its story of a seasoned hero who comes out of retirement, and an extended origin story for both of his daughters. It also has featured some of the best supervillains on TV since Marvel's Wilson Fisk or Kilgrave in the form of Marvin "Krondon" Jones' Tobias Whale and Jill Scott's Lady Eve.
Still, Black Lightning is a Greg Berlanti production, and there are plenty of stylistic elements that make it feel at home in the Arrowverse of DC superhero shows. The show hasn't made mention of Star City or Central City, and time traveling smartasses would seem particularly out of place in Jefferson Pierce's world, but it's a DC superhero show on a network positively full of DC superhero shows that are known for crossing over all the time, which means fans keep asking when Black Lightning might join the party.
The show has dropped references to Vixen and Supergirl, but don't get excited. "We are in our own world," Black Lightning executive Salim Akil told EW. "We're not in the Arrowverse. We're not in the Supergirl universe. We're in the Black Lightning universe. If there's ever a crossover, Supergirl will come to Freeland, or Green Arrow will come to Freeland." 
"We mentioned those other characters just to have fun," Akil continued. "I thought it was just fun to tease the fans and have fun with the fans. We're always trying to have a conversation with the fans and we're also trying to have fun with them, so that was part of that."
Now, fans might want to nitpick this a little bit. Akil doesn't say it can never happen, and Black Lightning being in its "own world" might just mean it's one corner of the DC multiverse. You can make an argument that even the embattled DCEU movies exist in the same multiverse as the TV show, alongside the comics, video games, and all other DC properties. DC's whole multiversal cosmology has recently been expanded (thanks to Grant Morrison) to include media beyond the comics.
While it would be nice to see Jefferson Pierce take part in next year's giant Arrowverse crossover, it might be best if Freeland stays where it is…at least for now. The storytelling on display is more personal than what we get on other DC superhero shows, and that's a big part of what makes Black Lightning special. Not that I'd complain if it happens.
Black Lightning will return in late 2018 or early 2019.