News
Black Flash Could Return to Multiple CW DC Superhero Shows
Could we get a smaller DC TV crossover later this year involving the mysterious Black Flash?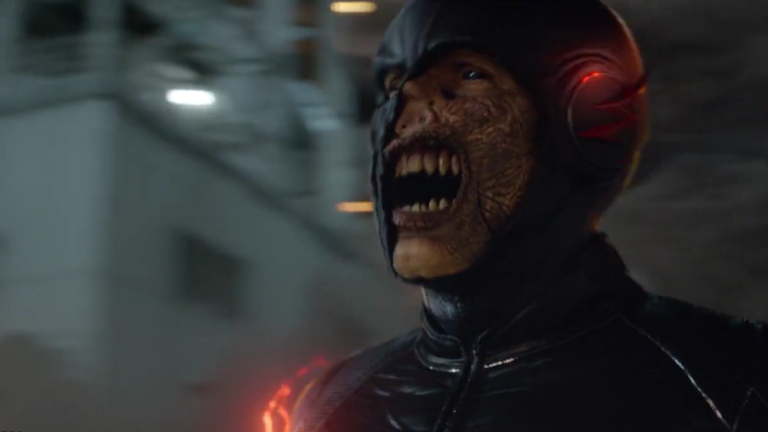 This article contains spoilers for The Flash Season 2.
During The Flash Season 2, sharp-eyed fans noticed a more than passing resemblance between the Time Wraiths that menaced anyone who broke the unwritten laws surrounding the Speed Force and the "Black Flash" who is roughly the equivalent of the Grim Reaper for speedsters. They were particularly interested in Hunter Zolomon, or the villainous Zoom, who was played by Teddy Sears. And when they finally caught up to Zoom at the conclusion of the season, it seemed for a moment that everything came together, because it sure looked like Zoom morphed into the Black Flash as he was carried away.
Since then it has been confirmed that this wasn't a coincidence, and that we did indeed witness the TV origin of the Black Flash in that moment. It would appear that they aren't done with him yet, either.
"He's a classic character, and we have storylines on multiple shows that fit having him return," Flash executive producer Andrew Kreisberg told TV Line at the TCA Winter Tour.  "There's something so scary about him, even scarier than when he was just a man, because now he is the Grim Reaper, he is like the Devil. How do you stop the Devil? It presents an interesting challenge for the heroes of the respective shows in which he appears."
Just don't get your hopes up for a Teddy Sears return to the role, as Mr. Kreisberg points out that "Teddy's pretty busy with 24" at the moment. Of course, since the Black Flash doesn't really speak much, and can be accomplished mostly via special effects, his return isn't strictly necessary.
But what gets really interesting is the prospect of the Black Flash showing up in places other than where you'd expect. Since he's tied to the Time Wraiths, you could logically see him pursuing the Legends of Tomorrow team, especially since they have a speedster to contend with in the original Reverse-Flash, Hunter Zolomon this year. Could this turn into a smaller crossover than the annual mega-event we usually get?
The Black Flash was first created by Grant Morrison, Mark Millar, and Ron Wagner, and has only made a handful of comic book appearances, notably in Geoff Johns and Ethan Van Sciver's TV influential The Flash: Rebirth. It's not really a character you can over use, so I wouldn't expect too many appearances on TV. Still, we're looking forward to seeing what they come back with.