News
Billy Corgan Talks Impact Wrestling Strategy
Dixie Carter made the best hire in her tenure as TNA president when she inked Billy Corgan to creative …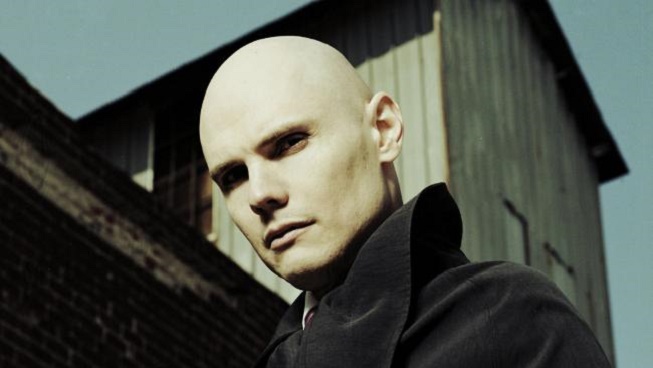 When TNA hired Smashing Pumpkins frontman Billy Corgan as a senior producer for its television product, it made most around the entertainment industry, especially those unaware of Corgan's pro-wrestling past, do a double take. Aside from just citing general excitement in interviews, little was known about Corgan's plans for TNA up until this past week. On Friday, he was part of his first Impact Wrestling television taping, as the show broadcast semi-live on Destination America.
But this week shed some new light on Corgan's viewpoint, and some general directions he'd like to see TNA go in creatively.
In a conference call with wrestling media earlier this week promoting Friday's tapings, one area Corgan continually went back to was the need for a development system, as well as defining a particular TNA style.
"I'm pushing really, really hard, and if I'm going to run anything, I'd love to run developmental," Corgan said. "I would love to put people in place and have the resources to create a TNA developmental system. Again, to create stars that are wholly identified as TNA. If we can do that, it's in our glory to do so. Obviously there are great talents that have come over from other rosters and that's not a problem, and it will never be a problem, but at the end of the day, I think the real glory here is to create our own stars and create our own singular identity in the marketplace."
So what is that TNA style? Corgan recalled attending a TNA television taping several years ago and talking with former TNA creative member Jim Cornette, and said that his vision is aligned with Cornette's in certain aspects, including building the roster "from size down." That's something most internet-savvy fans have criticized companies like WWE for in the past, but the fact remains that the casual viewer still has a "law of the jungle" mindset, as Corgan called it, where the bigger guy should be able to win.
"I'm old school," Corgan said. "I love cruiserweight and X-Division wrestling. I've always been a fan and there are some incredible talents out there right now that are doing things we've never seen before in a wrestling ring. But I still think that you need to build from size down.It doesn't mean you put big lugs in there who can't work, it means you got to find big lugs who can work. There is something about the law of the jungle that says the bigger guy should be able to win, and when you have big guys, like an Abyss for example who is a great talent and can move and sell a story, that guy can get a lot of people over that another cruiserweight couldn't do against another cruiserweight. That's just a belief in a particular wrestling dynamic."
The more Corgan spoke this week, the more I found myself nodding my head in agreement.
Old-school doesn't mean out-of-touch stories. Corgan seems not only willing, but outwardly enthusiastic as far as blending the old-school ideals, things that made pro wrestling successful for centuries, while also incorporating a sense of modernness.
Take social media. Corgan said he views social media as an untapped resource when it comes to not only pro wrestling, but entertainment in general. From TNA's perspective, he believes it's going to be an important tool moving forward for the company to not only promote its television program, but also promote the characters and storylines that are developed within that universe.
"I don't see any company in the world truly using social media to its greatest potential," he said. "I think there's still a great struggle in the wrestling business with how to properly use that, and I'll give you an example: if you go to most wrestlers' Twitter, and it doesn't matter what company they work for, they might be tweeting pictures of their cat, and they're supposed to be a heel. That does cause a level of confusion in the marketplace. So should an individual talent have a separate account that is just their gimmick account? That way everything they put up on those accounts is consistent with their character. Or, do we want a worked-shoot feel where it's like 'I'm this way in the ring but this in my real life.' … I've yet to see anybody get it right, and I think there's a great opportunity here for TNA to come in with a great sense of sophistication when telling stories. Obviously there is some effort in that regard, but I've yet to see it."
Kayfabe is dead, and pro wrestling doesn't need to move back into a reality where it rules, because it can't. The public knows the game at this point. But pro wrestling can do — it NEEDS to — do a better job of protecting the television product. We know pro wrestlers are characters, but every company in the world can do a better job of more sharply defining the lines. Blurred lines aren't good, they're confusing. Especially to the general audience.
Social media has only made those blurred lines more blurry. It's harder to separate a pro wrestling character from the person who plays it. It's entirely different than an actor portraying different characters all the time. In wrestling, generally speaking, a talent portrays the same character for the entirety of their career.
"When we see TV these days, yes the destination we want everyone to be is (our program) on Fridays but the quickest way to get people there is through the internet, and why are we not using the internet as an addendum to television in a way that television both supports itself in the social media and the traditional media? I don't feel like that's been done right by anybody," Corgan said. "You need to make a philosophical decision and go down that road."
Corgan's ideas, at least the ones he spoke of publicly, are all great first steps. Even he admits it's going to be a long process, and conversations will still be taking place a year from now, but hiring Corgan was the much-needed first step for TNA.
To use an analogy of old — and bad — television reality shows, what Corgan is prepared to do with TNA isn't a Flip This House, it's an Extreme Makeover.
Quick Strikes
1. Bully Ray returned to TNA for at least one night, as he served as the special guest referee for the TNA World Hvt. Title match between Kurt Angle and Eric Young.
Angle retained the title in the match.
Bully Ray was introduced to the live crowd at Universal Studios in Orlando, Fla. at the start of tonight's Impact Wrestling tapings. Bully Ray hadn't appeared in TNA since Bound For Glory this past October in Japan. He appeared for WWE in the Royal Rumble match in January.
2. Eddie Edwards, one-half of The Wolves tag team, returned to Impact Wrestling on Friday night after missing nearly three months with a broken heel suffered in a match taped for TNA's X-Travaganza One Night Only PPV, which will ironically air later this month.
As a result of the injury, The Wolves vacated the Tag Team Championship at the television tapings on March 13.
In returning, Edwards and his partner, Davey Richards, challenged Bobby Roode and Austin Aries to a best-of-5 series for the vacant TNA World Tag Team Championships. The titles were vacated on Friday after Jeff Hardy will be unable to defend the titles with his brother Matt after suffering a broken tibia last week in a dirt bike accident.
Match Results
1. Falls Count Anywhere: EC3 def. Mr. Anderson
2. Drew Galloway def. MVP
3. Taryn Terrell, Jade & Marti Bell def. Awesome Kong & Gail Kim
4. TNA World Title: Kurt Angle [c] def. Eric Young
The Finish
TNA put together a really entertaining show. They kept some of their surprises — the return of Edwards, Bully Ray and even Velvet Sky, who returned to the knockouts division — for this semi-live episode, and it definitely helped make those returns feel more exciting.
The matches were all very good, and Eric Young did some of his best work as a heel, I thought, trying to plan "business" with MVP's Beatdown Clan before the title match. I've been down on Young as a heel, but there's been enough time to separate it that he's starting to really solidify himself as a crazy, I'm-not-sure-what-he's-going-to-do-next heel. Those people are dangerous. He's a ticking timebomb, and the audience is starting to feel it.