News
Big Hero 6 Exclusive Clip: Hiro's Date Goes Wrong
Isabella Gomez from 'One Day at a Time' guest stars as the daughter of a police chief who makes trouble for the Big Hero 6 team.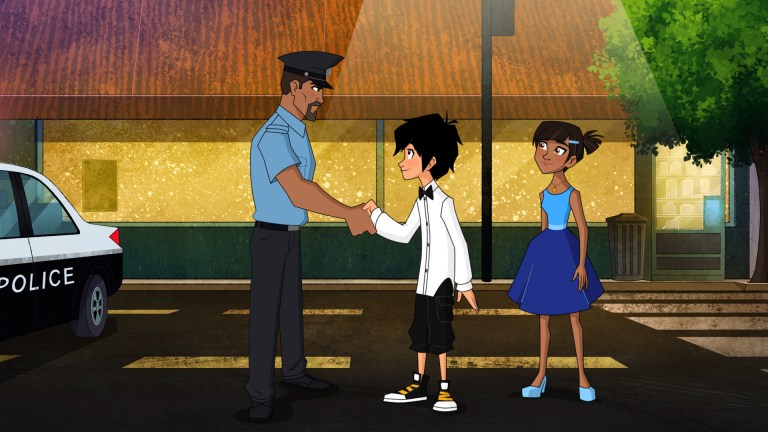 Big Hero 6: The Series has just begun its second season and is airing all new episodes on weekdays through May 17th, so now's the perfect time to check out the series! To help you in that, we've got an exclusive clip from tomorrow's episode. First off, let's give you the summary of the episode for a little context.
Hiro is set up on a date with Megan (voiced by Isabella Gomez from 'One Day at a Time') and begins to wonder if he's missing out on being a regular kid. Nestor Carbonell ('Lost' and 'Bates Motel') guest stars as Isabella's father and San Franksokyo's new chief of police, Chief Cruz.
Hiro on a date? That's adorable and you'll get a small glimpse of that date in the exclusive clip below. 
Poor Hiro, nothing every goes quite right for him does it? He meets a great girl but her dad hates superheroes! Sounds like a receipe for a delightful episode of Big Hero 6: The Series.
If you're a fan of the series you'll also be delighted to learn that series was just picked up for a third season! That's right, the second season has barely begun and we're already guaranteed another season of adventures for Hiro and the rest of the Big Hero 6 cast.
Don't forget, new episodes of the second season are airing weekdays at 3:30PM EDT/PDT on Disney Channel through May 17th. If you're a fan you'll have a lot of Big Hero 6 to binge on! For extra content, a trio of shorts, illustrated in a watercolor style and featuring Baymax and Mochi, will have already begun to roll out across Disney Channel, DisneyNOW and Disney Channel YouTube. 
Shamus Kelley is a pop culture/television writer and official Power Rangers expert. Follow him on Twitter! Read more articles by him here!