News
Better Call Saul Season 4 Episode 10 Trailer, Episode Guide and More
Here's the trailer for next week's Better Call Saul Season 4 finale, "Winner."
Follow along as we cover Season 4 of Better Call Saul! We'll keep this page updated with the latest episode trailers, reviews, behind-the-scenes footage, and news about Better Call Saul Season 4.
Better Call Saul Season 4 Episode 10 Trailer
Better Call Saul Season 4 Episode Guide
Better Call Saul Season 4 Episode 1: Smoke
Jimmy struggles to cope with Chuck's tragic death. Mike ponders his role at Madrigal. Howard makes a startling confession. 
air date: 8/6/18
Better Call Saul Season 4 Episode 10: Winner
air date: 10/8/18
Jimmy turns the page on his reputation; Lalo tracks a loose end in Gus's operation; Mike is forced to make a difficult decision.
Better Call Saul Season 4 Cast
While few significant names have been announced to be joining the cast, a casting call site Project Casting had listings up for Better Call Saul calling for Hispanic actors, "experienced hunters," and "REAL magicians." We're not even going to try to glean something from that.
However, Stefan Kapicic (the beloved Colossus in the Deadpool movies) has joined up in an unspecified recurring role, according to THR.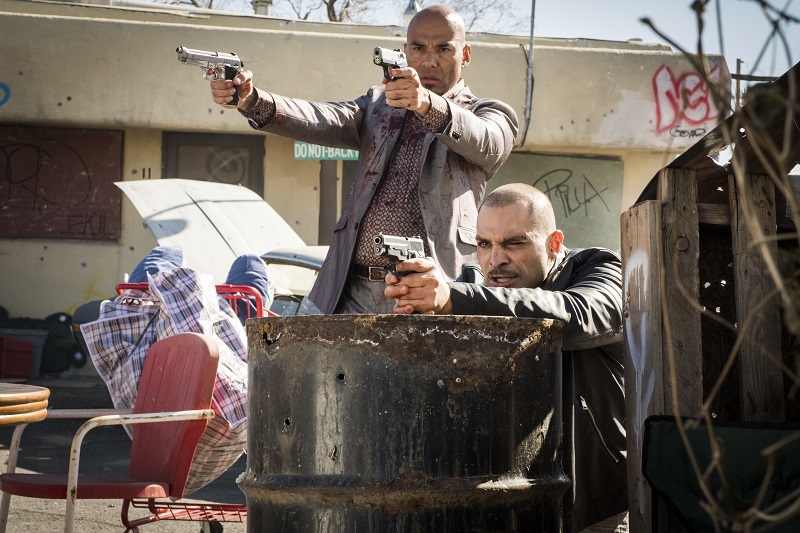 Better Call Saul Season 4 Episodes
Better Call Saul Season 4 will consist of 10 episodes.
Better Call Saul Season 4 Story
Here's the official synopsis for the new season:
In Better Call Saul's fourth season, Chuck's death catalyzes Jimmy McGill's (Odenkirk) transformation into Saul Goodman. In the wake of his loss, Jimmy takes steps into the criminal world that will put his future as a lawyer – and his relationship with Kim (Rhea Seehorn) – in jeopardy. Chuck's (Michael McKean) death deeply affects former colleagues Howard (Patrick Fabian) and Kim as well, putting the two of them once again on opposite sides of a battle sparked by the Brothers McGill.

Meanwhile, Mike Ehrmantraut takes a more active role as Madrigal Electromotive's newest (and most thorough) security consultant. It's a volatile time to be in Gus Fring's employ, as Hector's collapse sends shock waves throughout the Albuquerque underworld and throws the cartel into chaos — tearing apart both Gus and Nacho's well-laid plans. While Gus changes course, Nacho finds himself in the crosshairs of deadly forces.
Last year, we asked series co-creator Vince Gilligan about how long he thought the series would run for. He gave us this response: 
"We couldn't really give you an exact amount of episodes. The reason being—and I'm not being coy here—it's just hard to know exactly. But you did put your finger on something important. Just from watching this show you can tell that it's a finite story. And we know that even further from the fact that this show has to butt up against the beginning of Breaking Bad. So there is a finite nature here. But there's one difference in Better Call Saul's finite nature that wasn't there with Breaking Bad, which is that there is yet again the possibility of a whole other story to be told through the black-and-white beginnings of a post-Breaking Bad world that we've put at the top of each season."  
He continued: 
"So while I think that there is a definite end in sight for the pre-Breaking Bad story, there still seems like there could be a lot in the post-Breaking Bad world. I'm kind of fascinated by that, simply as one of the first fans of the series. What could come out of that? No promises, but it seems to me that there's a little more opportunity for scope there than there even was in Breaking Bad."
Nick Harley is a tortured Cleveland sports fan, thinks Douglas Sirk would have made a killer Batman movie, Spider-Man should be a big-budget HBO series, and Wes Anderson and Paul Thomas Anderson should direct a script written by one another. For more thoughts like these, read Nick's work here at Den of Geek or follow him on Twitter.
Read the Den of Geek SDCC 2018 Special Edition Magazine Here!