News
Better Call Saul Could Become Breaking Bad Epilogue, Vince Gilligan Reveals
In a chat with Den of Geek, Better Call Saul creator Vince Gilligan says there "could be a lot in the post-Breaking Bad world"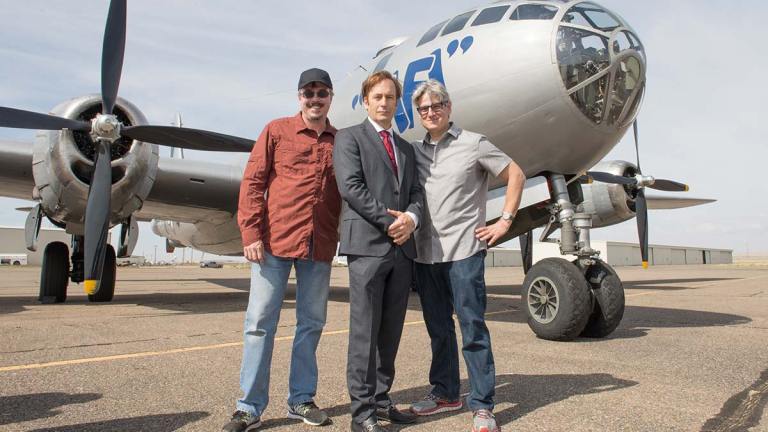 Good news to people who are fascinated with the day-to-day operations of Cinnabon!
In an interview with Den of Geek, Breaking Bad and Better Call Saul creator Vince Gilligan revealed that should the show run out of pre-Breaking Bad story it could begin to cover much more of Saul Goodman's post-Breaking Bad life.
In discussing how much longer Better Call Saul could possibly cover the six years pre-Breaking Bad, Gilligan acknowledged that there were built in limitations.
"We couldn't really give you an exact amount of episodes," Gilligan told us. "The reason being—and I'm not being coy here—it's just hard to know exactly. But you did put your finger on something important. Just from watching this show you can tell that it's a finite story. And we know that even further from the fact that this show has to butt up against the beginning of Breaking Bad. So there is a finite nature here."
He then went on to add, however, that if the writers aren't quite ready to stop there's a way to work around those limitations: more time in Saul Goodman's post-Breaking Bad life as an anonymous Nebraskan Cinnabon manager.
"But there's one difference in Better Call Saul's finite nature that wasn't there with Breaking Bad, which is that there is yet again the possibility of a whole other story to be told through the black-and-white beginnings of a post-Breaking Bad world that we've put at the top of each season," Gilligan says. "So while I think that there is a definite end in sight for the pre-Breaking Bad story, there still seems like there could be a lot in the post-Breaking Bad world. I'm kind of fascinated by that, simply as one of the first fans of the series. What could come out of that? No promises, but it seems to me that there's a little more opportunity for scope there than there even was in Breaking Bad."
Well hey, that's cool!
Gilligan and his writing staff are famously improvisational when it comes to developing stories so there's no way of telling whether these are concrete narrative plans or just. Still it's nice to know that Better Call Saul eventually making big plot advancements in the time following Breaking Bad is a legitimate possibility. 
Bring on the Cinnabons.