News
Better Call Saul: Aaron Paul Teases Jesse Pinkman for Season 3
Former Breaking Bad co-star Aaron Paul hints about possibly reprising his role as Jesse Pinkman on Better Call Saul.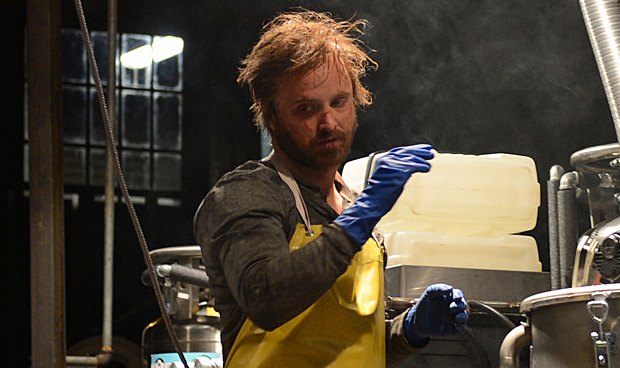 Breaking Bad is widely considered one of the finest dramatic television shows of all time. While its initial dynamic centered on a comedic chemistry between Bryan Cranston's science-teacher-turned-meth-cook Walter White and his young, ineloquent, impulsive understudy in Aaron Paul's Jesse Pinkman, the continuing struggles of Jesse plunged him into tragedy and darkness that rivaled Walter's own descent. Relevantly, Paul recently hinted that we just might more of Jesse on spinoff Better Call Saul and maybe even learn what became of him.
Appearing on Ellen, Aaron Paul's discussion with eponymous host Ellen DeGeneres took the inevitable turn to the subject of his career-defining 2008-2013 role on Breaking Bad as Jesse Pinkman and, notably, the possibility of reprising said role on the current prequel spinoff series Better Call Saul. While it's a question that Paul clearly answers on a regular basis, he was noticeably cheeky this time around. According to Paul when asked of his chances of appearing on Saul:
"God, I hope so." Adding, "Maybe I already shot it. We just… or they just wrapped the [latest] season."
Besides Paul's excessive coyness, it's hard not to notice that possible slip, beginning his sentence with, "We just" regarding the Better Call Saul Season 3 production. Sure, it might just be a subconscious thing, since he remains an integral part of the Breaking Bad family. Yet, it's still noteworthy. Besides the fact that numerous Bad alumni have showed up on Saul, Jesse's possible Season 3 plans would complement the recent revelation from a viral teaser promo for the show that essentially confirms the presence of Breaking Bad's ruthless meth kingpin and chicken restaurant entrepreneur Gus Fring (Giancarlo Esposito).  
As far as the continuity goes, we last saw Jesse Pinkman at the end of the Breaking Bad series finale, driving off in ecstasy, having been liberated from torture and enslavement from a White Supremacist group who forced him to cook meth. He also came to a heartwarming, albeit shaky detente with his former mentor-turned- mortal-enemy Walter White. However, while the early-2000's-set flashback storyline that dominates Better Call Saul already did reference Jesse with a familiar "JPI" graffito Easter Egg seen on a phone booth in Season 1, an actual appearance might have to see the 37-year-old Paul sell the idea of being a man in his late-teens.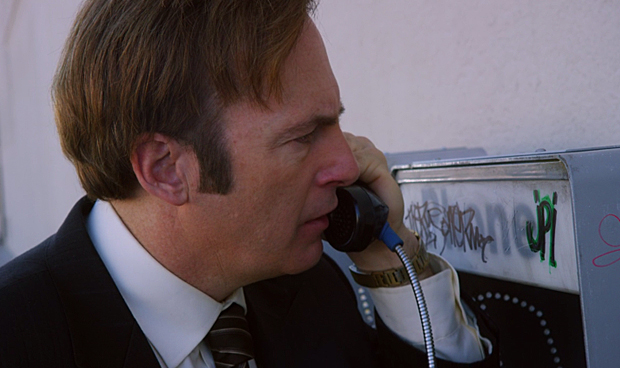 Nevertheless, it's also possible that Paul's Jesse could show up in the present-set storyline that occasionally pops up on Better Call Saul in which Bob Odenkirk's Jimmy McGill/Saul Goodman – in the aftermath of the cartel-related disasters wrought by Walter White in Breaking Bad – lives a humbler life as a mustachioed manager of a Cinnabon in an Omaha, Nebraska mall named "Gene." In fact, on paper, it's the more feasible option, since it furthers the arc of Jimmy's present storyline and it delivers fan service, answering the questions about where Jesse drove off to after that fateful skirmish that (apparently) claimed Walter's life.
Better Call Saul gets ready to go full "Slippin' Jimmy" when Season 3 premieres on AMC on April 10. Check out the interview below at the 1:42 mark!