News
Best Simpsons Quotes Ever: Part 3
Day three of our The Simpsons marathon, and we're nowhere near close to running out of classic quotes...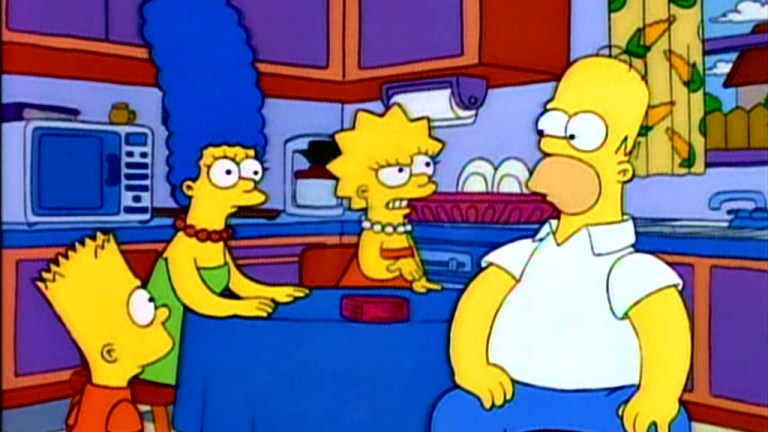 Sitting comfortably again? Then let day three commence… 
***
Mrs. Lovejoy: Do you think they should be talking about S – E – X in front of the C – H – I – L – D – R – E – N? Krusty: Sex Cauldron! I thought they closed that place down years ago!"
***
Hi, I'm Troy Mclure and you may remember me from such Fox Network Specials as "Alien Nose Job" and "The Five Fabulous Weeks of the Chevy Chase Show".
***
Ned (reading The Chamber of Secrets to Rod, or is it Todd?): … So Harry Potter and all his friends wents straight to hell for practising Witchcraft…
Rod (or is it Todd?): Yay!
*Ned immediately throws book into fire*
***
Lisa: Look, it's JK Rowling; author of the Harry Potter Books… You've turned a whole generation of kids onto reading!
J.K. Rowling: Thank you young Muggle.
Lisa: Can you tell me what happens at the end of the series?
Rowling (annoyed): Yes, he grows up and marries you… Is that what you want to hear?
Lisa: *sighs* Yes…
***
Comic Book Guy: Stop right there! I have the only working fazer ever built. It was fired only once to keep William Shatner from making another album.
***
Lovejoy (at Maude Flanders' funeral): In many ways, Maude Flanders was a supporting player in our lives.  She didn't grab our attention with memorable catchphrases, or comical accents.
Willie: Aye.
McAllister (the sailor): Yar.
Frink: Oh, glaven. Why, glaven?
Lovejoy: But, whether you noticed her or not, Maude was always there … And we thought she always would be.
***
Birch Barlow (radio DJ discussing the Mayoral election): There are three things we are never going to get rid of in this town. One, the bats in the public library; two, Mrs. McFuly's compost heap; and three, our six-term mayor – the illiterate, tax-cheating, wife-swapping, pot-smoking spendocrat, Diamond Joe Quimby.
Quimby (listening to the radio): Hey, I am no longer illiterate.
***
Homer: Look, all I'm saying is, if these big stars didn't want people going through their garbage and saying they're gay, then they shouldn't have tried to express themselves creatively.
***
Moe(answering the phone): Yeah, just a sec; I'll check. [calls] Amanda Hugginkiss? Hey, I'm lookin' fer Amanda Hugginkiss. Why can't I find Amanda Hugginkiss?
Barney: Maybe your standards are too high!
Moe: [to phone] You little S.O.B. Why, when I find out who you are, I'm going to shove a sausage down your throat and stick starving dogs in your butt!
***
Song of The Day: The Jedi Song (Sung my Mark Hamill to the tune of 'Luck Be A Lady Tonight' from Guys & Dolls)
Luke, be a Jedi tonight!Just be a Jedi tonight!Do it for Yoda, while we serve our guests a soda.Uh, and do it for Chewie and the Ewoks, and all the other puppets …
Luke, be a Jedi tonight!
***
Blackboard wisdom of the day: SpongeBob is not a contraceptive
***
Yes! More tomorrow!