News
Best of SDCC: Geek Weddings, Stranger Things, A Trip To Westworld, And A Vikings Funeral
Get a taste for the SDCC atmosphere with a roundup of our favorite experiences!
San Diego Comic-Con is the best week of the year to be a geek. It's also exhausting and overwhelming when you know there's all this cool stuff happening and limited time to prioritize. Almost every inch of space within a mile of the convention center is covered with brand activations. Con attendees and the general public overflow the streets waiting in line to grab swag, meeting the actors who play their favorite costumed heroes, and socializing in the midst of pop culture madness.
It's grown to the point where most of the unique "brand" experiences happen outside of the convention center. For example, fans could engage with the kilted hunks of Starz' Outlander as they roamed the streets of San Diego's Gaslamp district or board SYFY's karaoke bus (The cast of The Magicians surprised fans) or Trivia Trolley.
We couldn't hit every experience at the con, but we're happy to share our thoughts on the ones we did take in.  
Mr. Robot – "Bank of E"
Props to the digital team behind USA Network's hit Mr. Robot for coming up with a challenging clue-based game for fans. The setup was so discreet that non-Robot fans walking by likely didn't notice the show's Red Wheelbarrow BBQ and the Bank of E. To get started, fans would enter the "Bank of E" and get an E Corp card loaded with E Coin cryptocurrency — which fans could redeem for food and drinks at select locations in the Gaslamp district. From there, you have to figure out the digits of a phone number that would grant you access to a secret room from a key scene in season two. We don't want to give too much away in case USA decides to bring the activation to New York Comic-Con, but getting to the back room is a thrill for die-hard Mr. Robot fans.
Netflix's Stranger Things Experience
Entering the town of Hawkins puts you risk of going into the upside down, but trust me it was well worth it. That Stranger Things soundtrack, man. The haunting synth put us in the zone as we said a prayer at the shrine to Barb, rode the iconic bikes, and sat on Joyce's couch, Christmas light and all behind us. It was creepy, nostalgic, and wonderful, just like the show that inspired it. 
The Defenders Cosplay Meetup
While we weren't inside when a group of lucky fans got to meet the cast of Netflix's next Marvel series, we had the chance to chat with this great group of cosplayers. Little Luke Cage is still the winner in our book.
Syfy Geek Love Chapel
Watching Orlando Jones officiate two vow renewals and a real wedding was a huge comic-con highlight. This was an idea Jones had for a long time before SYFY finally made it happen.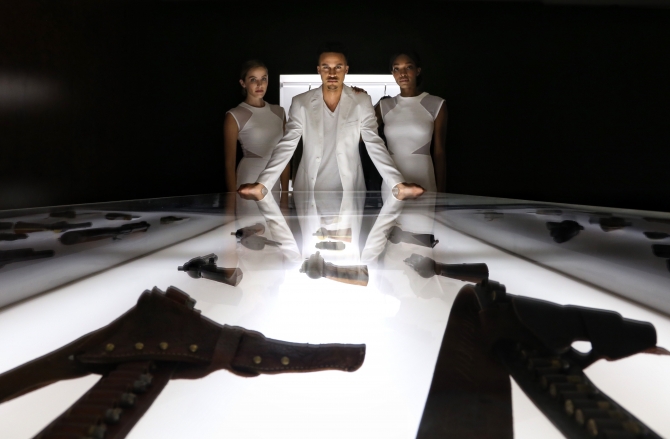 The Westworld Experience
Someday a real version of Westworld will open. For now, we settled for HBO's Comic-Con experience. You can read all about our time there right here!
The Vikings Funeral
Though it didn't exactly live up to the hype of a real viking funeral, History got plenty of attention for its hit series Vikings. Fans lined up hours in advance to get a spot on the marina to view the burial custom. Series stars Katheryn Winnick, Gustaf Skarsgard, Alexander Ludwig, Alex Høgh Andersen, and creator Michael Hirst showed up and made the experience a special one for fans, even if the boat didn't fully go up in flames. 
Read and download the full Den of Geek SDCC Special Edition magazine here!